Earlier this month, I wrote an article in which I called Ruth Bader Ginsburg my mom, which led me to receive an unexpected number of emails congratulating me on my mother's service and wisdom; one guy claimed that I had met him at an event. I am here to say that Supreme Court Justice Ruth Bader Ginsburg is not my mom, but Foreign Policy magazine's CEO and Editor David Rothkopf, a former Clinton Administration official, is my dad.
I ran into him in the press stands of the Wells Fargo Arena in Philadelphia at around 8:45 p.m. on Tuesday evening, where he was nice enough to grant me a two-minute interview—what I believe to be the only interview he granted at the Democratic National Convention.
Could you say your name and occupation?
David Rothkopf, father of Joanna Rothkopf.
What brings you to the DNC?
I heard you were here and I was worried about you.
Are you having a good time?
Well I was worried about you. There's a lot of dangerous people here, I've seen a lot of Bernie impersonators that really scared me.
Have you been to any interesting events?
I went to an arts event at the art museum at which they were trying to ensure that the government gave money to the arts.
G/O Media may get a commission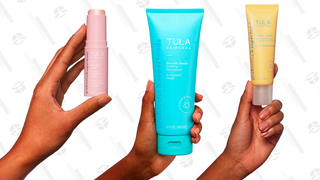 What are you looking forward to seeing tonight?
I'm looking forward to seeing you and I've done that.
So now what?
Bill Clinton is number two on my list.
Do you think he's going to do well in his speech?
Yes he's a very good, professional speechmaker. He gets paid a lot.
Well that is an issue. Would you like to comment on the Clintons releasing their speech transcripts?
I believe the Clintons are doing God's work.
[Al Franken walks by, we both quietly point at him.]
You've been pretty vocal about your support of the Clinton campaign and administration, what do you think of the Bernie supporters?
I was in the Clinton administration, proud of my work in the Clinton administration, and I think Bernie has behaved like a statesman.
But what about his supporters?
I think his supporters will come around. The alternative's just too horrifying.
Well, I wish we could all be as hopeful as you. One final question and I'll let you go, do you love me?
I love you very much and I have since you were 21 inches long, or 27. I don't know, you were short.