When Parenthood first started, it was an excellent show about complicated family relationships that rang true for many people. But now, many seasons later, (and with the addition of Ray Romano) it has become a sad sack of emotional garbage that not even Christina Braverman could love. I'm not sad it's ending, but the cast just can't handle saying goodbye.
Let's wish the entire Braverman clan a fond farewell (especially Zeke — did his awful ass die yet?) and hope that Lauren Graham continues finding work in the future. Possibly with Jason Ritter. Because he is literally the best-looking man on the show.
And now, without further ado: SAD TWEETS
Lauren Graham, keeping it cool.
Dax Shepard has high hopes that this episode will score just as many viewers as a KUWTK rerun. Maybe in the first season, but now? Imma switch the channel over to see what the Kardashians are keeping up with.
G/O Media may get a commission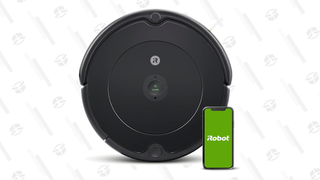 35% Off Black Friday Deal
iRobot Roomba 694 Robot Vacuum
Peter Krause is not on Twitter, so here's a tweet from a political science professor with the same name. Yeah, the situation in Syria is important, but have you even considered how many times they're going to force Mae Whitman to cry this episode?
Monica Potter is over this show anyway. She's the one who ran for mayor, she's the one who had to shave her own hair off on-screen. She was the best actress in this bunch of lame-os and I understand why she's chosen to concentrate on her new home and body products, which are some kind of whipped rose-scented things. Will buy two.
Erika Christensen has zero chill and is desperately trying to remind NBC she exists and will be available to work for any other of their shows, which she will also promote wholeheartedly as long as everyone agrees to forget about Swimfan.
Mae Whitman so busy crying she forgot to tweet.
Sam Jaeger is really excited about his new movie, but uh, he's also going to spend his birthday watching the Parenthood farewell. Notice that Haddie's picture is nowhere to be found because she basically doesn't exist anymore.
Savannah Paige Rae is having the "saddest day ever" which means it's probably like a 2. She only used one emoticon. Can't be that bad.
Max Burkholder don't care about any of this, but he does hate Perez Hilton.
Joy Bryant is oddly silent. As is Miles Heizer. Hmmmm.
Bonnie Bedelia doesn't tweet. Craig T. Nelson stopped after that whole "Joe Paterno looking the other way" thing.
Tyree Brown's tweets were written by his mom. Or Dax Shepard. Probably Dax Shepard.
Sarah Ramos likes reaction GIFs and wants to have dinner where "that Ebola guy went for meatballs." Sarah Ramos is probably the only person we want to hang with.
Xolo Maridueña will be live-tweeting and handing out Parenthood-branded tissues to anyone who wants one, but especially his mom, who is sad the show is ending.
Ray Romano's got nothing to say which is right because fuck you, Ray Romano, you ruin everything. Especially Everybody Loves Raymond and love.
BUT WAIT! WHAT DOES JASON RITTER HAVE TO SAY?
Adorable.
Are you watching the finale? Are you prepared to cry?
Image via NBC.