In Monday night's episode of Vanderpump Rules, Stassi Schroeder's romance with new boo Beau Clark was buried beneath continuing drama between DJ James "the white Kanye West" Kennedy and the ladies, but blink and you might've missed her referring to Beau's mom as "hopefully my future mother in law." That language is certainly new territory for Stassi. After a series of betrayals and lackluster relationships with unfaithful scumbags, she seems to have found functional love, a real rarity in the VP universe.

Scheana Marie's relationship thirst knows no bounds; Kristen Doute's locked into a relationship with the thankless, forgettable Brian Carter; Ariana Madix, who does not want children, just purchased a $2 million Los Angeles home with boyfriend Tom Sandoval, despite the fact that he told his friends on his birthday that not having kids was "a deal breaker." (Okay, they're still well-adjusted in comparison.) The only happy pairings on the show—after eras of unhappiness—are Katie Maloney and the anthropomorphic golden retriever puppy Tom Schwartz, and, most surprising of all, Brittany Cartwright and the seemingly reformed Jax Taylor. That Stassi Schroeder can be added to the list is evidence that you kiss a lot of square-jawed frogs to find your prince. Let's take a stroll down her traumatic memory lane, shall we?
---
Jax Taylor
Though it feels like a lifetime ago, when Vanderpump Rules first premiered in 2013, Stassi and Jax were nearly two years into one of the most dysfunctional relationships the show has ever seen. (Jax likely would've never even been on the show if Stassi didn't convince Lisa Vanderpump of her boyfriend's star power, which quickly translated to Bravo gold. He was the villain they'd been looking for.)
G/O Media may get a commission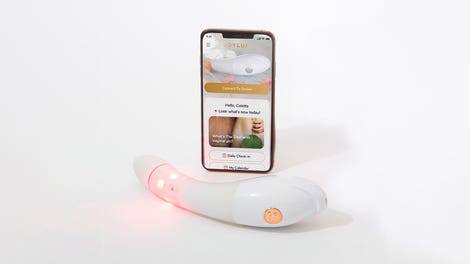 $50 Off
Joylux vFit Gold Device
They dated on and off—mostly on when it should've been off—during Season 1 and a little bit of Season 2, then finally broke up when a rumor that Jax cheated on Stassi during a trip to Las Vegas and impregnated that woman proved to be true. He lied about it constantly, as he lied (lies?) about everything. Looking back on their partnership is shocking only because Stassi takes no shit from anyone, but Jax manipulated her. When they were together, she grew increasingly paranoid. She wouldn't let him model with women, though he was an aspiring model and his side hustle required him to. Instead of trying to surveillance state the guy to death, they should've broken up years ago, but this is reality television where everything's a slow burn.
---
Frank Herlihy
In her search for a rebound post-Jax, Stassi Schroeder began dating some guy named Frank Herlihy, who is not worth mentioning except for the fact that he is the ex-boyfriend who attempted to sell her "sex tape" for $900. The tape in question was a personal video Stassi sent him while they were dating, in which she said she masturbates and her face is visible. Lisa Vanderpump ended up purchasing it in order to protect Stassi, and to stop it from proliferating on the internet. (If Bravo's creative editing is to be believed, the "sex tape" is actually a FaceTime video she sent Frank, which he then saved and used as blackmail.)
Somehow Lisa's acquisition actually worked to shut down the footage and Frank was never mentioned on the show again. There must've been some legal conversation the public wasn't privy to, because what's stopping him from attending to re-sell it later down the line? Surely revenge porn laws aren't that effective?
---
Patrick Meagher
Undoubtedly the worst of Stassi's boyfriends is Sirius XM host Patrick Meagher. They were on-and-off for four years, but seemingly serious enough for Stassi to leave Vanderpump in season four to move to New York City to be with him. He made a few heinous appearances in Season 6—at one point, telling Lisa upon meeting her that he "liked watching" her "walk away." Then, of course, was his gratuitous misuse of $10 words issued to make Stassi feel stupid. King of the gaslighters, this one.
---
Beau Clark
There is no greater couple in the Vanderpump milieu (except for maybe Lisa Vanderpump and Ken Todd) than the relatively new coupling of Stassi and new boyfriend Beau Clark. Season 7 has been riddled with charming moments between the two seemingly unconventional pair: Stassi frequently calls him a hipster. He doesn't condescend her. She rarely has her infamous freakouts with him, save for a brief birthday moment in which he accused her of dick-punching his heart, and when they do tiff, he balances her out.
In a recent episode, Stassi revealed to Clark's mom—who she met for the first time on screen, and who taught Stassi's friend group all about the reptilian brain—that when Doute originally showed Beau Stassi's Instagram, he wasn't into it and said "no" to matchmaking. His mom said he's all about what's inside, and that has so far proven to be true. Once they finally met, talked to one another, and bonded, it was love.
It doesn't hurt that everyone else appears to adore him, too, including Jax, who told Us Weekly, "I love Beau. In fact, him and I get along so well. He's just a very easygoing guy. He's basically the polar opposite of Stassi, which I think that's what she needs. It's kind of an opposites attract situation there." Seems to me that they've got a lot in common, including a silly sense of humor, but whatever the case, it's nice that Stassi gets to be sane and happy for once.