It is truly insane that the Olympics are somehow still raging on with vim and vigor, much like my enthusiasm for watching youngsters skating for their lives and then crying in front of an international audience. I will never be able to do what these women do, and for that they deserve props, snaps, and a flower arrangement shaped like the animal of their choice.

My hope and my dream was that everyone dusted off their favorite skating 'stume and really frickin' BROUGH IT for the FINAL COMPETITION and you know what, I think that's what happened.
I unfortunately missed Ivett Toth, but I like the simplicity of her red one-sleeved thing and trust that her sequins were on FIRE under the lights of the Gangneung Ice Arena!! A little bird informed me that my little Swiss Miss Alexia Paganini's costume had a bedazzled spine AND she skated to selections from Phantom of the Opera, so I love this red dress and its gold and sapphire detailing even if I am admittedly a little sick of red. It also appears that she might have engaged in a costume change mid-skate?? If so, I DIE. Loena Hendrickx has hopefully reconsidered the unitard nightmare she wore during the short program; I have faith because this cranberry number is a nice choice.
G/O Media may get a commission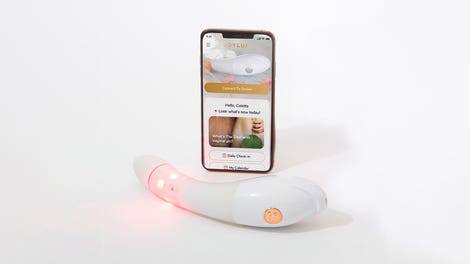 $50 Off
Joylux vFit Gold Device
Let us talk about DETAIL. This soft grey number on Maria Sotskova has bridesmaid vibes, but the long sleeves and the high neck feel very V.C. Andrews—a going-out top for My Sweet Audrina, perhaps. The risk of wearing purple while doing gliding backwards on one leg past another shade of purple really paid off for Nicole Rajicova; this color is beautiful even if the stones are a little passé. Kim Ha Nul's multicolored rhinestones looked fucking incredible under the glaring lights of one billion cameras and Mae Bérénice Méite has paired a weird Forever21 top with a skirt from Zara, but I'm not at ALL angry—that detail on the hip is the most exciting thing I've seen.
Bradie Tennell's cornflower blue Cinderella fantasy went just fine with her performance, though something is bugging me about the skirt. Gabrielle Daleman showed out in royal blue, sheer navy, a ton of rhinestones and eye makeup that only a beauty vlogger could love, with a fresh manicure to boot; watching her fall was devastating!! This is honestly... not great on Emmi Peltonen, but I bet it's the kind of thing that looks better in motion. Kailani Craine's bodice looks like a Cardi B manicure—not a read, just the truth, and also a compliment.
When Satoko Miyahara skated onto the ice I gasped out loud like a huge idiot because I truly LOVED this look! This blue looks boring in the stills but GLITTERED in motion and would you take a look at that nude sleeve covered in aqua rhinestones? Like a magpie whose gross little beak is overladen with sequins stopping to consider a bright copper penny, I cannot look away.

Karen Chen's dedication to a coordinating glove speaks is extra and the fact that she choreographs all of her own routines at 17 years old confirms my suspicions that one day she will gracefully annihilate the competition at the Winter Olympics in 2022, held, I just learned, in Beijing. I am breathless with anticipation and in the meantime, I love the drama of this black and red thing, even though it looks a bit like an expensive Victoria's Secret bra. As she is only 17, I'm not sure that this old-ass Bay Area classic resonates with her as it does with me, but I dedicate it to her just the same. EAST BAY STAND UP TAIWAN STAND UP.
The beading on Isadora Williams's bright red flowers is interesting, enlivening an otherwise whatever black dress and making up slightly for that cold shoulder. Carolina Kostner should've worn this key lime pie-colored bedazzled unitard for her final appearance in the Olympics, but I do love this sapphire number. Kaori Sakomoto's top is a little twee, but so is skating very competently to the Amélie soundtrack. Unfortunately Mirai Nagasu did not hit another triple axel, but I do still love this look.

The three women who elbowed out the rest of the competition honestly could've been wearing ill-fitting sweatpants and a bathmat with a hole cut out for the head and it would not have mattered a bit—they are incredible athletes who did feats with such ease that for a fleeting moment, it convinced the rest of us slumped on our sofas watching that with a little gumption and some extra hours at the gym, we could do what they did.
Katelyn Osmond trotted out onto the ice in a fairly unassuming Black Swan costume—sheer chiffon, illusion netting, Swarovski'd bodice to look like feathers—and skated the shit out of a routine that landed her in contention for a medal, to her complete and utter shock. The skating was so good that it distracted me from the 'stume which, unlike her performance, was completely expected. Next Winter Olympics, I want someone to hit the ice dressed like Big Bird's goth cousin if they're going to do this shit. You're dancing on ice in figure skates, give me some drama!!!
The jaunty little package NBC put together about Evgenia Medvedeva as filler between commercial breaks gave the impression that my little rave queen loves anime and is probably very chill to hang out with. This bordeaux spangled glam with the trellis of sequins and rhinestones is very consumptive French courtesan from the Moulin Rouge, but she skated to music from Anna Karenina, so I guess it's that. She skated like a dream, but it was not enough to beat the little demon in red.
It became clear halfway through Alina Zagitova's performance that she was probably going to snatch the gold from the hands of her teammate. We have seen this red dress before, and we are still enraged about the tight pulled over the skate, but whatever magic she did in the short program gave her the edge (a skating joke, ha ha) to win. This crafty little minx is 15 years old and frankly, she scares me. I love her.
In my mind, the unsung heroes of the figure skating portion of these Olympic Games are not Tara Lipinski and Johnny Weir, though the Bump-its residing in Weir's pompadour deserve honorable mention.
Watching these flower girls stream out onto the ice like chic, harried ants in their purple ombre 'stumes with Peter Pan costumes to gather the Winnie the Pooh bears, flowers, and whatever else is thrown on the ice is a delight. Hardest working girls in Gangneung Ice Arena!!! Where is their medal!? THEY DESERVE IT.
The athletes made it to the end, and so did I.