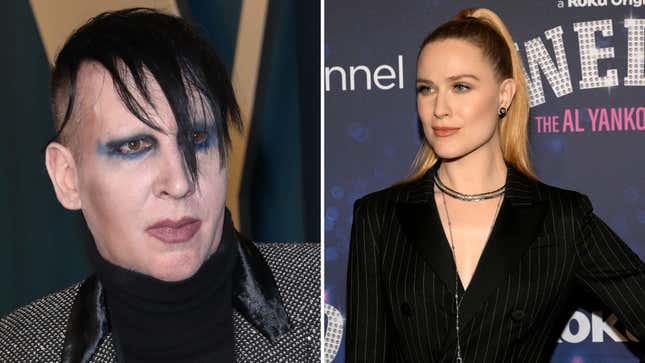 Just two weeks after the Superior Court of California favored actress and activist Evan Rachel Wood in a tentative ruling in the ongoing defamation case levied against her by her alleged abuser and ex-partner, Marilyn Manson (née Brian Warner), Wood has reportedly surrendered primary custody of her 9-year-old son. Why? Apparently due to alleged threats she claims Manson has made.
Crush of the Week: Daniel Radcliffe's Weird Al
On Thursday, The Blast reported it had obtained new legal documents that showed Wood and Jamie Bell—her former partner and the father of her young son—have agreed the child will reside with Bell as Wood claims she fears she'd be putting him in danger by living with him in Los Angeles full time. Wood—along with Phoenix Rising collaborator, Illma Gore—is currently embroiled in an ongoing defamation suit filed by Manson, and though much of it has already been dismissed, Wood has repeatedly claimed her ex has threatened her safety and is afraid of retaliation.
"I am a key witness in a pending criminal investigation," Wood, who resides in Nashville, said in custody court this month. "In connection with the investigation, I allege that I was the victim of torture, rape, and pedophilic grooming by an intentionally known public figure."

"I am extremely afraid of the alleged offender," she continued. "I have suffered a severe, traumatic physical and emotional injury at his hands, and I am afraid that he will seek retribution against me for testifying by harming me, our son, and members of our family."
It's worth remembering that in December 2021, Wood alleged that Manson threatened to "fuck" her son in court filings. She also noted that she took Manson's alleged warnings so seriously that she relocated with her son from Los Angeles to Nashville and claimed to have installed bulletproof glass windows, a steel door, and a security fence around her home. Manson denied her accusation.
With regard to Wood's new custody arrangement and fears for her son, sources who spoke to the Daily Mail on behalf of Manson called her allegations "unproven claims" and asserted that Manson hasn't communicated with her in "nearly a decade."

"At no time has Brian Warner ever threatened Ms. Wood or her family," the unnamed source told the publication. "Wood has not provided a shred of evidence of Warner making any threats against her or her family."
'The only people whose safety has been threatened are Warner and his wife [Lindsay Usich], who were swatted at their home based on a duplicitous phone call made to the FBI by Illma Gore, who claimed to be a friend of the couple," the source continued.
Wood's custody back-and-forth with Bell has stretched for years, with the latter claiming she made the "unilateral" decision to relocate with their son in 2020. Wood, as noted in custody court filings, said she did so in an effort to protect him. However, Bell countered that "prolonged separation" from their son would cause "short- and long-term psychological harm" to the child. The pair were together from 2011 to 2014. Wood has since spoken candidly about the hardships of being a single mother.
In a noteworthy 2022 interview with The Cut, Wood told the publication that Bell had been one of "the least supportive" people in her life after she went public with her claims against Manson, and noted that "family court is one of the worst places to put a domestic-violence survivor."

Representatives for Wood and Manson did not immediately respond to Jezebel's request for comment.