Eva Marcille has pulled off what should be considered a feat: remaining relevant after her run on America's Next Top Model, a show widely known as a factory for obscurity. Since winning Cycle 3 a full 13 years ago, she's ventured into acting (The Young and the Restless, Tyler Perry's House of Payne, etc.), producing and, naturally, more reality TV. Over the phone, after I mention that I've followed her career since ANTM and ask that she not think of me as a stalker, we talked about her new friend role on Season 10 of Real Housewives of Atlanta (premiering Sunday), the evolution of reality TV, and her obsession with Below Deck. As always, she has a way of being elegantly blunt. A condensed version of our conversation follows.
---
JEZEBEL: What was your impression of the Atlanta franchise before you joined? Did you know the castmembers personally? Did you hate any of them?

EVA MARCILLE: Hate is a very strong word [laughs]. Being a mom of a three-year-old, I try not to hate anyone. But I must say, I have known Nene for quite some time, about nine or 10 years now. We met through a makeup artist and just bonded and learned to love each other, and I got to know her husband Greg. My boyfriend [Michael Sterling] was running for mayor of Atlanta—we've been together for about three years, and for the past year talked about doing the big move. So I moved to Atlanta and Nene thought it'd be cool if she introduced me to her set of friends. I got an opportunity to meet these girls who you guys know as the cast of Real Housewives of Atlanta, and I fell in love with these girls. Most of them at least.
Most of them. Which ones didn't you fall in love with?
Oh, no, no, it's not that deep. Certain people you bond with more. I have three brothers and one of them I'm closest with. I don't not have a bond with others. I'm just closer to certain people.
G/O Media may get a commission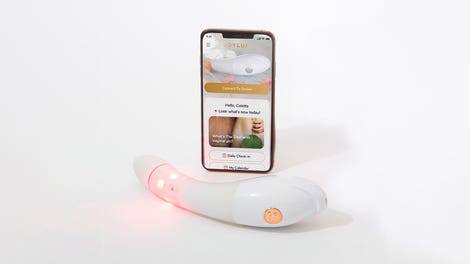 $50 Off
Joylux vFit Gold Device
Were you worried about fitting in with the group or trying to avoid drama?
Now, you who has followed me, do you think I care about fitting in? [Laughs] At all. No. Fitting in has never been a requirement or a desire of mine. More so, being myself. You know, I'm not a Southern girl by any means. I'm the youngest of anyone in this group. I kind of have a life in entertainment that precedes moving to Atlanta, so there might be some notions of me that preceded me moving here. I just came to Atlanta to enjoy this phase of my life and I was happily welcomed with open arms by all these women. I mean, every single one—the ones that you wouldn't expect. All these women are exceptional and they're beautiful inside and out.
I mean, that's great. But I would expect as a viewer for Kenya in particular to have some jealousy.
Kenya is the sweetest girl ever! That's the craziest thing about her.
That's funny.
But she's so sweet, she's so beautiful, welcomed me since day one. The first day I met her, I didn't know what to think, definitely didn't want to be standoffish. But I'm also not a super-clingy kind of person, and she spoke to me before I was even able to say anything. She was very welcoming. Obviously, I am the new person in a space, so you kinda don't know how to take that and she set the bar and was super sweet.
You're on this season of Atlanta as what they call a "friend."
A "friend to the show."
So how much will we see you on screen interacting with the others?
You'll see me throughout the whole season.
Did you follow the drama last season between Kandi and Porsha? Were you up on where everybody stands?
See, drama is like the allegations against Trump right now. Ya don't know what to believe. Ya gotta kinda get a little more information before you make your assessment. I didn't really want to put myself in that box of prejudging any of these women because of their relationships or situations with other women. I think that's rather immature. You gotta give people an opportunity to evolve. Like, the girl that I was on Top Model is not the woman I am today, and I pray to god that I'm not held to that standard.
I recently rewatched a scene from Top Model where one of the models accused you of stealing her crystals.
[Laughs] Oh my god, it was so stupid. That was so stupid. She was so serious about it, too. I was like, girl, who wants crystals? Why would I steal your crystals? I'm from South Central, Los Angeles. What can I do with a crystal? Nice pair of shoes, my size, maybe. Crystal, no.
It's been a few years since you've been on that show. How do you look back on the experience?
It's been 13 years since Top Model. That's a very long time. That's enough time to rear a few children. We literally started and did Top Model in the beginning of the 2000s before reality TV was even considered a genre, when we were still trying to figure out what this machine or thing even was. I think that Tyra is a godsend. The jewels and pearls of wisdom that she's given me have sustained me over the last 13, 14 years, just teaching me the business part and prioritizing what's real, what's smoke and mirrors and teaching me who to be and how to behave in this business. My hat goes off to Top Model. I still talk to a lot of the girls from the show, specifically YaYa and Toccara from my season. That was Season 3, they're on 23 or something crazy like that and they're still kicking.
You guys are among the successful contestants, but the big thing is that the winners don't stay relevant. What's your theory on why?
You know, Tyra spends a lot of time trying to impart upon us the proper business etiquette and teach us diligence and let us know that the platform that she has given us is literally just a drop of paint in the bucket. Our job is to fill this bucket up, and it gets harder and harder the more you do. I don't know how much of that lesson all of the girls really took.
So the people who haven't stayed around just don't have that mentality.
Yeah, I mean look at reality television now. Look at the shows you love. You have huge breakout stars, and I think one thing that's synonymous with these people—be it something like Survivor or Love and Hip-Hop, looking at Cardi B—it's all about your work ethic. It's all about how much you really, really want it. Some people think that the moment they get on television, they're able to see their name up there, then they've made it, but that is so far from the truth. You have not made it at all. There are so many sitcoms from back in the day where you remember that star from that one show and you never seen them again. And then you see other people that have been on numerous shows and they're always parlaying this into the next moment. What I wanted was a sustainable career that was true to me.
How do you think the perception of black women on reality TV has changed? People still say it's messy, but that's a certain representation in and of itself.

Hey, depends on what show you're talking about. Look at [America's] Supernanny. Supernanny is a black woman. She is changing America's home, one parent and kid at a time. If you wanna see Bad Girls Club, then you watch that kind of a show. If you want to see American Ninja Warrior and competitive women that are athletic, you watch that kind of show. What I enjoy about reality TV is it's showing you the versatility of black women. Kandi Burruss started in a singing group and parlayed her business into successful production companies, the girl's on Broadway, she has her Bedroom Kandi, two other television shows. It's really easy to put us all in a box, but that's not the truth. I'm a big fan of Real Housewives of Dallas and there's no black women on there and it goes down. I think women as a whole, no matter what language we speak, what color you are, we gravitate toward these relationships, these friendships, the family life, rearing children and meeting new friends, adapting and adjusting, and the lifestyle of the rich and famous.
Which reality shows have you gotten into lately?
Ok, so I love Dallas and I love Auckland. These women are like the full turn-up. And then I love Below Deck. Is that weird?
Oh really? I know like two people who watch it.
Well, I never knew anything about yachting and, like, the yachting life. I grew up in South Central, LA. No one's yachting in LA. I've been on yachts a few times and I've definitely had an experience, but to get a taste of the entire life, the people that run these yachts, the kind of customers that run these yachts, the captain and what that whole culture is, it's so cool to me. I mean, these people live overseas in the island for like six months out of the year chartering boats for these super-rich famous people and they have to do the simplest and craziest things ever. I find myself completely fascinated by that show.
Have you followed the evolution of Top Model, like the different judging panels, or are you kind of removed from it?
I actually will be back in the Top Model world this season, but the beauty of the show is that it's been on for so long I don't even think Tyra stayed abreast of everything that's happening and it's her show. I run into a lot of my old judges. I just talked to Jay Manuel; he has a new beauty line that launched last week in New York. And Nigel Barker, amazing fashion photographer, I keep in contact with him.
Noted fashion photographer.
"Noted fashion photographer." He's beyond noted now. That was 14 years ago. He is the bees knees, ask Naomi Campbell. He has definitely made a huge career for himself. Same thing with J. Alexander. A lot of my judges that are stars, i've definitely kept up with, and then before me was Kimora, who I still absolutely adore and pay homage to.
I totally forgot about that.
Impossible! After she saw me on the show, she put me on her talk show Life & Style and let me keep coming back. I haven't stayed completely up. However, there is someone that's on the show that was on my little itty bitty reality show years ago. His name is Law Roach. He's become the biggest fashion stylist. I created and produced a show on a little network that was called BET J, which is now Centric, and it was called My Models. The idea was that we were trying to find the next red carpet stylist sensation. Law was a contestant on my show and he won, and he has now gone on to be, like, the biggest thing ever. Obviously, I'm no Tyra and I don't have a platform to give him like that, but his potential and his skills were definitely noted years and years ago and his promise of a great career in this business so I am not at all surprised to see him slaying the likes of Zendaya and Celine Dion because he is a force to be reckoned with and I'm so glad the world knows now.
You're making stars.
Exactly. Well, just putting them on my little BET J show, that's all.
Would you want to become a full-time Real Housewives castmember?
That's such a hard question. I think I'd rather see how the show shakes out because this is a show that has truly vested fans that have been in love with the show for so many years. I'd like to see what they think. I'd like to see how they accept me in this world. Before I jump the gun and say this is what I want, I really want to see what the rest of the world thinks.
Have you thought of what your tagline would be?
[Laughs] No. I'm excited to see what the world thinks up for me, what they think my tagline should be.
Something like, "I'm Eva the Diva and I never…"
No, please do not call me Eva the Diva!
Do you have issues with that label? 
No, it's fine. My kindergarten teacher Ms. Nelson called me Eva the Diva. Because it rhymes with Eva. Sometimes when I'm ordering something I say Eva, they think I said "Diva." But you know what, I think it was a very honest way of describing the fierceness and the personality that I brought to the table and brought to the screen. It was definitely fearless, it was very much fierce, and that I can't take away from anything. The girl that jumped on this scene was definitely here to be seen.
I watched a few clips from Scared Famous and you're on there with a few other Vh1 reality TV stars. Did that feel strange or awkward?
Not at all. Coming from entertainment, I walk on set and you never know who you're gonna see. So walking onto set with nine other reality stars that I absolutely love and I'm familiar with and watch all of their shows, it was really cool. It was cool to get to know these people that I thought I knew, what was true and what wasn't, and get to know them intimately.
How much do you believe in ghosts and the supernatural?
Well, my birthday is the day before Halloween. I one-thousand percent subscribe to all the ghosts and goblins and everything spooky. I mean, there's still a projector on my house that has pumpkins and ghosts and witches flying all around.
You played a big role in the trend of black women wanting dramatic long braids. My hair-braider had floor-length braids once and she described them as antennas that heighten your awareness.
Now, we can call it what it is. I started the whole trend! Call a spade a spade now.
Did you want to get them for a particular reason?
My daughter has locs. I wore short hair for a very long time, and then I decided to go into protective styles instead of wearing traditional weaves—which, mind you, there's nothing wrong with them. I've definitely worn a couple. A lot of my friends, I would tell them I wanted to get braids and they'd say, "That's vacation hair!" I'm like, well, what the hell does that even mean? Vacation hair? Because, to me, braids are just so beautiful. My hair was so thick and so long growing up. I wasn't allowed to get the long, really cool braids 'cause it cost way too much for my mom. So as I got older, I'm like, I'm doing the longest, smallest braids in the world! I did 'em not just to show other women, but to show my daughter what a black queen looked like and what it looked like to be beautiful and regal and glamorous and not have to change culturally who I was. I must've had my braids up for a week before I saw hundreds of tags of "Eva braids, I want the Eva braids." And that was the whole point, to show how beautiful we are as a people and how our identity is still gorgeous.