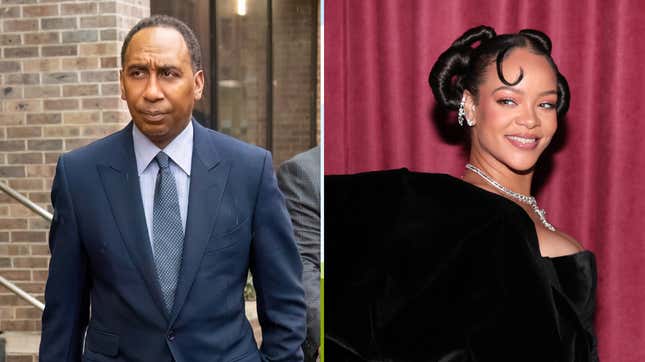 You can bet your ass that Rihanna's been pouring it up all afternoon watching ESPN analyst Stephen A. Smith grovel for her forgiveness. You can also bet your ass that Stephen A. Smith, notorious misogynist, is going to learn nothing from this.
Wednesday's dustup between Smith, Rihanna, and Beyoncé (don't worry, I'll explain) has all the drama one could possibly want from a pop culture ring match in which two of the participants aren't even present in the ring, and the other repeatedly punches himself in the face.

Let's go back to the beginning: Smith, a regular pundit, sexist contrarian, and shit stirrer on ESPN's First Take, appeared on Sherri Shepherd's daytime talk show on Wednesday to discuss his upcoming book, which we will not plug here. When asked if he was excited for Rihanna's upcoming halftime performance at the Super Bowl, he wished the Baddest Gal congratulations on the gig and on her new baby. He could've stopped there, but of course, he did not. "There's one thing she's not—she ain't Beyoncé," Smith said, as the audience groaned. "The only reason I brought up Beyoncé is because Beyoncé recently performed at the Super Bowl… there's levels, you know."
"Rihanna's music is fantastic, she's great, she's a sister. I love her dearly, I listen to her music, I'm gonna support her 'til the cows come home," he continued. "I'm just telling you for me, there is Beyoncé and then there's everybody else… She's going to be good. She can't be bad, she's too great not to be good."

The optics of pitting two Black women against each other—especially in the realm of sports, in which Black women have been repeatedly belittled, ignored, and abused—are not good. Smith knows that, which is why he posted a three-minute apology video the same day. Well, that and because of the social media attacks from the Navy (Rihanna's fans).

"I'm gonna own it. I know what y'all trying to do, but I'm gonna own it because I get paid to speak for a living, so I need to be more careful," Smith said in his video. "I want Rihanna to know, you're a superstar, you're sensational, you're spectacular, you're no joke and you are a worthy person to be doing the Super Bowl Halftime Show."

"… I meant it as no disrespect to Rihanna. I know she is phenomenal and she is my sister. Nothing but love for her, but Beyoncé is my sister too," he continued. "I got love for the both of them. I just think that Beyoncé is the greatest performer out there today. That's me, that doesn't mean I'm hating on anybody else and that doesn't mean I'm damn well wishing for Rihanna to fail. I think she's going to be great."

After simping a bit more, and also finding a way to say that even Michael Jackson, if still alive, would have to measure up to Beyoncé, Smith apologized one last time for "creating whatever brouhaha comes of this. I gotta be more careful, where people twist it and turn it into something it ain't," he said.

I would like to reward this immediate, tail-tucked-between-legs manner of apology with a small sliver of carrot—so long as we acknowledge that the bar for apologies is on the ground. This marks the end of the praise for this interaction.

At the same time, I don't for a second believe this apology has taught Smith anything at all, who has over the years been called a "masterpiece of misogyny" and a "sexist mouth-breather" for his long history of, you know, only liking women when they're not speaking. In 2014, when discussing former footballer Ray Rice's domestic abuse case, Smith said to women watching, "Let's make sure we don't do anything to provoke wrong actions." He apologized twice and was suspended by ESPN for a week.
In 2015, Smith remarked that a group of women soccer players couldn't defend their goal because they "didn't want to get their hair messed up." In 2016, he said that Ayesha Curry shouldn't speak up about current affairs and should be more like Lebron James' "gorgeous" wife who "never tweets…and calls out the league." Just last year, while defending disgraced Celtics coach Ime Udoka, Smith got so heated that he began interrupting and shushing his colleague Malika Andrews for undermining him "on [his] show."

Three takeaways for everyone in this unwitting triangle: Never cross Rihanna (but also, never cross Beyoncé). Apologize to women often and quickly—much preferred if the apology runs between three to 10 minutes, or if the apology wasn't needed in the first place. And stop blaming missteps on "brouhaha." Where there's a man bemoaning the fact that something he said is going to be twisted into "brouhaha," there's probably also a chronic misogynist who has more self-reflection to do. A tiger doesn't change its stripes, etc etc!