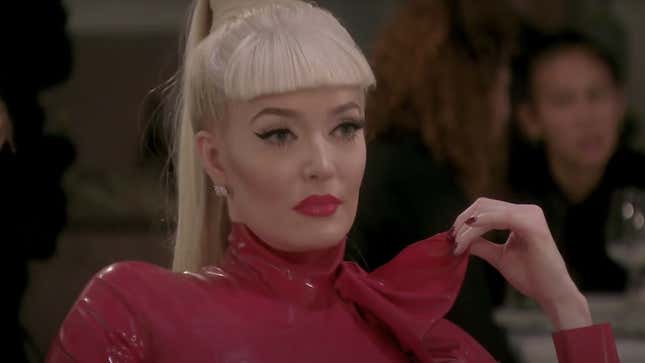 Unlike how most people would be feel about something like this, Erika Jayne is reportedly not happy that her estranged husband's law firm has put a bunch of her memorabilia up for auction to pay off his creditors. Nor is the Real Housewives of Beverly Hills star said to be happy about the fact that this auctioning off of her stuff has made headlines—which, again, is wild because most people love it when stuff like that happens.

The Housewives Have Kept Mum About NeNe Leakes' Lawsuit
"These are all seized items," a source told Us Weekly. "She had no approval on what was going to be auctioned off and what's not auctioned off."
The items in question include some signed magazine covers; framed photos of Jayne and the aforementioned estranged husband, Tom Girardi; and a Billboard plaque for her 2009 track, "Roller Coaster." How dare Girardi et al sell off such precious family heirlooms! I just don't know what I would do if someone took away the Billboard plaque my grandmother passed down to me (that her grandmother passed down to her from the old country). I'd be so mad... I might even dust off the ol' Talkboy and call up Us Weekly!
---
Speaking of Real Housewives, a Bravo rep announced that there are "currently no plans to bring The Real Housewives of Dallas back next year," so basically it's on indefinite hiatus until who knows when. [Us Weekly]
Permhamps this would be the perfect time to bring back The Real Housewives of D.C.? All the Housewives-related scandals have gotten so bureacratic and, dare I saw, LAWFUL. Lawsuit this! Embezzlement that! Whatever happened to crashing inaugurations or locking people in the basement of your vineyard for no discernable reason? It's time for Michaele Salahi to wreak some of her signature chaotic-neutral havoc...
Scarlett Johansson and Colin Jost are going to have a baby. [Hollywood Life]
"When I'm gone, please don't release any posthumous albums or songs with my name attached," reads a new all-text tattoo on Anderson .Paak's...leg? Arm? "Those were just demos and never intended to be heard by the public." With all the shit they keep doing to Aaliyah, no wonder! [New York Post]
Cuba Gooding Jr. burst into the kitchen at a New York sushi restaurant and said, "Show me the sushi!" Let's hope that everyone working back of house understood who he was, what he was referencing (how the fuck is Jerry McGuire 25 years old??), and generally what the fuck was going on. [Page Six]
That Roseanne revival-turned-Roseanne spinoff called The Conners is still on the air???? Anyway, Jason Alexander's going to guest star on it next season. [Deadline]
No thoughts just: