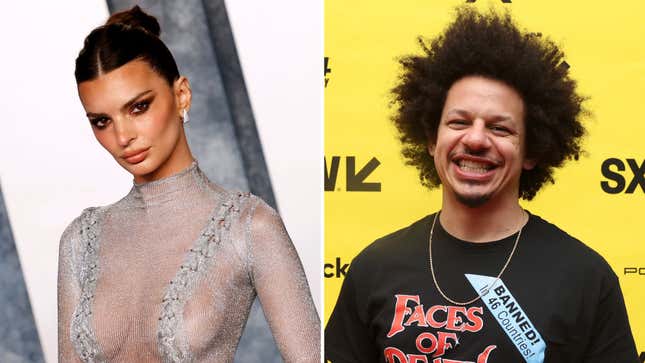 Model/author/podcaster Emily Ratajkowski knew the photo she snapped of a nude Eric André sipping wine on a velvet couch would be "iconic," according to the comedian's new interview in Rolling Stone. The photo, posted on Valentine's Day, hard launched the brief relationship between EmRata and André—marking a turning point in the model's semi-public series of flings following her breakup from husband Sebastian Bear-McClard over the summer.

Paulina Porizkova On The Hypocrisies Models Must Navigate
"Emily popped up and took that picture. I was really in the moment, I was drinking wine, she started dying laughing, and she was like, 'I have to take a picture of this.' She took the picture, we both started cracking up," André, who does whip-its to "reduce his anxiety," told the publication at SXSW. "She was like, 'This is iconic' — she kept saying 'iconic.' We both agreed this was a beautiful image that we had to share with the world."

The photo, which was posted on André's Instagram, got nearly 700,000 likes and was written about everywhere, as it ended months of speculation about the couple's status. (In January, the model and comedian were snapped vacationing together in the Cayman Islands, with one source telling Page Six that it "seemed like a fun friends-with-benefits situation.")
"It was one of those things. And I think that's what art is about. Art is not intellectual; it's primal," he said. "It has to speak to your hormones as much as it speaks to your mind. The beauty of that was the spontaneity. Spontaneity and capturing happy accidents are what art is all about." Art Is All About spontaneity and being "one of those things." Noted!
But, despite being a hot model and a hilarious comedian, their relationship was not all art and fun. André was well aware of the media circus that surrounded their coupling, including the online contingent who couldn't believe André—who, in this scenario, is a troll under the bridge of celebrity—pulled Ratajkowski—the Helen of Troy among celebrities. "I looked like Steve Urkel for the first twenty years of my life," André said. Unfortunately, reports that the pair uncoupled started surfacing by mid-February.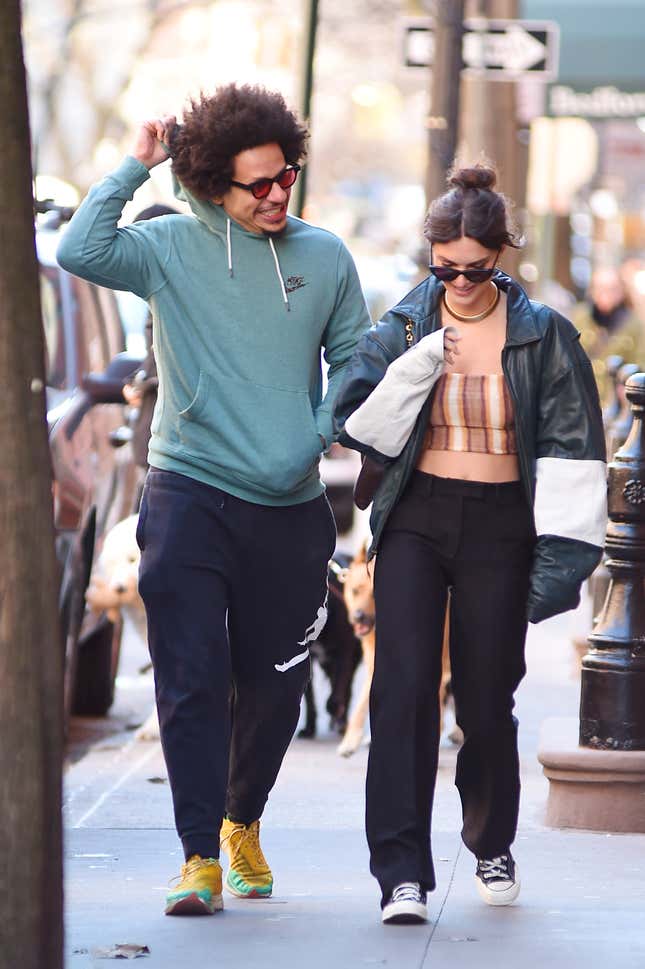 "I think that people think attraction is only based on physical appearance, but beauty is only skin-deep," he added. "Colin [Jost] is married to Scarlett Johansson, and [John] Mulaney is married to Olivia Munn, so you'd think comedy… works."
The biggest difference between these two types of celebrities is how much the public cares about a beautiful woman. When asked about the paparazzi that seems to automatically follow Ratajkowski (see photo to the right), André called it "a disturbing thing" about her life.
"Paparazzi killed Princess Diana. It's legalized stalking. There's a darkness to it. It's boundary-less and quasi-abusive, you know what I mean? She has the right to her privacy. If she goes outside her house they're there," he said. "There should be some laws behind that. Yes, they can hide behind their First Amendment rights, but I don't think that's what the forefathers intended."
André added that he doesn't really care about getting papped alone, but for the people who can't seem to avoid it. "I don't give a fuck; I have nothing to hide. But it's more about how I feel concerned for her safety and the safety of others at her level who deal with that. She has a kid. It's not safe," André said. "And it's hard to complain about it because most people are like, 'Fuck you, it must be nice!' But there's a darkness to it. She's handled it with grace."