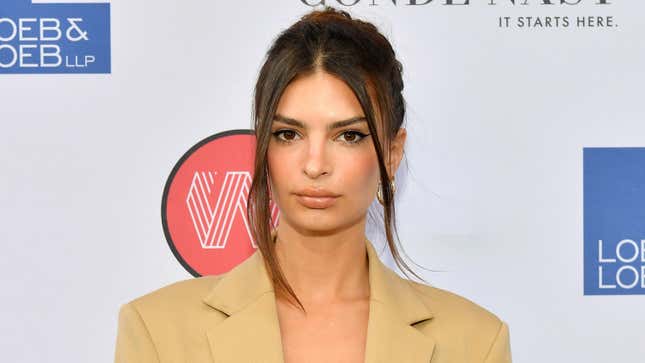 Emily Ratajkowski has accused Robin Thicke of groping her while shooting the music video for his 2013 hit song, "Blurred Lines."
Paulina Porizkova On The Hypocrisies Models Must Navigate
According to the model and actress' forthcoming memoir, My Body, Thicke allegedly came up behind a topless Ratajkowski while cameras were rolling and grabbed her breasts with both hands, The Sunday Times reports. (You can get around the paper's paywall with this aggregated story on the New York Post.)
"Suddenly, out of nowhere, I felt the coolness and foreignness of a stranger's hands cupping my bare breasts from behind," Ratajkowski writes. "He smiled a goofy grin and stumbled backward, his eyes concealed behind his sunglasses. My head turned to the darkness beyond the set. [The director, Diane Martel's] voice cracked as she yelled out to me, 'Are you okay?'"
"[I felt] naked for the first time that day," she continues. "I pushed my chin forward and shrugged, avoiding eye contact, feeling the heat of humiliation pump through my body... I didn't react—not really, not like I should have."
Martel confirmed the events to The Sunday Times. "I remember the moment that he grabbed her breasts," the director said. "One in each hand. He was standing behind her as they were both in profile. I screamed in my very aggressive Brooklyn voice, 'What the fuck are you doing, that's it! The shoot is over!'" The singer, whom both women claim was drunk while filming the video, later "sheepishly" apologized to Ratajkowski.
Thicke had not responded to BBC News' request for comment at press time.
---
Remy Ma looked SO good at the BET Hip-Hop Awards last night. [Bossip]
Area Woman reads book. [New York Post]
"Although there is change and things to celebrate in my life, I still have a lot of healing to do!" Wrote Britney Spears in the caption of a recent Instagram post. "Thankfully, I have a good support system and am taking time to understand it's ok to slow down and breathe!" [Page Six]
On Friday, Scarlett Johansson and Disney settled the breach of contract lawsuit over how the studio chose to release Black Widow and the negative impact that had on the actress' payment. (Basically: She was supposed to get lotsa lotsa money but only got lotsa money.) Thank GOD that Scarlett got her justice. Could hardly sleep over this, personally. [The Hollywood Reporter]
Balenciaga aired a special 10-minute episode of The Simpsons at Paris Fashion Week last night featuring cartoon cameos from Justin Bieber, Kim Kardashian, and Kanye West. My favorite part is about halfway through when Anna Wintour fully LIVES for Chief Wiggum's cop couture. It makes sense with my fantasy! That bob-cut ghoulianka would! [TMZ]
Demonic venture capitalist-turned-scarily popular joke candidate Andrew Yang wrote a personal essay about how hard running for political office has been on his mental health. Damn! That sucks! Has he considered not running for political office? [Politico]
Next year's Super Bowl Halftime Show will feature Dr. Dre, Snoop Dogg, Eminem, Mary J. Blige, and Kendrick Lamar. [ESPN]
Now more than ever: River Medway.