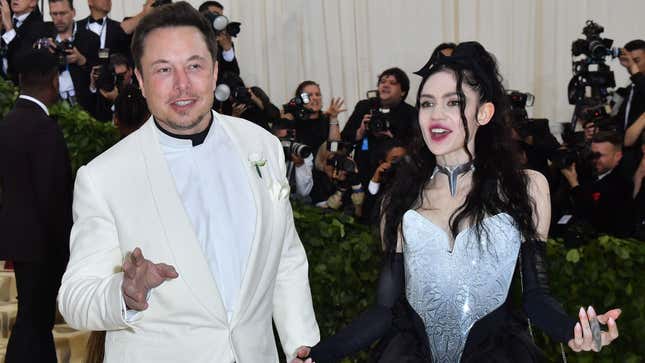 Today, Walter Isaacson's biography of Elon Musk is hitting the shelves at your local Barnes and Noble, but given the number of appalling anecdotes that have already been made public, you might feel as though you've already read it. And in the lead-up to the release, Isaacson, who was given "total access" to the billionaire egomaniac's life, shared that Musk is "driven by demons." Neat.

Infamously Thin-Skinned Man Joins Twitter's Board
Among the more absurd admissions came from none other than Musk's former partner and the mother of three of his children, Grimes. Apparently, the Space X founder felt her C-section with their first child, X Æ A-Xii, was a real Kodak moment and snapped a photo mid-procedure...

"He was just clueless about why I'd be upset," Grimes revealed to Isaacson, in an excerpt published by People. Now, not only did Musk take a picture, he then proceeded to send it to their close friends and family, including his then-partner's father and brothers. Driven by demons, indeed.
For some reason, Grimes continued to procreate with this imbecile and went on to bear a daughter, Exa Dark Sideræl, and secretly welcome a third child (Musk's 11th by the way), a son named Techno "Tau" Mechanicus.
And if you missed it! Grimes recently told Wired that X might already be "a little engineer" (just like his dad! yikes!) because if his toys are "not anatomically correct, he gets upset." Their daughter, Y, is also "a little engineer too," Grimes said. "She likes industrial shipping. She's very strange." Damn, I wonder why...
---