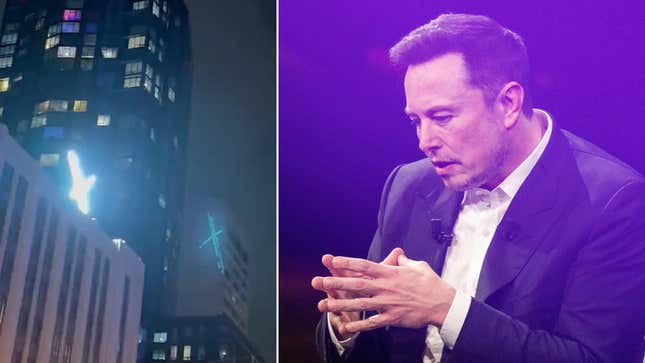 Sometimes—or, really, any time Elon Musk does anything—I find myself debating whether the worst consequence of allowing billionaires to exist is the wealth hoarding and inequality or the fact that they can make their little midlife crises everyone else's problem. Ever since Musk became determined to transform Twitter into "X," I find myself leaning toward the latter.

Infamously Thin-Skinned Man Joins Twitter's Board
Over the weekend, days after police had to stop the company from taking down its Twitter sign as they didn't have the necessary safety permits, Musk rolled out an enormous, blinding "X" sign at the top of the building. The brightly lit eyesore—which inevitably poses a risk to those vulnerable to seizures—terrorized neighbors across the street. Well, as of Monday afternoon, the "X" sign has vanished from the top of the office building following a string of very vocal complaints from neighbors, CBS reports.
As one Twitter—sorry, "X"—user put it: "RIP. 2023-2023."
Speaking to CBS, one neighbor said she at first "thought [the sign] was lightning, and I was very confused." She continued, "I went to my window, I looked around, I didn't see anything. I thought it was maybe a police siren." Others living in the buildings across the street have vocally complained on social media about how the sign has disrupted their lives.
The sign's removal about three days after its installation comes after San Francisco city officials said they opened a complaint and were investigating its installation over the weekend. The city officials implied that Musk's company hadn't obtained the permit required to install a large sign on top of a building and meet basic safety standards. The San Francisco Chronicle reports that the city's permit database "had no records of recent applications for work at the 1355 Market St. headquarters."
Of course, neither this nor the failed removal of the Twitter sign is particularly surprising—no company of Musk's has ever really had much concern for the safety of its workers or the public. (Please feel free to Google search "exploding Teslas" or "Tesla labor violations injuries" at your leisure.) This isn't even Musk's first time violating city building codes during his tenure as Twitter's new owner. Last fall, Twitter came under investigation by the city of San Francisco for numerous building code violations for converting rooms at the Twitter offices into "hotel rooms." You're doing amazing, Elon!
Funnily enough, all the varying sign-related kerfuffles aren't even the least of Musk's problems as he tries to convert his rapidly declining app into "X"—an aspiring "everything app" that wants you to give up your private banking info despite being a hotbed for scammers. The "X" transition has thus far entailed the aforementioned run-in with law enforcement, appraisals that this move could cost the company up to $20 billion in brand value, impending trademark lawsuits over the "X" name, and, of course, the company's bizarrely renamed conference rooms that practically encourage sexual harassment (in typical fashion at a company owned by Musk.)
I'm genuinely saddened by the accelerated demise of Twitter, a social platform that was enjoyable for a long time, despite its many quirks. All of this—the hideous sign, failure to obtain permits, and general idiocy—is even sadder when you remember "X" is only being forced down our throats so a 52-year-old man can try to look cool in front of the women who have divorced him and all of his kids who won't speak to him.