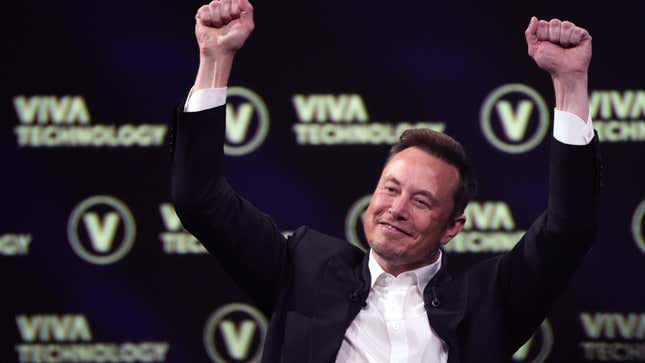 Elon Musk, the unimaginative little twerp who's owned Twitter since accidentally purchasing it last year, announced his latest self-inflicted wound over the weekend: He's rebranding the company as "X," which will supposedly allow Twitter to take the leap from a social media platform to an "everything app"—as explained by his CEO, Linda Yaccarino, via a haphazard salad of buzzwords stripped from a crypto scam website's mission statement. "X is the future state of unlimited interactivity—centered in audio, video, messaging, payments/banking—creating a global marketplace for ideas, goods, services, and opportunities," Yaccarino wrote on Sunday. "Powered by AI, X will connect us all in ways we're just beginning to imagine." Sure, the app's verification process, which is catered to right-wing trolls, cost a couple of mega-corporations billions last year, but let's all give Twitter—pardon me, "X"—our banking info, shall we??

Infamously Thin-Skinned Man Joins Twitter's Board
Since the weekend announcement that Twitter would soon be no more, Musk's rollout has been going about as smoothly as you'd expect from a man who decimated two-thirds of the company's value over the last several months. Surely by now, you've seen San Francisco police halt the company's attempts to remove the Twitter logo from outside its office building on Monday, as the company didn't have permits for the very large equipment this undertaking required. But this confrontation with law enforcement is, if anything, the least worrisome aspect. More concerning is the festering sexual harassment that the "X" brand seems to be outright inviting.
According to the New York Times, Twitter is already renaming conference rooms in the office to phrases with the letter X in them, including "eXposure," "eXult," and "s3Xy." It's all painfully unoriginal: Tesla's workspaces employ the same bizarre branding, creating an optimally creepy environment for sexual harassment to thrive, as numerous female employees have alleged in lawsuits against Tesla. One of the suits against Tesla describes a workplace onboarding meeting carried out by a bunch of dudes wearing t-shirts that said "S3XY" in reference to Tesla's Model 3. The lawsuits also name Musk and his infantile sex jokes as, shall we say, the "X" factor in implicitly encouraging workplace sexual harassment and misogyny.
The renamed Twitter conference rooms are especially audacious considering the allegations against Musk, who's accused of nonconsensually touching and "eXposing" himself to a flight attendant, then silencing her via settlement. In the context of Musk's history, the renaming of his company almost solely to apply crass, childish innuendo comes off a lot more clearly. It's all a recipe for the same rotten culture of sexual misconduct at Tesla to be replicated at Twitter, if not worse. Oh, to be a fly on the wall in the "seXy" conference room when HR is holding its sexual harassment company training in there…
Forget, for a moment, that no brand that's actually ~sexy~ has to self-identify as such, that all of this is just the manifestation of a 52-year-old, serially divorced billionaire's midlife crisis because none of his kids want to see him. As of Monday, the "X" rebrand is projected to cost Twitter up to $20 billion more in brand value, on top of everything it's already lost since Musk's takeover in November. Hundreds of companies, including Microsoft and Meta, have already trademarked "X," and lawsuits responding to Twitter's rebrand are imminent. Now, consider all of those costs topped off with the almost inevitable sexual harassment lawsuits. I've never felt more certain that the company's days are numbered.