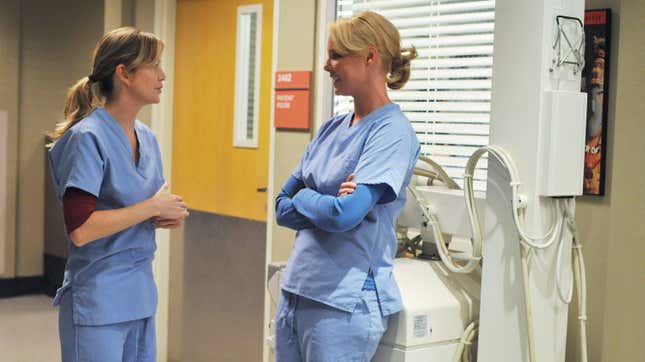 In the Season 1 finale of Grey's Anatomy, Dr. Addison Montgomery Shepherd (Kate Walsh) has come to Seattle Grace Hospital looking for the woman sleeping with her husband, Dr. Derek Shepherd (Patrick Dempsey). Quickly, our pioneering Addison deduces that Dr. Meredith Grey (Ellen Pompeo) is the culprit. What follows in Season 2 is multiple episodes of the Shepherds both trying to repair their marriage and avoid Grey, as Meredith tries to excel at being a surgical resident while getting over Derek. Surprise: It doesn't work.

Diana Jenkins Probably has Much More Than Cartier in Her Closet
Eventually, there is a stand-off. Meredith confronts Derek after surgery. It's the now infamous "pick me, choose me, love me" scene—a beautiful moment of vulnerability for a woman incapable of admitting her own feelings. But Pompeo, who played Meredith for nearly two decades, actually hated the fan-favorite scene. In a conversation with fellow ex-Grey's star Katherine Heigl, she said the reason she appeared so emotional during the scene was not due to her acting chops.
"Listen, I don't know if you remember that I fought that speech so hard. That's another really interesting thing about life — some things that I was so against, and I was like, 'I can't beg a man on TV! This is so embarrassing.' And then it turns out to be one of the most famous scenes ever," Pompeo said during the Actors on Actors conversation in Variety.

What made the scene so famous? Meredith, the dark and twisty nepo baby doctor, is in love with an attending surgeon who happens to be married and who forgot to tell her that he'd left his wife (literally moved cross country when he found her in bed with his best friend), but not his marriage (no divorce papers are signed).
After a surgery, Meredith gives a classic Shonda Rhimes speech:
"It's simple: her, or me. And I'm sure she's really great. But, Derek, I love you. In a really, really big, pretend to like your taste in music, let you eat the last piece of cheesecake, hold a radio over my head outside your window, unfortunate way that makes me hate you, love you. So pick me. Choose me. Love me."
Meredith is not in touch with her feelings and never wants to admit she needs anyone after a lifetime of emotional abuse from her mother, award-winning and pioneering surgeon Dr. Ellis Grey. But in the heat of the moment, Meredith finds her voice, asking for love.
Heigl said the scene turned out "beautiful," but Pompeo wouldn't let up bashing this "pick me" scene.
"In the scene, I'm crying, but I'm really crying because I have to beg a man on television," she said.
I think the fundamental disconnect is that Meredith is not begging. Meredith is laying it all out on the line—something I think Heigl gets! That emotional nakedness is not only a huge growth point for Meredith as a person, but if Derek hadn't chosen her, she could have moved on. She put it all out there for love. It's the shit fairy tales are made of, and what is a spicy medical drama if not a modern day fairy tale!?!
Of course, the early seasons of the hit medical drama were not a fairy tale for the cast and writers. During the 2008-2009 season, Heigl opted out of Emmy consideration, saying the material didn't warrant a nomination. Rumors spread that Heigl was difficult to work with—a rumor that's followed Heigl in the press for a decade. Only aging, she told Pompeo in the cross-interview, has helped her shake it.
HEIGL: I think for me, I just felt that 40 was freedom, because I didn't have to be the young, sweet, naive, people-pleasing ingénue anymore. I had outgrown it.

POMPEO: I don't know about the "sweet" part. I wouldn't describe you as sweet. And that's what people had a problem with. Sweet, they can handle.

HEIGL: I would not trade anything for my 20s, but I absolutely had no idea who I was and what I wanted and who I was supposed to be and who to make happy.
It is such a dig to tell your friend that they have never been "sweet"—especially in a press-arranged conversation. Perhaps Pompeo said it in jest, or perhaps she just has no fucks left to give anymore!
It's unfortunate that it would be too complicated to bring back Heigl's Izzie to the Seattle operating rooms. Grey's grew into a show that loved to tell the story of mouthy broads—and since Meredith Grey has left the hospital, there's a dwindling number of doctors with meaty enough stories left for the writers to take a whack at.