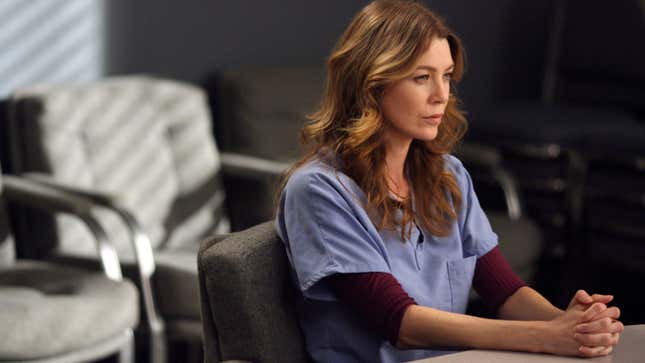 The world said goodbye to Dr. Meredith Grey on Grey's Anatomy on Thursday night. (At least for now.) Unlike so many of the character exits from Shonda Rhimes' long-running medical drama, Ellen Pompeo's character didn't die; she's just moving to Boston to research Alzheimer's disease at the Catherine Fox Foundation—which conveniently keeps her in the Grey's universe.
This gives Pompeo, who co-executive produces the show, and the showrunners the ability to bring her back when an interesting case pops up, the way Kate Walsh's Dr. Addison Adrianne Forbes Montgomery used to drop in during and after the Private Practice years. But it's unclear how soon that might happen—Pompeo is shooting a Hulu show about adopting an orphan—or if it will happen at all since, famously, she's been trying to end Grey's for years: "I've been trying to get away for years," she said in September 2021. "I have strong relationships at the network and they have been very, very good to me, and have incentivized me to stay."
And in a way, that's how I've felt as a viewer for these nearly 20 years. (Grey's premiered in March 2005.) I've sobbed through cutting an LVAT wire; and the emotion of the miscarriages and shootings and deaths and relapses and childbirth and more death kept me coming back, even if I haven't stayed caught up week to week.
In 2016, I went to Shonda Rhimes' talk at Vulture Fest. (Yes, I'm that type of fan.) She said she and Pompeo had a deal: If one of them wanted to walk away, they both would. Rhimes hasn't been directly involved in the show for years, though it's still under the Shondaland banner. Now that Pompeo is leaving—and all other TV shows seem to be chasing the soap-opera highs of Grey's Anatomy's first 10 seasons—why isn't Rhimes, too? It seems clear to me that someone needs to stop this runaway train.

Because Grey's Anatomy—no matter how many new generations of medical professionals it introduces us to—is not a show that's about passing the baton to the next generation. It was a story of the five interns. Now, one is dead, another left for an incredible job in Switzerland, and two others are allegedly happily together in Kansas. With Meredith's departure, the intern class is gone.
G/O Media may get a commission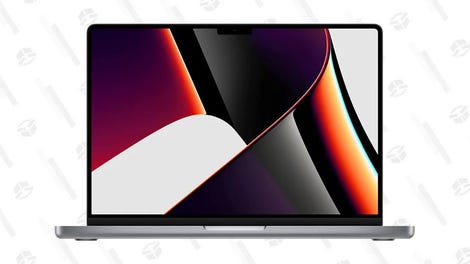 Save $300
2021 14" 1TB MacBook Pro
There are arguments to be made that the show isn't over until the final original cast member departs, but that is a lot to put on Chandra Wilson's Dr. Miranda Bailey and James Pickens Jr.'s Dr. Richard Webber, always being asked to pick up the pieces left by that first intern class.
And Pompeo's final on-camera scenes of Grey's Anatomy really brought home that even though Meredith's character was very often a vehicle for Rhimes and co. to tell other stories, for the viewers, she was our person. Her life—however rocky and annoying—provided structure over nearly two decades of stories.
This last Meredith episode was full of Grey's tropes: After failing to reply that he loves her too, Scott Speedman's Dr. Nick Marsh, a transplant surgeon, finally approached Meredith after the failed surgery and death of a beloved patient. (Plus, her house caught on fire two weeks ago, and she's preparing to move her family across the country. She's going through a lot.) Their dialogue was classic Grey's:
Nick: "I-I'm a... I-I'm a transplant surgeon. I-I wait. I'm trained to wait. I attach, I perfuse, I wait for the organ to take. For it not to be rejected. For it to pink up. For blood to flow. Because that's how humans respond. They're not machines with an on/off switch.

Meredith: And I'm a grown woman with a big life and a big career and three kids. And this move is what my daughter needs. I want you in my life if you want to be in my life. But if I have to choose, I'm going to pick me. I pick my kids, and I pick what's best for us. And I am not going to beg you to love me.
When Grey's Anatomy premiered, I was days away from turning 13. Now, I'm over 30. I am such a different person than when I started watching this show, simply by virtue of so much time passing. Meredith Grey was one of those infuriating characters who was always there throughout it all. And her growth—the growth means, finally, that she's going to pick herself, that she's not going to beg someone to love her—that's why I kept coming back.