A high-ranking editor at Las Vegas Review-Journal, the newspaper that gained notoriety after casino magnate Sheldon Adelson purchased it, recently informed employees that they could be fired if they were viewed as being liabilities to the company.
According to Politico, during a staff meeting last week, fairly new editor J. Keith Moyer noted "the importance of company loyalty." Since then, Stephanie Grimes—R-J's features editor who notably live-tweeted an internal meeting about the publication's transparency—has been let go.
In a post published on Medium on Thursday, Grimes notes several instances of questionable journalistic practices since the new ownership took control (for example, she notes a story on an ongoing case the paper has been following for years that was whittled down to a paragraph: "It's there because we've been following the Las Vegas Sands case for years; it's not there, it's safe to say, because it might complicate things for our new owners,"), and how she bore witness to her esteemed colleagues resigning one by one as the editorial reins were tightened.
Grimes writes that in the aforementioned meeting with Moyer, he said, "my job is hard enough without reporters stabbing me in the back."
I've known this was coming from day one. A hyper-conservative middle-aged white man walks into a newsroom and finds a 26-year-old mixed-race woman in charge of an entire department? The humanity! Keith never made me feel welcome in his newsroom and made it clear in every conversation that he didn't trust me. It was only a matter of time before he pulled the trigger.
I'm not going to miss him, or Craig, or anyone else in management at the RJ. But I'm going to miss my team. They're some of the most talented reporters in the business, but treated like scum by the company. They're brilliant and they deserve better. I did my best to fight for them every chance I got in my eight months working alongside them in the trenches.

G/O Media may get a commission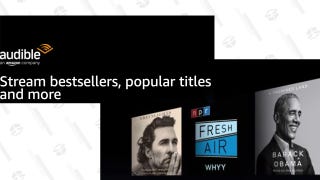 FREE
Audible Premium Plus 3-Month Free Trial
"But as much as I love the idea of the Review-Journal, my trust in the company as an institution has died a slow death over the past five months," she continued. "Its management has failed on too many occasions to live up to the standards we so rigidly hold others to on a regular basis."
"I think after nearly half a year, the RJ has to face the facts: The newspaper is bleeding talent left and right. It's losing it's best reporters week in and week out, and it won't be long until everyone in a position of power is just a yes-man for the publisher."
Read her full piece here.
---
Image via AP.