In a moving and very lengthy Facebook post, Elizabeth Gilbert stood in her truth and admitted to the world that she is in love with a woman – her best friend, Rayya Elias.
Gilbert recently separated from her husband José Nunes – Felipe in Eat Pray, Love – in July and admitted that the reason she did so was because of her relationship with Elias. The realization came to Gilbert after her best friend was diagnosed with pancreatic and liver cancer. Gilbert writes:
In the moment I first learned of Rayya's diagnosis, a trap door opened at the bottom of my heart (a trap door I didn't even know was there) and my entire existence fell straight through that door. From that moment forward, everything became about HER. I cancelled everything in my life that could be cancelled, and I went straight to her side, where I have been ever since.

The love she felt for Elias, Gilbert writes, was more than just the love one feels for a friend.
Death — or the prospect of death — has a way of clearing away everything that is not real, and in that space of stark and utter realness, I was faced with this truth: I do not merely love Rayya; I am in love with Rayya. And I have no more time for denying that truth. The thought of someday sitting in a hospital room with her, holding her hand and watching her slide away, without ever having let her (or myself!) know the extent of my true feelings for her...well, that thought was unthinkable.

G/O Media may get a commission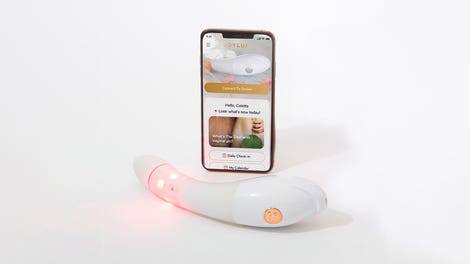 $50 Off
Joylux vFit Gold Device
Because transparency is important to Gilbert and has always been present in her intensely personal work, she felt it necessary to be as clear as possible about her relationship, writing:
So. Here is where we stand now: Rayya and I are together. I love her, and she loves me. I'm walking through this cancer journey with her, not only as her friend, but as her partner. I am exactly where I need to be — the only place I can be.

Say what you will about Gilbert's self-help-y vibe and the ridiculousness of eating, praying and loving your way into a new relationship, but this is sweet and feels genuine. A tiny, cynical part of my soul imagines that this will somehow be spun into a book followed by a movie, but even if it is, I'm good with it. Everyone deserves to find their person.
Read the entire note here.