The trailers for E!'s new reality show Second Wives Club center primarily on the only thing likely to get people watching it: Shiva Safai, who regular Bravo viewers will know as the fiancée of Mohamed Hadid, father of Gigi and Bella and former husband of Yolanda. As such, those viewers will also know that, should Shiva and Mohamed ever get married, Shiva would become his third wife—a fact she has in common with her fellow less well-known castmates, many of whom appear to be less "second time's the charm" and more "third, fourth or fifth will do."
Joining Shiva—whom we last saw posing with her man and their beautiful home on the cover of Harper's Baazar Arabia Interiors—is Veronika Obeng, who, according to her show bio, is the third wife of plastic surgeon Michael Obeng. However, Veronika reportedly filed for divorce last year and in February, Michael sued E!, NBC and Second Wives Club's production company to prevent them from airing the show, claiming that, per Variety, he agreed to be on it "because he thought it would spotlight their happy marriage."
"The Series was nothing about the couple's happy marriage as Defendants represented to Plaintiff," the lawsuit states. "The Defendants constantly staged Plaintiff in artificial situations and demanded Plaintiff to engage in conflicts that were often fraudulent and deceptive."
Unfortunately for Michael, reality TV contracts are notoriously tight, and given that this one is clearly still going to air, the most likely outcome is that everyone will see a divorce play out, as we have many times before.
Shiva and Veronika are joined by Morisa Surrey, wife of fertility specialist Mark Surrey; Shawna Craig, the fifth wife of actor Lorenzo Lamas; Katie Cazorla, who is engaged and could become a fourth wife; and Tania Mehra, wife of producer Dean Bornstein.
G/O Media may get a commission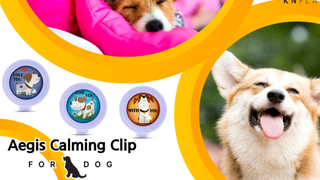 20% off
Aegis Calming Clip for Dogs
Another trailer purports to show the opulence of the lives of these women— many of whom are decades younger than their husbands/almost husbands—juxtaposed against the struggles that come with maintaining the interest of men who have already been interested in so many, a format used by many shows (Basketball Wives, WAGS, etc). "It's not always easy being a second wife," Shiva says. "In the end, we really understand what it's like to be in each other's shoes, and if we stick together, we can get through anything," another adds in a voiceover, copy that has most certainly been used in one of this show's predecessors.
If you must, Second Wives Club premieres May 4 at 9 ET.