Over at the New York Times, an illuminating look at the grunt work of being a working drag queen highlights the struggle and the uncertainty of making a living doing so, even in this recent era of drag's mainstream popularity.
Writer Isaac Oliver tagged along on "A Drag Queen Christmas—The Naughty Tour," a 30-city whirlwind drag revue that traversed the country, featuring contestants from RuPaul's Drag Race. During his time on the road with the queens who almost made it—and some who actually won—Oliver sheds some light on the precarious nature of the real, hard labor of doing drag professionally. Particularly, managing their money, affixing earrings to their lobes with nail glue, and being compensated appropriately for their time.
The tour Oliver witnessed sounds a little bit like the tours other performance-based reality show contestants embark upon after their seasons are over—think Dancing With the Stars or So You Think Can Dance's countrywide jaunts intended to bring some of the magic of television to the stage. With drag, though, the tour is just a jacked-up version of the work that the queens have been doing their whole life. A drag queen performs—in dark bars late at night, on the streets of Provincetown outside the venue as advertisements for their own shows. It's what they do.
Many of the queens Oliver interviewed are quick to point out the difference Drag Race's stamp of approval has on the new crop of queens coming up. Getting on the show is a huge bump in visibility and can lead to greater opportunities—but scrambling for one of those coveted spots is often detrimental to the art. Charlene, a trans woman and drag queen interviewed by Oliver, said "There's this dance you do on Instagram and way you network yourself. We're like, in Toy Story, the aliens in that machine waiting for the claw to pick them up. We have this stagnancy of queens doing the dance rather than focusing on their art."
The dance inevitably leads to a certain sort of fame that can indeed translate to a career, as drag queens who've won or achieved considerable renown on the show become viable brands. DragCon, a annual fan convention in the vein of ComicCon and BeautyCon, came to New York's Javits Center in September and was packed to the gills with fans, drag superstars, and lines for photo opps. Merch abounded, from lashes to t-shirts to tote bags—but managing all that money is trickier than it seems.
G/O Media may get a commission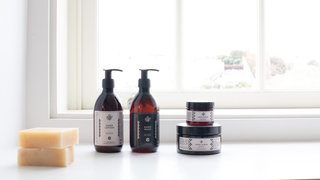 Exfoliate and Hydrate
The Handmade Soap Company
Drag queens, Oliver notes, aren't unionized, leaving them vulnerable to shady business dealings, managers, and those who would prey on their lack of experience in order to get over. When fame and its attendant money hits, they're forced to reckon with the business side of things in a way that many are vastly unprepared for. Adore Delano, the terror from Azusa last seen exiting RuPaul's Drag Race All Stars in a spectacular fashion, filed a lawsuit against her management company for embezzlement and fraud. To combat this kind of treatment, Latrice Royale, one of the fan favorites and runners-up from the show's fourth season, took it upon herself to start LRI Talent & Management, representing a few former contestants and taking matters into her own hands.
Despite the success of some drag luminaries, the fear that the bubble will burst is very, very real. "I live in constant fear that the 'Drag Race' thing will end," Eureka O'Hara—the effervescent Season 9 contestant who messed up her knee during a cheerleading challenge and had to leave the show early—told the Times. "I don't want to go back to driving everywhere and working for no money, when you put so much love and money and time into this craft. I know what it feels like to struggle every single day to do this."
Read Oliver's full piece here.