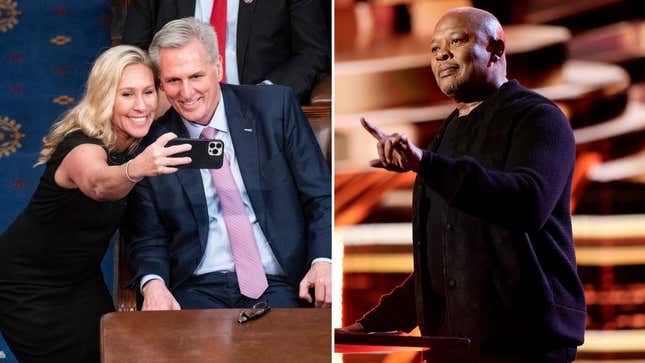 The House of Representatives is back, baby! All it took was an entire week of a 57-year-old area man refusing to take no for an answer—approximately 14 times, in fact. And now, as of Monday, Rep. Marjorie Taylor Greene (R-GA) very much wants you to know that getting that darned Speaker of the House gavel into Kevin McCarthy's grubby little hands was all her doing, though I personally would have no desire to take credit for the fiasco we collectively witnessed.

Crush of the Week: Daniel Radcliffe's Weird Al
The Georgia Congresswoman—who's famous for defending an appearance at a white nationalist conference last February, among other pretty heinous things)—claimed victory for McCarthy's Speaker-ship in about the most obnoxious and tone-deaf way possible, posting a video of herself walking the halls of Congress to the beat from Dr. Dre's song, "Still D.R.E."
There's no reason for any politician to pull this sort of navel-gazing bullshit. But it's especially bizarre for a white politician with a demonstrated history of racism and anti-Blackness to use iconic beats from Dr. Dre to make her own self-aggrandizing, TikTok-esque fan-cam. And Dr. Dre agrees, apparently.
In a statement shared with TMZ within hours of Greene's video going live, the producer said: "I don't license my music to politicians, especially someone as divisive and hateful as this one." It's unclear whether he'll take any legal action— after all, this sort of thing is pretty common in politics. The Trump presidency was rife with rally after rally of the former president walking out on stage to some song or another, and its respective artist disavowing him within hours. There's an entire Wikipedia entry titled "Musicians who oppose Donald Trump's use of their music," and I see a similar one in Greene's future, if she keeps at it.
Politicians across the political spectrum could all probably do themselves a favor and avoid some cringe (a la Pete Buttigieg's "High Hopes" dance) by being more thoughtful about music selection or, hey, just remembering that they're elected government officials and don't need to make fan-cams of themselves. But I am once again reminded of Greene quite literally having no defense of herself when asked why she spoke at proud neo-Nazi Nick Fuentes' conference last year, beyond supposedly lifting up "America First" values. I can't help but think perhaps she, of all people, should really avoid appropriating quintessential hip hop beats to celebrate her own white nonsense.