On Tuesday, 2 Chainz teamed up with the Fulton County Board of Health to offer free HIV testing at his pop-up landmark Pink Trap House in Atlanta. Crucially, the rapper promoted the event via various social media platforms:
Teresa Bell, health program manager at the Fulton County Board of Health, who manages testing linkage services including community outreach like the event described here, told Jezebel by phone yesterday that out of an estimated 300 attendees, 53 were tested at the Pink Trap House. "Now 53 individuals are aware of their status, and that's the goal," said Bell, citing the high number of people in the U.S. who don't know they're infected with HIV. (CDC's most recent figures estimate that out of the 1.1 million people living with HIV in the U.S., 1 out of 7, or over 157,000, don't know they have it.)
The success of the event includes more than just the tests that were conducted that day. "We were very pleased to have 2 Chainz promote it," said Lorraine Austin, interim health program administrator for the Fulton County Board of Health's HIV prevention program, on the same call. "Tens of thousands of people saw this, and whether they're local or not, now they're talking and thinking about getting an HIV test and ensuring they know their status."
Atlanta has been described as the "epicenter" of the HIV epidemic by Nic Carlisle, executive director of the Southern AIDS Coalition. Per a December report, Atlanta ranked No. 5 in the U.S. of new HIV cases "with a rate of 25.8 new diagnoses for every 100,000 residents." The national average is 12.3 per 100,000. Fulton County has been hit particularly hard. A 2015 report indicated that at Atlanta's Grady Hospital, half of those newly diagnosed with HIV had already progressed to AIDS, which indicates they had HIV for years without ever being tested for it. Catching and treating HIV early is crucial for preserving the health of the infected person.
All of this is to say that the import of 2 Chainz's gesture is immense. HIV disproportionately affects black people, particularly black MSM (men who have sex with men) and especially those in the South, for a variety of factors including but not limited to racism, lack of access to medical care, poverty, and stigma. Despite its impact, HIV remains under-discussed in our culture, including in hip hop, and so by merely shedding brief light on this issue, 2 Chainz has opened up the opportunity for a crucial discussion.
"When you look at social determinants of health, that word 'trap' meant something to me with us being out there," said Bell. "So many of the people there are trapped. They're trapped in poverty. They're trapped in drugs, and they're trapped in not having transportation. They may be trapped in all kinds of ways. So I looked at that in a positive way for us to say, 'Hey we are out here in the midst of this community offering these services that sometimes clients or people don't think people even care about their situation.' Just to look at the art that was posted inside the building and the people gathering, it was almost like people were in sync with the message of hope. A lot of people came up saying, 'Wow, this is just amazing that you guys are out here.' It really meant a lot to me to see that we had actually touched the community in a positive way. That place had gotten some negative feedback so this brought some positivity to it."
G/O Media may get a commission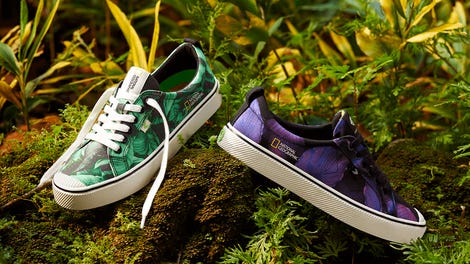 New New New
Cariuma + National Geographic
The Fulton County Board of Health also offered free testing at the Pre-Birthday Bash ATL Block Party, and will do so at the 14th Annual Car & Bike Show on July 15—both hip hop-oriented events.