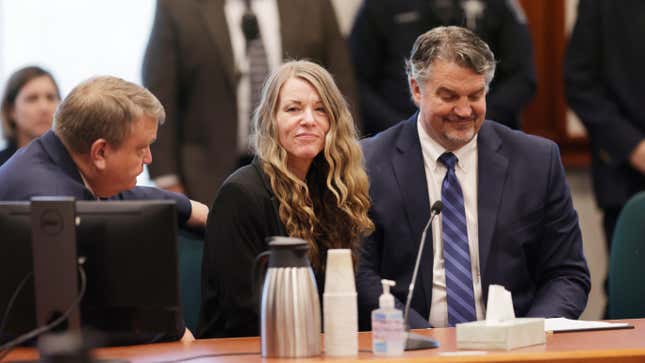 Lori Vallow Daybell, also known as the "doomsday mom," per a Lifetime movie of the same name, was sentenced to life in prison on Monday for killing her two children because she believed they were possessed by demons.
A jury initially convicted the Idaho mother and former beauty pageant contestant of murdering her 7-year-old son, J.J. Vallow, and her 16-year-old daughter, Tylee Ryan, back in May, according to the Washington Post. She was also convicted of conspiring to kill her husband's first wife, Tammy Daybell, and of grand theft for collecting Social Security money meant for her kids after they had been killed.
Vallow Daybell and her husband, Chad Daybell, who writes apocalyptic novels, said that they believed God intended for them to prepare 144,000 people for the end times. The couple reportedly believed their children were "zombies" who did not buy into their prophecy and had, therefore, been possessed by demons.

At her sentencing hearing, Vallow Daybell insisted that no one "was murdered in this case," adding that her children had visited her after they died to tell her they were happy.

"I mourn with all of you who mourn my children and Tammy," Vallow Daybell said Monday. "Jesus Christ knows the truth of what happened here."

Fremont County Judge Steven Boyce said that Vallow Daybell's denial of guilt was a major factor in her sentence, which was handed down without the possibility of parole. If she was unable to care for her children, there were plenty of other viable paths she could've taken, he said. Instead, he added, "You chose the most evil and destructive path possible."

The police investigation began in September 2019 when J.J.'s grandparents contacted the police, concerned that they hadn't heard from their grandson. Tammy, Chad's first wife, was then found dead in her home that October. (The couple had been married for nearly 28 years and shared five children.) Though Tammy had still been married to Chad at the time of her passing, the death was initially ruled unsuspicious. Two weeks later, on November 5, Chad married Lori. By December, police reopened the case into Tammy's death—an exhumation of her body found that she had died of asphyxiation. Then, less than a year later, in June 2020, officials found both children's remains buried on Chad's property in Rexburg.
But it was the couple's cult-like religious beliefs that turned the killings into a media sensation, spawning the Lifetime film, several books, and a Netflix docuseries about the case. Chad, who is Vallow Daybell's fifth husband, reportedly believed that every person has a "light" or a "dark" scale and that anyone who did not accept their doomsday teachings had a dark scale, meaning they were overrun by evil spirits.
At trial, Tammy's sister, Samantha Gwilliam, made clear that she believed Lori and Chad, who thought they had achieved godlike status, were full of shit: "You are not exalted beings, and your behavior makes you ineligible to be one…No angels are coming to rescue you."

Chad Daybell is scheduled to stand trial for all three killings in April.