Somehow it has only been a week since Donald Trump was elected President and it would seem that his transition team is smack dab in the middle of a terrible, horrible, no good, very bad day.

Following last week's unceremonious ousting of Chris Christie as the head of Trump's transition team, further shake-ups, firings and quietly simmering panic continue to color the Orange One's uneasy transition from racist businessman to racist President.
The New York Times reports that former Representative Mike Rogers of Michigan and lobbyist Matthew Freedman have been fired from their roles as advisors for national security during the transition, at the urging of Trump's son-in-law Jared Kushner, for whom Trump requested top-secret security clearance so that he might sit in on the daily Presidential briefings. While I'm sure Kushner is pleased as punch to have taken the express train to the White House just by marrying a fascist megalomaniac's daughter, this request is unprecedented and should scare the shit out of anyone within reason. The Times also reports that Kushner is "systematically dismissing" anyone with ties to Christie because as a federal prosecutor, Christie sent Kushner's father to jail.
Here's a summary of how things went for the transition team Tuesday.
G/O Media may get a commission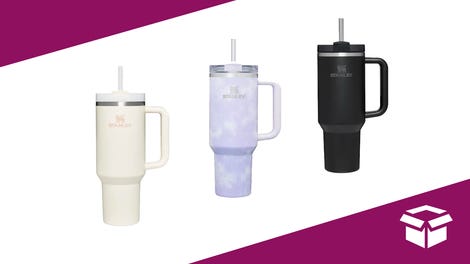 Up to 45% off
Stanley Cup Sale
Also alarming is the continued lack of transparency of the Trump administration – discomfiting behavior during a presidential campaign, but disturbing and extremely alarming for the president-elect. After a big day pretending to understand the intricacies of a terribly important job he is vastly under qualified for, Trump took himself to a nice steak dinner without notifying his press pool or telling anyone where he was going.
NBC News also notes that the media covering this circus of horror has yet to receive briefings on the transition. Trump has also declined to speak directly to the press, possibly because unlike the "rallies" he is so fond of, the press won't scream his name in adulatory stereo while waving MAGA hats in the air.
In lieu of behaving like a man fit to run the country, Trump has been communicating mostly through his favorite medium.
Someone please take Twitter away from him. The joke is no longer funny.