Rancid sauerbraten and President-elect Donald Trump kicked off what he's calling his "Thank You Tour" in Ohio Thursday, with a rally that proved what we all knew and feared: nothing about his blundering, impulsive behavior will change once he's in the White House.

CNN reports that the rally was much like his many appearances while on the campaign trail, characterized by the same bluster and incendiary statements that riled up his base and launched him like a neon-orange missile towards the White House. The Ohio rally marks the first time Trump has emerged from his glittering bunker high atop Trump Tower and shown his face to the public that nominated him, including this gentleman who came dressed as Pepe, a formerly fun and now very racist frog.
Ostensibly, the purpose of this rally was to lay out a plan for national unity while also laying out a plan for the next four years. Instead of sticking to that script–terrifying, but also fine, considering the fact that we literally have no idea what the next four years will look like–Trump reportedly chose to relish in the spotlight and soak up energy from the crowd, growing in size like Shrinky Dink, but evil.

The Washington Post reports that Trump glanced at his teleprompters only "occasionally" and relied on the same old song and dance, behaving much like a spoiled child who somehow, improbably, got his way.
He complained about his party's top leaders, prompted the crowd to boo their state governor, referred to a third-party candidate as "that guy" and told the crowd to keep going as they booed "the extremely dishonest press." He announced his pick for secretary of defense, retired Marine Gen. James Mattis, but told the crowd to keep it a secret until Monday. He mocked a small group of protesters as they were led out: "They don't know that Hillary lost a couple of weeks ago."
G/O Media may get a commission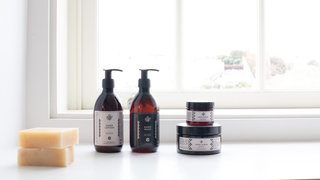 Exfoliate and Hydrate
The Handmade Soap Company
Prior to arriving in Ohio, Trump made a big to-do in Indianapolis at the Carrier plant, most notably bragging about how U.S. companies looking to move their operations off-shore will face "consequences" at the hands of the government. From the Washington Post:
"Companies are not going to leave the United States anymore without consequences," Trump declared Thursday. "Not gonna happen. It's not gonna happen."
Recently, the president-elect struck a deal with the Carrier plant that would give them $7 million in tax incentives from the state if they keep one of their manufacturing plants in the country, saving about 1,000 jobs. At face value, this seems fine, but the Post reveals that Trump's motive for carrying out this plan to fruition was nothing more than a frantic scramble to save face.
From the Post:
In fact, by Trump's own telling on Thursday, he had no plans to intervene in the Carrier case until he watched an evening news segment featuring a worker who expressed confidence that the ­president-elect would save the Indianapolis plant. He said his campaign vow to save the plant was "a euphemism" for other companies.

Regardless, Trump — known for his tendency to react to TV news reports — said he immediately picked up the phone and called Gregory Hayes, the chief executive of Carrier's parent company, United Technologies.

"I said, 'Greg, you gotta help us out here. You gotta do something,' " Trump recalled Thursday.
Writing checks with his mouth that his ass can't cash because he has literally no idea how to cash that fucking check and no recollection of saying it in the first place? Sounds like the same old Trump to me.