At 7:41 p.m. on Monday, Draco Malfoy's discarded skin suit Donald Trump Jr. tweeted a Trumpian meme meant to compare a few poison Skittles with a few poison Syrians, our mouth with border security, and our gastrointestinal tract with America.
In the tweet, Trump Jr. argued that the few Syrians who might be intent on causing America harm were, statistically speaking, about three in a bowl, and that risk was worth throwing away the whole bowl. It was a statement not only brimming with humanity and sensitivity, but policy accuracy and rigor.
And it turns out he couldn't even think of this bananas comparison on his own. He plagiarized it from the virulently pro-life former congressman Joe Walsh, who once declared war on Twitter against President Barack Obama and said it was impossible for a woman to die from pregnancy.

In a statement given to the Hollywood Reporter, a Skittles representative wrote, "Skittles are candy. Refugees are people. We don't feel it's an appropriate analogy. We will respectfully refrain from further commentary as anything we say could be misinterpreted as marketing." Good job, Skittles.
G/O Media may get a commission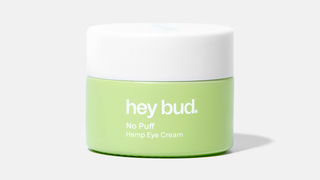 15% off
Hey Bud - No Puff Hemp Eye Cream
Anyway, now that we have this, I did some little fixes:
Makes you think, huh.
Update: According to the BBC, the man who took the photograph of the bowl of Skittles featured in Trump Jr.'s tweet is an actual refugee.
"This was not done with my permission, I don't support his politics and I would never take his money to use it," said David Kittos, 48, from Guildford UK of the photo which he posted to Flickr in 2010.
"In 1974, when I was six-years-old, I was a refugee from the Turkish occupation of Cyprus so I would never approve the use of this image against refugees."
"I would like the Trump campaign to delete the image, but they are probably not interested in what I have to say," he continued, noting that he had considered getting lawyers involved. "This isn't about the money for me. They could have just bought a cheap image from a micro stock library. This is pure greed from them. I don't think they care about my feelings. They should not be stealing an image full stop."
Read the full interview here.