President Donald Trump is preparing for a little European adventure—stopping first at the G-20 Summit in Germany and then heading over to Russia to have a sit-down with Vladimir Putin. As Putin is a master manipulator who once brought a dog into a meeting with Angela Merkel— who is scared of dogs—as an intimidation technique, it'd make sense that Trump prepare as best he can. While his team has prepared for him a massive binder of information about Putin, including a psychological profile that might be useful to a doddering idiot wandering into a meeting with a KGB-trained snake, Donald Trump doesn't like to do his homework. So in an attempt to get him to actually read the shit they are putting in front of him, aides have prepared memos in "tweet-length sentences in the hopes that he'll actually read them. [L.A. Times]
Before Trump heads to Germany for the G-20 summit, he'll be stopping in Poland, where he'll be greeted by crowds of supporters bused in from across the country to Warsaw for a "great patriotic picnic." Very normal. [Newsweek]
Countries in Western Europe that vowed to alienate President Trump for pulling out of the Paris Agreement might not be so interested in alienating him after all. Also, Trump's decision to pull out of the Paris Agreement last month is essentially going to confuse matters further: " The Trump administration clearly will not accept language that commits the 20 nations to the Paris agreement, but France and Germany are indicating they will not accept anything less." Wonderful. [New York Times]
North Korea tested its first intercontinental ballistic missile on Tuesday and the United Nations Security Council held an emergency meeting Wednesday to discuss a strategy, I suppose. [ABC News]
I'm not entirely sure what's happening here, but I urge you to look at this tweet and think about it a little over dinner.
Here are some tweets the president was allowed to publish:
G/O Media may get a commission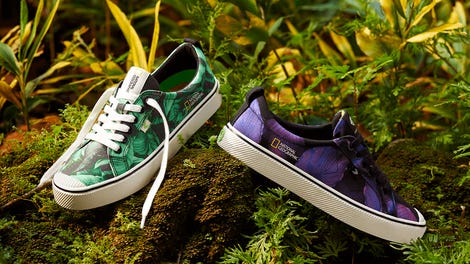 New New New
Cariuma + National Geographic
This has been Barf Bag.