Donald Trump, one of those piles of sand by a highway, has promised us so much and has delivered so little. He's promised us that the Trump name is synonymous with success; that's a hard no. He's promised us he cherishes women, perhaps only as collectibles. He's promised us his fingers are long, but we've seen them.

He's also promised that in the past 15 years, he's made a variety of charitable donations—about $8.5 million. According to the Washington Post, that is a major exaggeration: he's only given $2.8 million to his foundation in that time period, and hasn't donated a cent to it since 2008.
The issue of Trump's charitable giving gained pertinence after the presidential candidate skipped a Fox News debate to hold a fundraiser for veterans' causes, which managed to raise somewhere between $3 million and $6 million, including an alleged $1 million of Trump's own money. He ultimately donated a portion of those funds, but not before being persistently hounded by reporters.
In part spurred by that controversy, the Post dug through financial records of charitable organizations connected to Trump going back to the 1980s to see if they were missing something. Among a general lack of evidence of promised donations, they found that he gave less money to AIDS and multiple sclerosis charities (which he promised to support with the proceeds of his first book) than he did to Ivanka Trump's ballet school.
He hasn't done better recently, with the Post finding only one modest donation over the past 7 years.
The Post contacted 167 charities searching for evidence of personal gifts from Trump in the period between 2008 and this May. The Post sought out charities that had some link to Trump, either because he had given them his foundation's money, appeared at their charity galas or praised them publicly.

The search turned up just one donation in that period—a 2009 gift of between $5,000 and $9,999 to the Police Athletic League of New York City.


In all, when the $1 million gift to veterans is added to his giving through the Donald J. Trump Foundation, Trump has given at least $3.8 million to charity since 2001. That is a significant sum, although not among billionaires. For example, hedge fund titan Stanley Druckenmiller, just behind Trump on Forbes's rankings of net worth, gave $120 million to his foundation in 2013 alone.
G/O Media may get a commission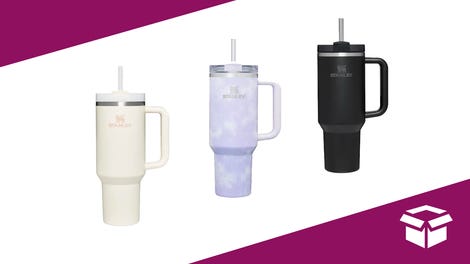 Up to 45% off
Stanley Cup Sale
A previous Post report found that, of the 4,844 charitable contributions he claimed to have made in the past five years, not a single one was a gift of Trump's own money. Many were free rounds of golf at his own golf courses.
All of this evidence is building, inexorably, to the revelation that Trump has much less money than he claims, and instead lives in a very high tower built from gold-plated styrofoam Jenga pieces.
---
Image via Getty.