On the first morning as President of the United States of America, Donald J. Trump woke up, cracked the knuckles of his Vienna sausage-esque fingers and called the National Parks Service director with a very important order: find photographic proof to support his claims that the crowds gathered to watch him ascend to power were "historic" in size.

The Washington Post reports that Trump called acting director Micheal T. Reynolds Saturday morning and personally requested that he provide additional photos that would "prove that the media had lied in reporting that attendance had been no better than average."
Part of what drew Trump's ire was the fact that the National Parks Service's Twitter account retweeted the following tweet that painted the attendance of his inauguration in a less than flattering light.
As a result of that tweet, which was presumed to be an accident, and another that called attention to the absence of certain policy pages from the White House's website, the National Parks Service was ordered to suspend all Twitter activity until further notice.
G/O Media may get a commission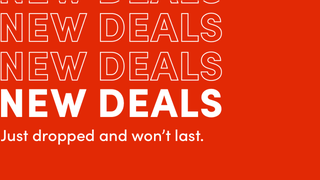 Up to 70% off
Wayfair - Cyber Week Deals
Neither Reynolds or the National Parks Service would comment officially on the matter and incredibly enough, White House deputy press secretary Sarah Huckabee Sanders managed to reframe this incident to indicate our tetchy leader's commitment to being "so accessible, and constantly in touch."
"He's not somebody who sits around and waits. He takes action and gets things done," she said. That's a very generous interpretation of actions that indicate a man who flies into an obsessive rage at the mere suggestion of his impotency or importance —demonstrated clearly by his baffling speech at the CIA that harped on the size of the inauguration crowds and not anything of actual importance.
Seemingly unable to drop the subject, Trump addressed the "unfair" coverage of his inauguration in an interview with ABC Wednesday night. In an interview with Fox News' Sean Hannity Thursday, Trump addressed the claims again, saying:
"It's fake news. It's fake. They make things up. They try to demean it so much. When I was in that speech it was a sea of people and they want to demean it. They are so demeaning and so dishonest and in many cases not very smart."
He also called Madonna "disgusting," said Alec Baldwin is a "disaster" and rambled at length about waterboarding, demonstrating just how little he understands about any of the tasks he is now expected to do as President of this fucking country.
Unbelievably, it has been just about a week since the inauguration. It feels like ten years.