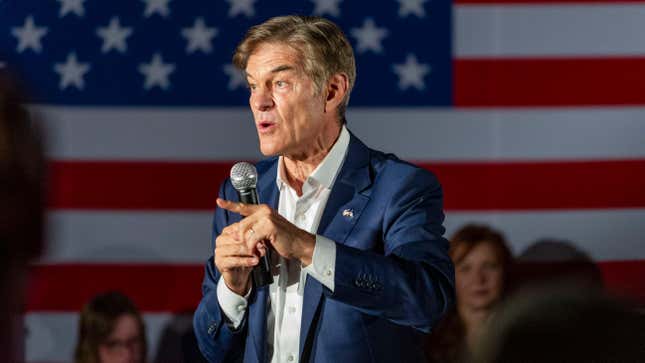 Updated with Sharecare comments and edits at 2:15 ET and 5:40 ET
Dr. Mehmet Oz—a New Jersey resident running for Senate in Pennsylvania—is the co-founder of a digital health company whose app could potentially be used to track abortion patients. The TV huckster co-founded Sharecare in 2010 with WebMD founder Jeff Arnold and a consortium that included Oprah Winfrey.

America's Favorite Pasttime: Dunking On Dr. Oz
In the past few years, the company, whose app lets customers ask health-related questions from organizations like AARP or the American Heart Association, has faced a data breach and a number of legal complaints, including an allegation of selling customers' phone numbers. (The app previously let companies pay between $1 million and $7 million to be labeled as a "knowledge partner"—which gives them the ability to market products to Sharecare customers. It was discontinued in 2012.) Considering Oz's former company has access to data that could potentially track abortion seekers, it's critical to examine the anti-abortion doctor's business past.
Oz was listed as co-founder on Sharecare's website as late as September 30, 2020, according to the Wayback Machine, an Internet Archive product that captures websites in real-time. And he was listed as a director at Sharecare from November 2009 until July 2021, according to financial disclosures. He went on to announce his Senate run on November 30, 2021.
In a statement provided to Jezebel, Sharecare noted Dr. Oz's separation date: "While Dr. Oz co-founded Sharecare alongside our chairman and CEO Jeff Arnold over a decade ago, there is no connection between Sharecare's business or clinical operations and Dr. Oz, nor the production of his daytime television show or his campaign for U.S. Senate. While we wish him well in his endeavors, Dr. Oz's political aspirations are independent from and unrelated to Sharecare."
It was during this pre-2021 period that a Sharecare subsidiary's data was breached. In May 2018, hackers accessed sensitive patient information of at least 23,916 patients who weren't notified until eight months after the fact. "[Sharecare Health Data Services] has reassessed its data retention policies and improved its maintenance communications and protocols. SHDS has hired a third-party firm to monitor its data systems around the clock as an extra precaution," the company said, according to a report on the attack. Sharecare says SHDS's "architecture is separate and distinct from the Sharecare digital platform."
Despite their "extra precautions," the company has continued to face claims arising from use of the sensitive data entrusted to them. By 2020, Sharecare, the City of Chicago and dozens of other defendants were sued by City of Chicago Employees over allegations that included selling and marketing personal health information for a profit. (Sharecare argued the claims at issue were not applicable to them and the company was dismissed from the suit in March; the case against the City of Chicago remains pending.) Also, during a class-action lawsuit in 2020, Sharecare was subpoenaed for information concerning telephone data allegedly sold to a telemarketing firm that was accused of making calls to customers without permission.
This brings us to the app's potential tracking concerns. Reproductive healthcare is one area patients can add sensitive data through Sharecare's desktop and mobile tools. When you log into the dashboard, a number of typical, yet troubling, health categories pop up. First is medication, with a spot to add birth control and keep track of whether or not you've taken it. Sharecare also lets you add medications like levonorgestrel (the morning after pill), mifepristone, or misoprostol, which the company says is intended to help a patient make sure they've taken their meds. Sharecare's apparatus leaves digital traces of your reproductive health care, making it yet another system that potentially puts patients at risk.
As for privacy, the company maintains that "any personally identifiable information [that users] store in our systems as part of [their reproductive journey] is not available to ANY third party without the user's consent, regardless of whether someone accesses Sharecare directly as a consumer or via their employer or health plan. The Sharecare digital platform is HITRUST and ISO 27001 certified and employs a system architecture that encrypts and separates any identifiers from the user's health data such that any information accessed cannot be linked with any specific user. The security of Sharecare's user data is our highest priority and a responsibility that we take very seriously."
Oz announced his Senate run with all the trappings of a pro-Trump Republican candidate. The heart surgeon-turned-TV personality is, of course, anti-abortion. When the Dobbs decision confirmed the overturning of Roe v. Wade and the constitutional right to abortion, Oz celebrated. "As we lift up life, we must focus on the needs of mothers and children, for whom this decision can be the greatest gift of all," he tweeted on June 24.

The company that made him millions is yet another untrustworthy healthcare tracking company with a checkered history on data protection. Nothing says anti-establishment candidate quite like making millions off the data of the normies, huh?