There are two types of celebrities in this world, per the reporting I'm seeing this week: celebrities who spend at least $100,000 a month on deliveries from Postmates, and celebrities who don't. After reading a story in Radar Online Monday morning, I figured Jessica Simpson was the latter. Radar Online? I didn't place much value in the item, and made it a mere bullet in yesterday's AM Dirt Bag.

The story gained traction in my mind over the next 24 hours. I kept thinking about it. My friend and former deputy editor of Jezebel Kate Dries messaged the story to me Monday afternoon. "This is most certainly fake (maybe?) but I love it," she wrote.
"(Maybe?)" The "maybe?" stood out to me. The "maybe?" made me question everything I thought I believed. That Jessica Simpson spends $100,000 a month on Postmates delivery isn't that crazy, I thought. Her clothing brand racks up $1 billion in sales annually. She gets hounded by the paparazzi and scrutinized by the press every time she leaves her house. Why wouldn't a person that rich get every single thing they need delivered to their door by tapping a few buttons on an app? That $100,000 a month is roughly $3,300 a day—unfathomable spending at first glance, but give me access to that bank account and I'll figure out how to put it to good use. (I've seen Brewster's Millions several times.) When everything is easy, it's easy to become lazy.
But today, Gossip Cop has ruined all the fun. In a piece with the headline "Jessica Simpson Does NOT Spend $100K Per Month On Food Delivery, Despite Report," they reveal that Jessica Simpson does not spend $100,000 per month on food delivery, despite Radar Online's report.
"We're further told the singer 'has a chef,' so the idea that she spends six figures a month on takeout food is 'preposterous,' they write, adding:
"The singer's social media page also includes many images of her engaging in various activities with her husband and kids, such as surfing, swimming and playing tennis. Simpson frequently documents her active life on Instagram, so the blog's claim she never leaves her house is simply baseless.
G/O Media may get a commission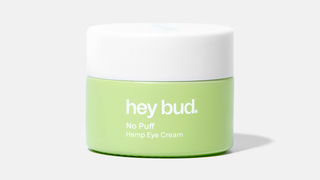 15% off
Hey Bud - No Puff Hemp Eye Cream
OK, Gossip Cop. You've convinced me.
Or have you?
---
Cheryl has addressed rumors that her mother was behind he recent split from Liam Payne. I did not know those rumors existed, but here's the tweet in case you did:
Things I love about this:
She cropped the Notes App screenshot, which is rare.
Because she writes that she "listens" to "nasty, false articles" about her mother, I imagine them being read to her by a robotic text-to-speech voice on her MacBook.
---