Yesterday, we dug into the ongoing fallout of Blake Shelton and Miranda Lambert's 2015 divorce, focusing in part on Shelton's recent tweet that vaguely referenced taking the high road and experiencing schadenfreude over karma biting someone else in the ass. While many people (including myself and Lambert's ex Jeff Allen McManus) assumed that someone was in fact Lambert, Shelton is now saying that we've got it all wrong.

In an interview with Extra on Monday, Shelton was asked about his "karma" tweet. He explained it as a "personal thing," adding:

"[It was] in a small circle of my people and that's why it was written the way it was, and then people took it and make it into what they want to make it into, which I don't want any part of that...But at the same time, I can't help but to think it's funny how these fires get lit and it takes off and I don't have time to care. That's why I've kind of moved on."
He went a little further in an interview with Entertainment Weekly, saying, "If it was meant for people to know exactly what it meant, it wouldn't have been so cryptic."
Question for the room: does Blake Shelton think we're idiots? That's like me tweeting, "Country stars from Oklahoma who smell like Coors Banquet and also co-host The Voice are petty as hell," and telling Mario Lopez I was making a cryptic inside joke that could have been about anyone.
G/O Media may get a commission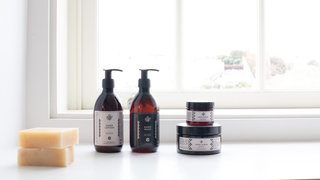 Exfoliate and Hydrate
The Handmade Soap Company
---
I don't mean to alarm you, but Blake Lively (yes, two Blakes in a row) has deleted all the photos from her Instagram account. Why, you ask? (OK, fine, maybe you didn't ask that.) Guess which explanation is correct!

Because she and Ryan Reynolds have broken up and she's starting her life over again.
Because she was hacked by someone who hated 2015's Age of Adaline and took this long to act because they're the sort of vendetta-haver who procrastinates.
Because she's promoting a movie.
Surprise! The answer is C.
---
Here's Kourtney Kardashian's daily meal plan, per her app:

Meal 1: breakfast smoothie bowl, "made with pineapples, bananas, kale, chia seeds, and bee pollen."

Meal 2: citrus salad with "a homemade Balsamic Vinaigrette."

Meal 3: a salmon filet with a honey ginger glaze.
The weirdest thing about this is that the salmon filet is something she claims to eat just "once a week." What I'm saying is that I don't really understand this meal plan and don't feel like paying for Kourtney's app to see it explained further.
[THL]
---