While everyone else is busy coming up with yet another take on the "Disney Princesses as…" trope, we're over here thinking about dicks. More specifically: Disney Prince Peen. Here, we explore, in great detail, our best guesses for what the Disney Princes look like naked. NSFW due to cartoon nudity.
The Jezebel staff put a lot of thought into this (perhaps too much?) and collectively came up with nudity descriptions of the male characters from Disney's animated feature films—including dick length, girth, tone, veins, pube sitch, etc.—that we felt reflected their personalities. We then passed those specifications on to Gawker Media staff illustrator Tara Jacoby who turned our visions of Disney dicks into actual erotic portraiture. You're welcome.
---
Gaston
Gaston likes to take nude selfies. He has a small dick—very tiny—pube-less and uncut.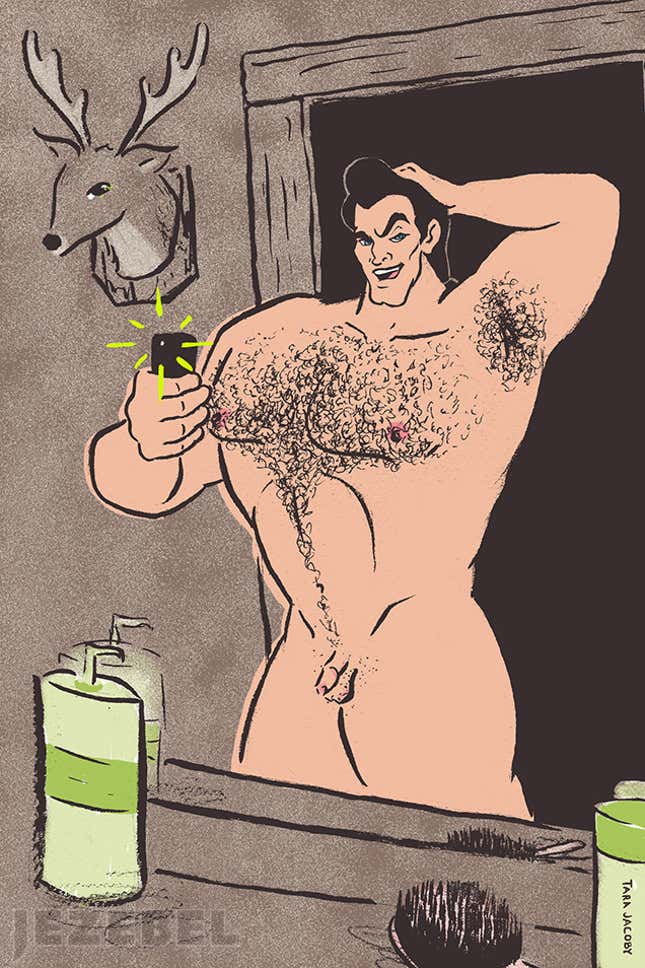 ---
The Beast aka Prince Adam
Average-sized, flaccid, uncut dick, but almost covered by his insane amount of long, ungroomed pubes. HUGE bush.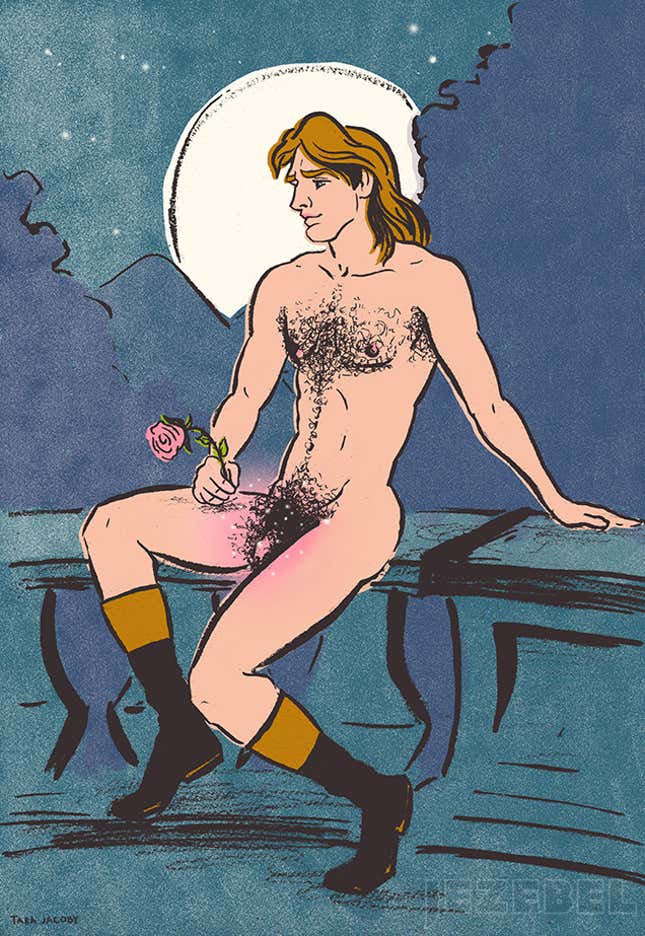 ---
Prince Eric
Nice medium-sized, half erect dick with the foreskin pulled back a little. Pale with a pink head. Medium-sized bush. He's a little bit shy—but in a cute way—on the beach, like in Endless Summer.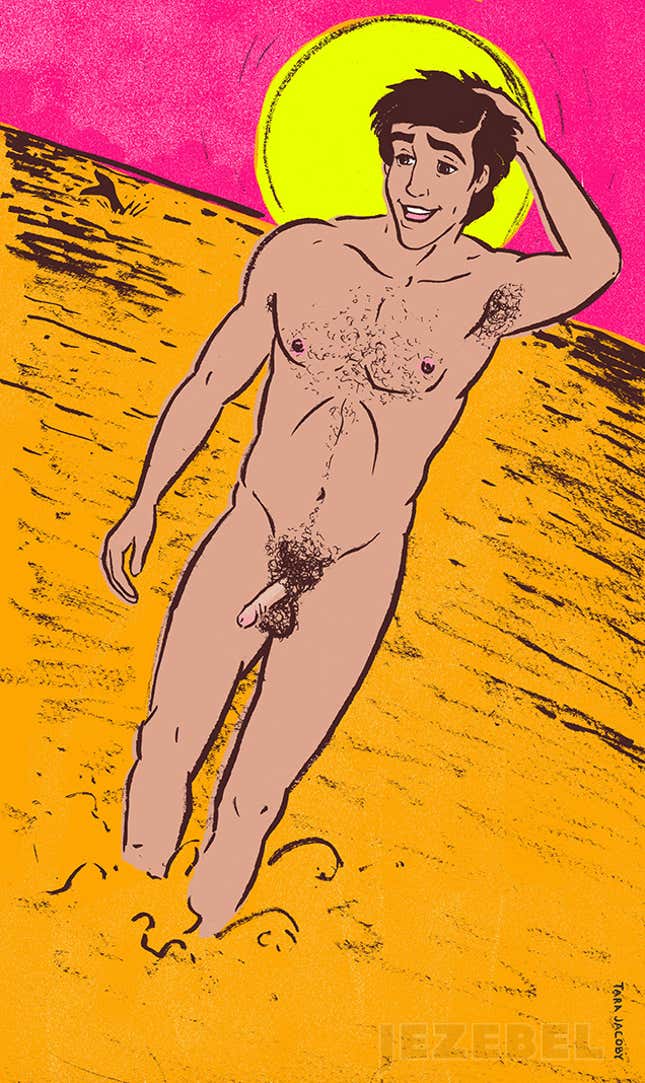 ---
Prince Ferdinand
This guy has a basic, flaccid, uncut dick with fairly groomed pubes, which are straight, not curly; smallish balls, kinda close to his body. He's posing by Snow White's wishing well.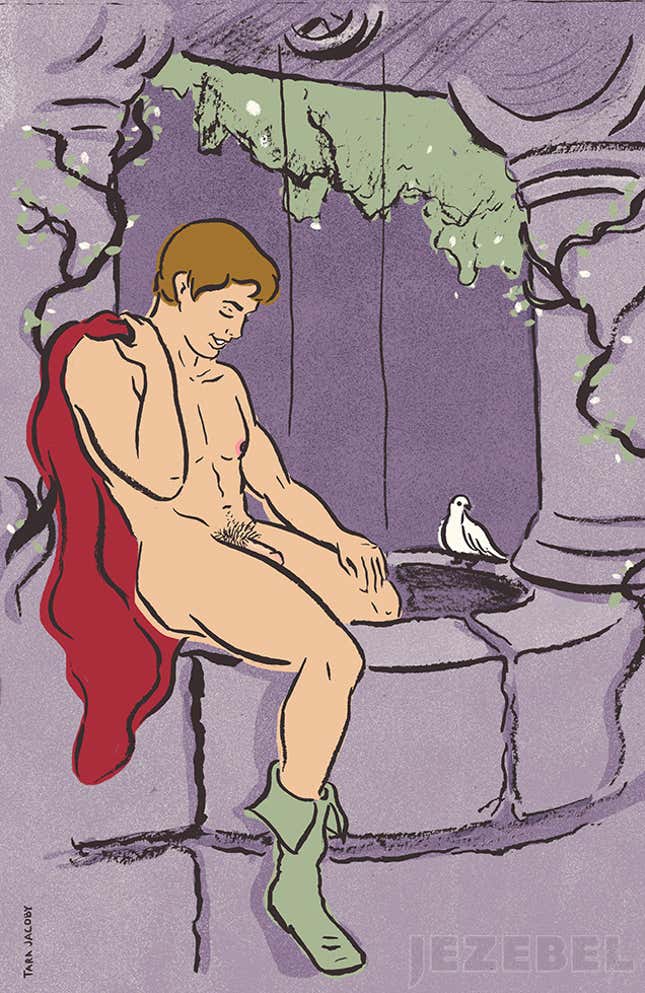 ---
Prince Charming
Obviously, the perfect guy has the perfect dick: like eight or nine inches, thick—but not too thick otherwise it's painful—rock hard with a nice throbbing vein. He's groomed perfectly in a way that's considerate of lovers without being too gay porn-y about it. He's standing in front of the fireplace that Cinderella no longer has to rake, arm draped over the mantle.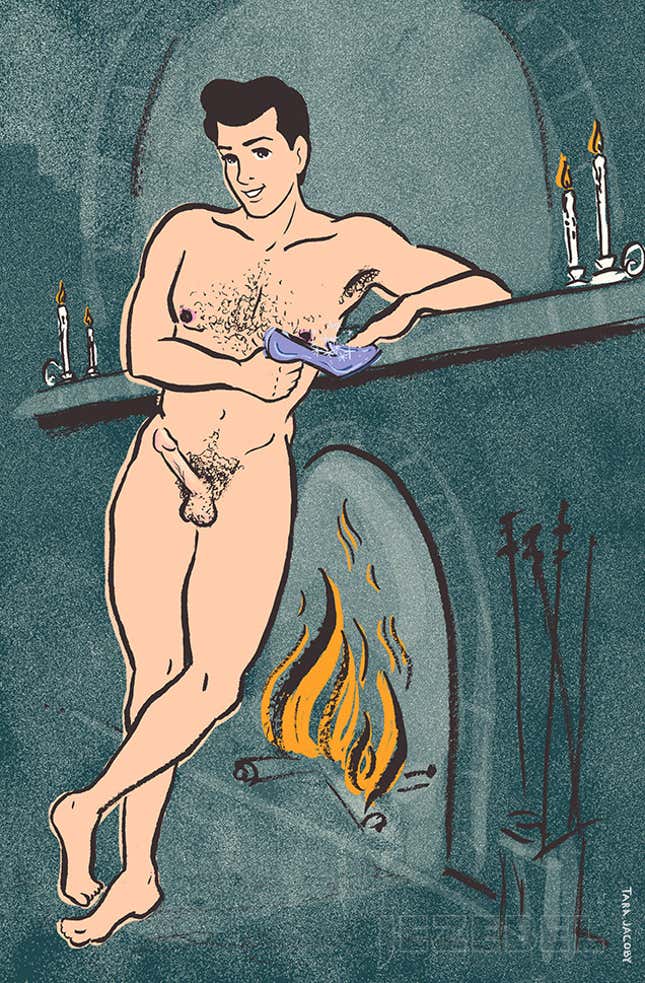 ---
Li Shang
As a military man, he has very precise pubes. Also, he looks kind of 'roids-y so his balls are like two marbles. His flaccid dick hangs over his balls like a long nose. He's hanging out—literally — by of one of his tents at training camp.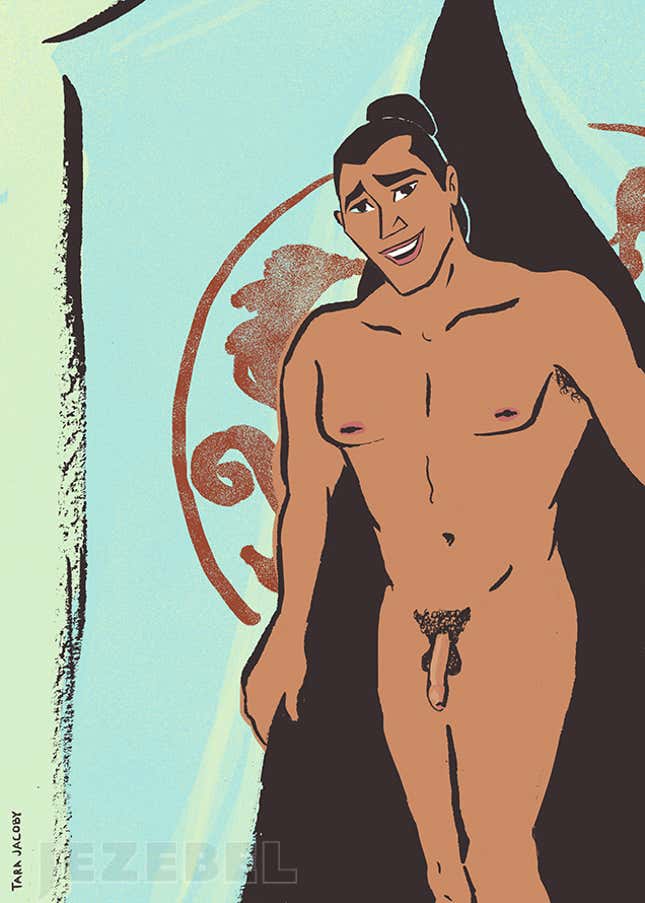 ---
Prince Philip
He's got a thin dick that's average-to-below-average in length, It's pretty hard with light skin, but then dark pink up top. He's posing on Sleeping Beauty's bed. (She's not in it. She's awake somewhere.) He also has thin pubes that are wispy, long and light colored, but they don't hide much.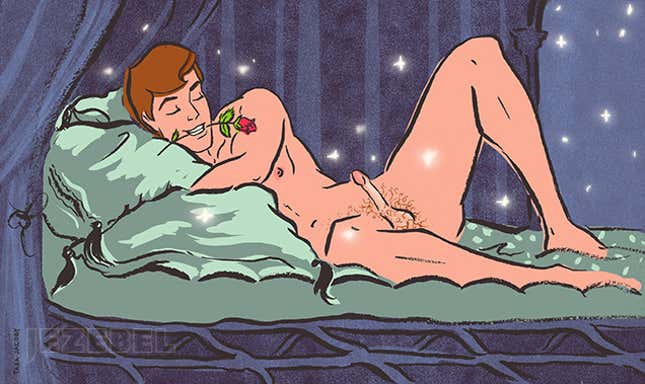 ---
Aladdin
His baggy pants have allowed his testicles to grow without constraint, so he has big, huge, droopy balls. He's limp because, like a magic lamp, you have to rub it to get it to do anything. This one's a grower, not a show-er.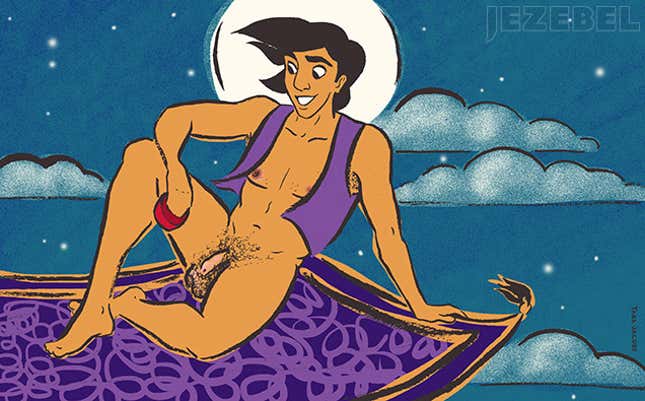 ---
John Smith
Smith has a huge dick—HUGE—like, too much dick. He's circumcised because he's American; he's ungroomed because he's a woodsman. The carpet does not match the curtains. He's posing next to a tree—wearing boots and nothing else—at night beneath the blue corn moon.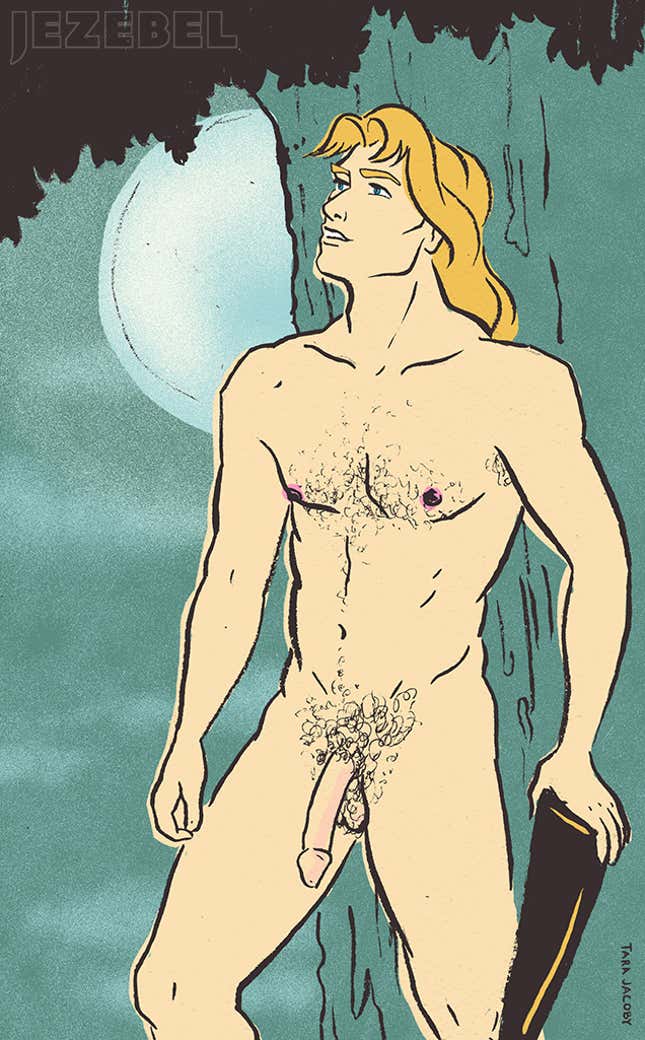 ---
Prince Naveen
He has a very long dick that's uncut. His pubes are curly and friendly. He's wearing only a mardi gras mask.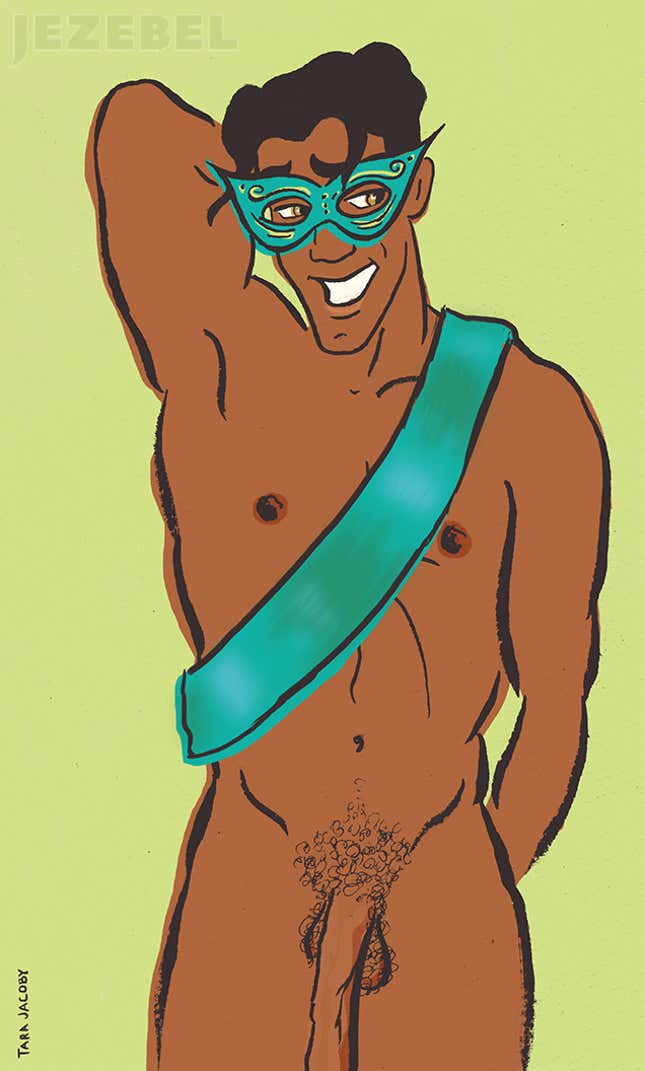 ---
Flynn
This dick has personality—a little sass and a curve. It's fleshy with one big vein; hard and up on his belly. His pubes are short and look kind of like his goatee. He's tied down to the bed with Rapunzel's hair.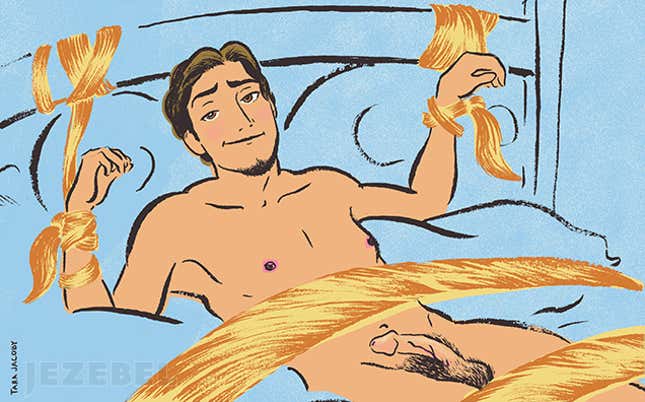 ---
Kristoff
He has blond pubes and big, full, round, firm balls. His dick is on the shorter side, but really super thick—like a Coke can—even when flaccid. He hangs out with the trolls when he's nude.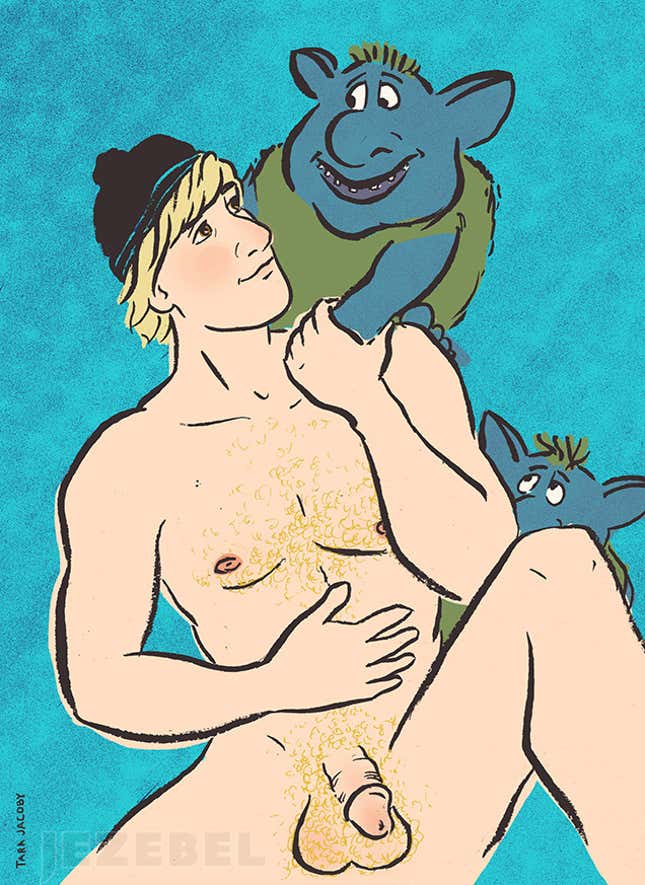 ---
Prince Hans of the Southern Isles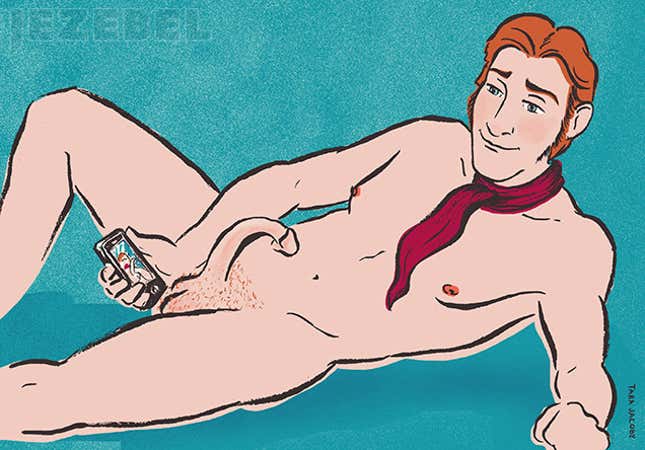 He's not a straight shooter, and his dick reflects that. It's super curved—like, it curves up and to the side. He has trimmed pubes. He takes dick pics from the bottom up to make it look bigger than it is.
Illustrations by Tara Jacoby