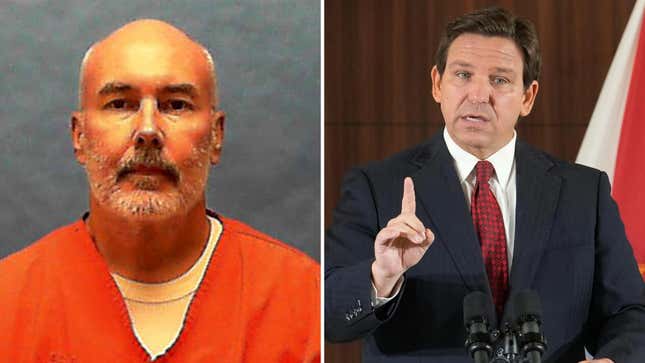 Florida executed Donald Dillbeck—a 59-year-old man who was sentenced for fatally stabbing Faye Vann—with a "three-drug cocktail" on Thursday evening, according to local media. Dillbeck used his last words to insult Gov. Ron DeSantis (R), who signed Dillbeck's death warrant last month, turning him into what one advocate called a "political pawn."

Dillbeck didn't want anyone to be confused by his final words, according to Tallahassee Democrat:
"I know I hurt people when I was young. I really messed up. But I know Ron DeSantis has done a lot worse. He's taken a lot from a lot of people. I speak for all men, women and children. He's put his foot on our necks. Ron DeSantis and other people like him can suck our dicks."
"I'm not minimizing what he did to people, but he is most definitely a political pawn," Allison Miller, a defense attorney, told the Tallahassee Democrat.
DeSantis signed Dillbeck's death warrant in January on the same day he suggested that state lawmakers send him a bill allowing death sentences to be decided by a supermajority of a jury, rather than be unanimous. Not only was Dillbeck the first person to be executed by the state since the covid pandemic began, his punishment was doled out by a non-unanimous jury 32 years ago.
Dillbeck's lawyers detailed a life full of medical and social problems in attempt to spare his life. Due to his mother's heavy alcohol consumption during pregnancy, his lawyers said Dillbeck had a neurobehavioral disorder associated with prenatal alcohol exposure, and suffered from the affects of entering foster care at a young age and being repeatedly sexually assaulted in prison.

Among people who support the death penalty in Florida, there's appetite for non-unanimity on juries because it would've meant the execution of the Parkland school shooter. In November, he was sentenced to life in prison for the massacre at Marjory Stoneman Douglas High after a 9-3 jury couldn't agree on sentencing him to death.

"It's whether or not a small number can basically derail the true administration of justice, and we think that it shouldn't be left to a small amount," state Rep. Berny Jacques told the Tallahassee Democrat about his decision to sponsor a bill to change death penalty requirements.
Florida's previous death penalty law was overturned in 2016 by the U.S. Supreme Court; it was the same one Dillbeck was sentenced under. The only state that allows a non-unanimous jury to impose a death sentence is Alabama, which requires at least 10 pro-death votes.
Now that capital punishment is up and running again in Florida, we'll have to see how many more death warrants DeSantis signs as he ramps up his inevitable presidential campaign.