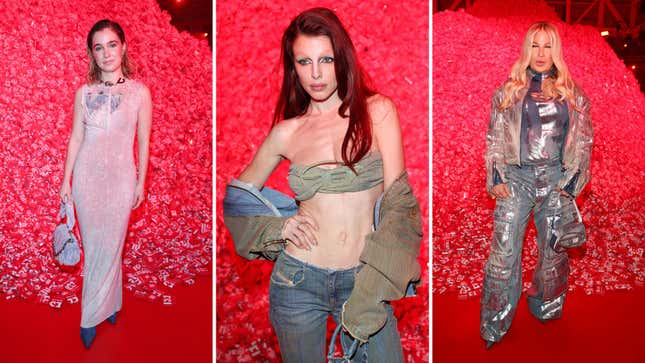 When I theorize about any given city's fashion week, I'm often visualizing mountains of discarded garments, rivers of tears from rejected models, or walls of paparazzi hoping to get the next shot of Madonna's daughter being denied entry into a show. What I have never considered is the likelihood of celebrities posing in front of a pile of 200,000 condoms.

On Wednesday fashion house Diesel thought it would be funny or subversive or ironically sexy, maybe, to construct a condom "mountain"—that is literally how the brand described it to CNN—for its Fall/Winter 2023 runway show. I am sorry to report, however, that the display designed intentionally for virality is not purely an artistic choice but the result of a partnership with condom brand Durex. The mountain was apparently supposed to promote the label's new collection, as well as safe sex in general (would be nice if any American brands tried to pull off a similar stunt, given that our country's sex education is entirely lacking). Attendees received invitations that arrived in Durex packs, and a post-runway press release announced that Diesel is set to house 300,000 condoms across its stores come April. Whether those condoms will be sold to customers or given out to sex-positive store employees is unclear.

"We like to play at Diesel, and we are serious about it," creative director Glenn Martens wrote on the brand's website. "Have fun, respect each other, be safe."
Cheugy partnership aside, I take an absurd amount of joy in watching celebrities and influencers pose in earnest in front of the condom mountain in the name of fashion. Julia Fox was there with her child; so was White Lotus' Haley Lu Richardson, who enjoyed her first-ever front-row seat. Even Alexis Stone, a Jennifer Coolidge lookalike, was there—a pairing that somehow makes so much sense.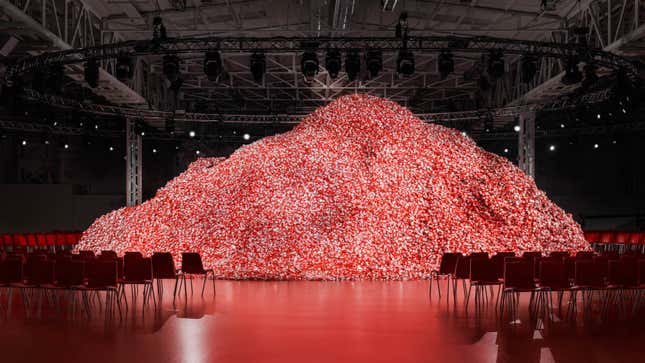 Of creative director Glenn Martens' decision to engage with condom discourse, Vanessa Friedman of the New York Times writes:

"He did it with humor and creativity and integrity, by balancing meme bait with invention and a spidey sense of the prevailing mood. Starting with a selfie-ready set involving a mountain of 200,000 scarlet condom boxes, a soundtrack punctuated by orgasmic grunts and gasps, and a cheesy bit of wordplay: changing the brand's "For Successful Living" motto to "For Sucsexful Living." (Mr. Martens is not a snob about what gets people's juices flowing; he loves a bit of the lowbrow.)"
I do love a bit of lowbrow—though I also hope this condom mountain will eventually disperse and make its way into people's hands. If you see a stark uptick in Italian children being born nine months from now, well, you know exactly who to blame.