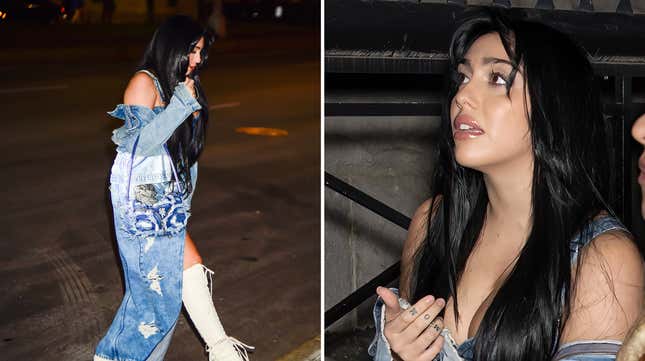 For Madonna's daughter, Lourdes Leon, it looks like the Lucky Girl Syndrome elixir is starting to dry up.
On Thursday night, Leon showed up at the doors of the Marc Jacobs fashion show in Manhattan, only to be repeatedly denied entry by multiple security guards, according to Page Six and a viral TikTok. Emily Ratajkowski, Nicky Hilton Rothschild, and Ashley Graham were among the celebs allowed entrance—probably because they showed up early.
The video says that Leon, who goes by Lola on Instagram, showed up to the show with some dude at 6 p.m., which is when the show was slated to start. But security told the duo that the Park Avenue Armory was done admitting guests and that they were simply too late, despite onlookers screaming, "DO YOU KNOW WHO SHE IS? THAT'S MADONNA'S DAUGHTER!" and taking up a chant of "LET HER IN, LET HER IN."

Leon and her friend stood around for a while, seemingly hoping the guards might change their minds. (One guard can be seen running to get approval, only to come back and say, definitively, that the event is "closed.") Someone in the crowd chanted, "Someone's getting fired!"
Leon seemed mostly somber about the whole snafu, save for a few laughs at the "let her in" choir, before eventually throwing in the towel and going home. That public rejection must've stung for the 26-year-old, who not only is the spawn of one the most influential pop iconoclasts in the world but who was also named the face of Marc Jacobs' 2021 Spring collection. You'd think they'd make an exception for one of their own models, let alone someone who's been on the cover of Vogue with Bella Hadid and Kaia Gerber and collaborated with luxury brands like Swarovski, Juicy Couture, Savage X Fenty, and Jean Paul Gaultier. But alas, if you're late, not even being Madonna's daughter can get you through the door.
---