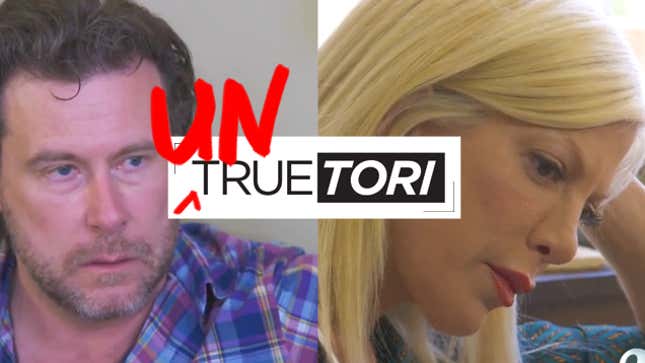 Tori Spelling's new reality show True Tori is supposed to document—practically in real time—her marital problems with estranged husband Dean McDermott, who checked into rehab after it was reported in Us Weekly that he cheated on her. But the entire first episode rang so incredibly false that many are now questioning whether there was ever a cheating scandal to begin with, or if this was all a machination by the financially-strapped couple to land a new TV show after their long-running Oxygen series was canceled.
On the show, which premiered last night on Lifetime, Tori is presented as the strong single mom who is just trying to keep the pieces of her shattered life together long enough to make it through another day with four young children. But as the hour-long episode progressed, it didn't feel like we were watching a woman in the midst of an emotional crisis—it felt like we were watching a bullshit artist attempting to create her masterpiece. Let's review the evidence.
1.) She can't sell this monologue.
The show opened with Tori giving a six-minute monologue about her current situation. Sitting Indian-style on her sofa, the barefoot-and-jeans look is supposed to inform the audience that this is relaxed and unguarded. It's all so very real. But unfortunately for her, Tori was never that great of an actress. The entire speech, which was supposed to be an off-the-cuff retelling of what happened to her family and why she's back on TV, was clearly something she memorized word-for-word. A portion of the exact words she spoke actually appeared on her blog two days ago.
Ironically, when she tweeted the link to that blog post, she explained that her new show is not scripted.
2.) She's not alone. She has three nannies and an assistant.
A frazzled (yet made-up and well-dressed) Tori is shown running around her house, trying to get the kids dressed, fed and off to school, something she says she does alone every single day since Dean has been away. It's something they used to always do together. Amid the chaos, she pauses often to speak to the camera, despite her claims that her children have been late to school every single day since Dean checked into treatment. It looks like a difficult, if not impossible task.
But why is she doing it alone? She employs three nannies and a personal assistant, all of whom have been photographed with Tori in recent months.
3.) Their timeline is off.
Tori says on the show—which began filming on April 1—that Dean has been in treatment since the scandal first broke in Us Weekly just before Christmas. She says that she and the kids spent Christmas alone. But Dean continued to be active online until mid-January, posting stuff every day about his kids on his blog and tweeting Christmas morning pictures. (Rehab programs and treatment facilities restrict Internet access and confiscate cell phones.) Both Tori and Dean posted a picture of their family spending New Year's together.
Dean released a statement to People on January 23 that he had checked into a treatment center for "health and personal issues." He was photographed by paparazzi outside his family's home on February 24, which would make sense, if he was in a 30-day program.
On January 9, the couple was photographed arriving at the same sober living facility that was featured on last night's show. They reportedly stayed for an hour and a half and then left together, smiling all the while. Were they location scouting?
In early March, OK! reported:
[T]he reality is, "Tori knows that her marriage to Dean has always been her bread and butter financially, because they built an empire around their life together. If they can work it out, she may be able to pitch some sort of reconciliation reality show."
4.) Tori probably has a deal with paparazzo Michael Simon.
Michael Simon, a paparazzo for StarTraks Photo, is notorious in the business for making business deals with celebrities. His specialty is shooting celebs going grocery shopping—in full hair and makeup—catching them holding up products at the checkout counter with logos in full view. But he also does plenty of other staged shots for which the celebs give him access or a tip-off in exchange for a cut of his profits. He's been the photog behind many of the recent "invasive" pictures that have kept Tori and Dean in the spotlight during this trying time. So isn't it weird that Tori would invite him to photograph her dying Easter eggs with her children? Not if she has a mutually beneficial arrangement with him.
5.) Tori probably has a deal with Us Weekly.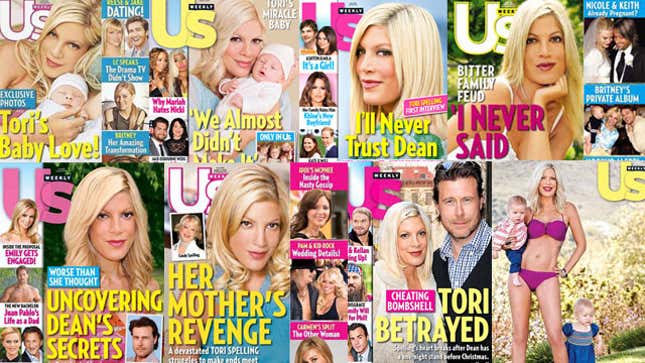 Despite having written five nonfiction books in the last six years, Tori said that the reason why she wanted to film True Tori was because for her entire life everybody else—meaning the tabloids—has been telling her story for her. But it's abundantly clear that she's had a very close working relationship with Us Weekly since 2006.
Since then, Tori has repeatedly given Us exclusive interviews and photo shoots—for which she was undoubtedly paid—every time she fought with her mother, had a baby, lost the baby weight or had a death in the family.
In her latest book, Spelling It Like It Is, Tori actually admitted to lying to Us for a post-baby bikini body story to make her version of events more palatable. To lose weight after her fourth kid she said she went on the "Just Keep Your Fucking Mouth Shut and Eat Air diet." But she knew that starvation wouldn't make her relatable to new mothers struggling with their weight.
For the Us Weekly photo shoot the next day, my publicist had given me clear instructions as to what I should say about my weight loss. Women didn't want to know that I had lost weight through dieting, not exercising. I didn't want to be the asshole who didn't work for it. So I said that I swam. It was sort of a bad choice. I can't do much more than doggy-paddle.
Given her years-long, amiable history with the magazine, it was kind of bizarre that Us would turn around and publish this huge cheating scandal story—during Christmas week, no less. Magazines, as well as other media outlets, have this delicate balancing act called "talent relations." Once they are in good with a celebrity, they want to maintain that relationship. Considering how fertile Tori Spelling is, and how well baby pictures and post-baby body stories sell, it's odd that Us would want to completely burn that bridge and cut off any future exclusives from Tori by publishing a tell-all interview with a woman who slept with Dean.
Additionally, it is odd that Tori—who openly complains about tabloid coverage of her marriage and expressed how the scandal had ruined Christmas for her family—would then turn to the same publication that broke the story to give her first exclusive interview after the affair.
But let's examine that original cheating story for a second. According to the girl who supposedly slept with Dean, 28-year-old Emily Goodhand, Dean was emotive about his wife and children during their tryst, and even showed Emily pictures of his kids. That doesn't sound like a hot one-night stand.
He said, "I love my wife. I love her so much, but she just won't sleep with me." I didn't ask why because it was awkward.
It's interesting how the seeds of forgiveness, acceptance and true-love-will-conquer-all were being planted right from the beginning.
6.) Where is Emily Goodhand?
The 28-year-old Canadian woman at the center of this cheating scandal mysteriously dropped off the face of the earth just after selling her story to Us Weekly in December. It's strange that Us did not do a photo shoot of the girl. In fact, the magazine didn't run any pictures of her at all! Nobody has come forward saying they know her. She didn't do the circuit of entertainment news shows interviews that most "other women" seeking their 15 minutes and a quick payday typically do. Nobody at Entertainment Tonight, The Insider, Extra or Inside Edition managed to snag a few minutes with her?
She has no social media presence. (There seems to be just one other Emily Goodhand in Canada, on Twitter at least, who has denied having any idea who Dean McDermott is.) That's beyond bizarre for a 28-year-old low-level star fucker.
If Emily wasn't trying to make a quick buck or grab a little attention, then what was the point of coming clean in Us? Who benefited?
Within weeks, people began to suspect that Emily Goodhand was made up. (Her name does sound like a James Bond babe.) Back in January Celebrity Dirty Laundry posted the following:
This could be a delicately designed, elaborate plan to make Tori the victim, Dean the rejected husband who truly only wants sex with his wife, and Goodhand, the plain-Jane Canadian who simply wanted to "make things right" and tell the story of the passionless nights that consisted of McDermott talking about his family…even opting to "cuddle" over having sex at one point. Well played, Tori.
7.) Tori and Dean have done this sort of thing before.
Perhaps Tori was a little too honest in her recent book Spelling It Like It Is. However, with mouths to feed and a TV series cancelled, she needed to sell copies of her book, so she decided to reveal a bunch of behind-the-scenes secrets about how fake reality shows really are. Sure, she said a lot of the expected stuff, like how they would stage scenes or discuss how the entire season would play out at production meetings or how they would re-enact important life moments that had already happened so the cameras could capture the drama.
As most people know, the lines of reality and reality TV get blurred. Our lives might be interesting enough for TV, but there is still no such thing as straight documentary, ever, in film or TV. They can't just turn on a camera, run it nonstop for hours on end, and then air the tape from start to finish. Everything has to be edited to have a structure. Everything needs to be given a narrative shape.
But she also went into a lot of detail about how she manipulated both the show and her marriage with Dean to create a sort of synergy between the two. The fifth season of their show focused on their marital problems, once they realized that it would make for good TV.
I'm Aaron Spelling's daughter. I knew how to write the story. I knew what would tug on heartstrings.
Like Tori said, the lines of reality and reality TV get blurred, so there is probably some sort of nugget of truth to their current situation. Dean probably did cheat on her at some point. (The rumors have plagued them for years, though Tori has always vociferously denied them.) He probably did need to seek treatment for whatever addiction issue he has. She probably is sick of his shit and also probably still loves him.
But they also are attention-seeking people who have admittedly lived beyond their means for their entire marriage. They are facing financial difficulties and probably didn't like being relegated to Canadian television for the last year. Exploiting her personal life is how Tori knows how to survive and she has four kids to feed.
That being said, her children are featured very heavily in this whole circus and they receive a ton of camera time. Considering how contentious her relationship is with her mother Candy, Tori might have to brace herself. If she continues to lie about her life, her four children might one day decide to tell the truth.
Image by Jim Cooke.