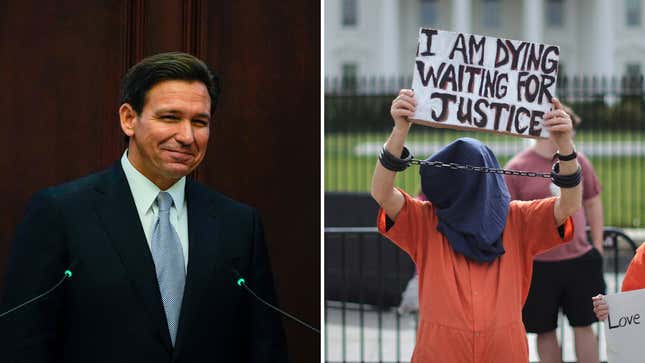 Florida Gov. Ron DeSantis (R) served in the Navy as a lawyer, not as a pilot, as he'd like you to think. And as he appears to be gearing up for a presidential run, his record as a Navy lawyer is coming under increased scrutiny—particularly the time he spent in Guantánamo Bay, the Cuban naval base that the U.S. government used to detain and torture suspected terrorists after 9/11.
None of these detainees were charged with any crimes before they were thrown in Gitmo and held (and tortured) for years, many for well over a decade. New stories from McClatchy and The Baffler, plus an interview with a former detainee in Harper's, detail that DeSantis worked at the facility at a time when prisoners were staging hunger strikes to protest their indefinite detention—one of their few protest tools—and the military was tying them to chairs to force-feed them using tubes through the nose. The U.N. Human Rights Commission called the practice torture. Three detainees died by suicide in June 2006 after they'd been force-fed following a hunger strike, officials said.
DeSantis was stationed there around that time, serving as a trial counsel (aka prosecutor) in the Office of the Staff Judge Advocate at Guantánamo for at least six months between March 2006 and January 2007, a Florida news outlet revealed in 2018. (The Florida governor had acknowledged his time at Gitmo during his first gubernatorial campaign, but did not say exactly what his role was.)
The recent accounts show that, as a Navy lawyer, DeSantis would have discussed the detainees' treatment with them directly. Retired Navy Captain Patrick McCarthy, who served as the staff judge advocate at Guantánamo in 2006, told McClatchy that DeSantis was among the lawyers he would send "to speak with detainees when there were any complaints." Retired Colonel Michael Bumgarner, commander of the Joint Detention Group during DeSantis' service there, told McClatchy: "He would have had very, very intimate knowledge" of the prisoners' conditions.
DeSantis not only received complaints about the force-feeding, but also witnessed it, Ahmed Abdel Aziz, a former detainee, told McClatchy. Mansoor Adayfi said that DeSantis had introduced himself by saying, "I'm here to ensure that you are treated humanely," according to Harper's. But Adayfi alleged that DeSantis personally observed one of his force-feedings and laughed at him; Adayfi remembers vomiting on him. (Abdel Aziz and Adayfi were released after 13 and 14 years, respectively, without being charged.) McClatchy couldn't confirm that DeSantis witnessed force-feedings, but multiple former officers and attorneys said it was possible, as he had access to the areas where they happened, though probably unlikely.
Adayfi also said that he and others confided in DeSantis about awful conditions, including guards desecrating the Quran in front of them, and incessant noise that made it impossible to sleep. Not only did DeSantis not fix this issues, they got worse, leading Adayfi to suspect that DeSantis weaponized the complaints to increase their suffering.
Years later, as a member of Congress, DeSantis claimed in May 2016 that Gitmo was a "a very professionally run facility" and argued that it should remain open. Adayfi told McClatchy those comments shocked him: "As a lawyer he should know better than anyone that Guantánamo shouldn't exist in the first place. It's not about prisoners. It's about us as humans. It's about the American Constitution, American law."
As The Baffler wrote:
Some who saw the horrors at Guantánamo Bay broke ranks, spoke out, and fought for the rule of law, consequences be damned...DeSantis, on the other hand, doubled down. Rather than blow the whistle, he honed an uncanny ability to obscure the truth. He's still never strayed from the company line, even as evidence continues to accrue of unjustified abuse by guards and the widespread innocence of detainees.
The publication noted that DeSantis—who has been described in multiple profiles as a bully who loves humiliating people—sponsored an amendment to defund a Pentagon office tasked with closing Gitmo. Moe Davis, the former chief prosecutor of the Guantánamo military commissions who resigned after his policy of not admitting testimony gleaned via torture, told The Baffler that he thinks DeSantis is a fascist. (The Baffler also described DeSantis' experience in Iraq as part of the 2007 surge, where he advised on the legality of covert missions by SEAL Team One and Army Green Berets.)
DeSantis is benefitting from the idea that he is Donald Trump "without the baggage." But as these recent reports show, he has plenty of baggage of his own. (Though some Republican primary voters, horrifically, would eagerly vote for a candidate who facilitated the torture of detainees.) As governor of Florida, he's also already actively working on achieving some of Republicans' darkest goals, like banning books and limiting healthcare for trans people. His answer to many "problems" appears to be a bigger military, more cops, and more control from Tallahassee. DeSantis' version of freedom relies on crushing dissent and tossing vulnerable people aside, and that should scare all of us.