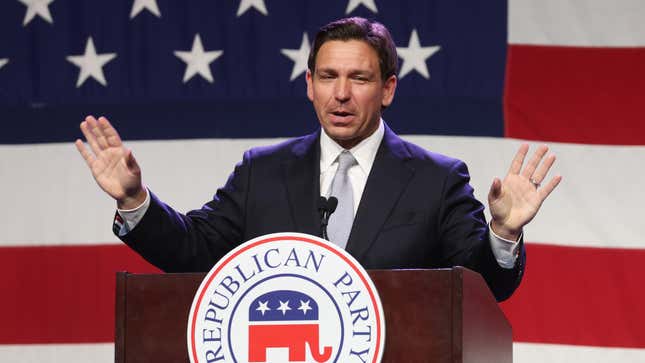 Florida Gov. Ron DeSantis (R) has personally "moved on" from his battle against Mickey Mouse and Co., so Disney should just "drop the lawsuit" against him over his "Don't Say Gay" bill retaliation, he told CNBC's Last Call on Monday.
Yes, a non-litigious corporation should just drop its legal battle to maintain control of its massive wealth of a theme park area because a failing presidential candidate is, well, bored with the fight he, himself. "I would just say go back to what you did well. I think it's going to be the right business decision and all that. But where we are today, you know, we've basically moved on," he said. "They are suing the state of Florida. They are going to lose that lawsuit. So what I would say is, drop the lawsuit."
Well if you say so ol' Ronnie!
Let me take us back in time to May 2022 when DeSantis signed the "Don't Say Gay" bill into law. Disney, which owns and operates a rather large theme park in Florida, opposed the bill because it's hateful and homophobic. And so DeSantis made the stupid decision to start beef with one of the largest, most beloved conglomerates in the world that also has a massive footprint and creates jobs in his state. "If Disney wants to pick a fight, they chose the wrong guy," a DeSantis fundraising email from 2022 read, according to the New York Times.
DeSantis then called a special session to strip Disney of its control of the Reedy Creek Improvement District, which is the special taxing district that governs Walt Disney World. It acts as as essentially a country government because when Disney World was but a dream, there was no working infrastructure to do so, and it's continued on, according to Tallahassee Democrat.
DeSantis prevailed and was able to appoint a new board of directors. When those new directors showed up, they were met with the most petty news. At its final meeting, the outgoing board, aligned with Disney, had signed an agreement that would dramatically limit the control that can be exerted over the district and therefore Disney. The board approved a 30-year development agreement that allows the company to build buildings of any height as well as banned using the company's name or any characters by the board. The agreement will be "in effect until 21 years after the death of the last survivor of the descendants of King Charles III, King of England, living as of the date of this declaration," according to CNBC. (This means Meghan and Harry's youngest living child!)
DeSantis tried to dissolve this agreement, which Disney claims was debated, discussed and passed in open meetings according to state law. DeSantis also said he would be requiring the company to abide by "new ride inspection regulations," per the Times. Disney had had enough. By April, the lawsuit—the one that DeSantis said should be just be "dropped"—was filed.
Disney is not only suing the state of Florida, but also named DeSantis, Meredith Ivey (the Acting Secretary of Florida's Department of Economic Opportunity), and the DeSantis-appointed members of the special district oversight board.
Every day, DeSantis faces fresh news about his failing presidential run, but this is the type of hell that will follow him. I believe him when he says he's over the lawsuit, considering how unpopular his war against Disney has proven to be in the polls. But I'm guessing Disney isn't quite so over it yet!