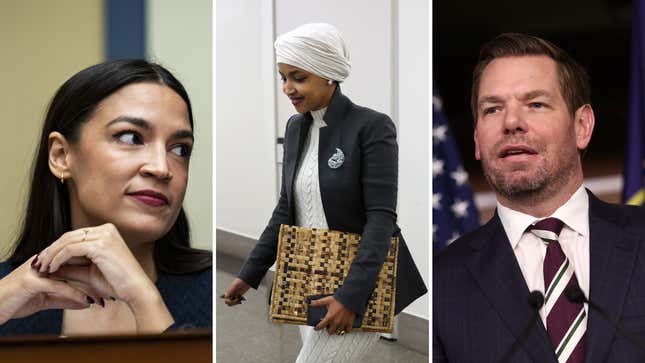 In powerful floor speeches on Thursday, Democrats passionately defended Rep. Ilhan Omar (D-MN), who Republicans had just voted to oust from the House Foreign Affairs Committee. Rep. Alexandria Ocasio-Cortez (D-NY) said Republicans—who've been trying to strip the Muslim congresswoman of her committee assignments for years—were using Omar to continue the party's "targeting and racism against Muslim Americans."
The Filibuster is Standing in the Way of Abortion Access
"There is nothing consistent with the Republican Party's continued attack except for the racism and incitement of violence against women of color in this body," Ocasio-Cortez said on the House floor. "I had a member of the Republican caucus threaten my life and the Republican caucus rewarded him with one of the most prestigious committee assignments in this Congress. Don't tell me this about consistency."
Republicans claimed Omar's removal wasn't in response to the Democrats removing conspiracy-addled Reps. Marjorie Taylor Greene (R-GA) and Paul Gosar (R-AZ) from committees, but instead because Omar doesn't have an "objective mindset" and has previously made antisemitic statements. The final tally on the resolution was 218-211. Rep. David Joyce (R-OH) voted present which, as we all learned during the Speaker race, is a fun way to vote without really voting.
Rep. Max Miller (R-OH) introduced the resolution. Miller said the Minnesotan representative "attempted to undermine" American-Israeli relations, which disqualifies her from sitting on the Foreign Affairs Committee, apparently.
Rep. George Santos (R-NY), a serial liar who previously claimed to be Jewish, responded by saying: "The passage of H.R. 76 sends a strong message that we support Israel and the Jewish community." He has still not been removed from anything, despite lying about everything he's ever done.
Rep. Eric Swalwell (D-CA) was ready to take a vote to remove someone due to antisemitism. "I raced down here because I thought, 'Finally! Finally, in this chamber, there's going to be some accountability," Swalwell said in his floor speech. "So I thought, we're going to hold someone accountable for anti-semitism. Surely it's the author of this tweet. 'Kanye. Elon. Trump.'"
The tweet stayed up for....a while, even as Kanye West continued to push antisemitic tropes and conspiracy theories. "Don't come here looking at us for anti-semitism," Swalwell said. "Look at your own damn mirror before you ever come over here."
Omar vigorously defended herself on the House floor, reminding her colleagues that she was a Muslim immigrant from Africa, and saying: "Is anyone surprised that I am being targeted?"
Along with Rep. Rashida Talib (D-MI), Omar was the first Muslim woman elected to Congress. She's repeatedly called out the U.S.-Israel relationship, not always to the best ends. Those aforementioned antisemitic comments? One included a tweet that seemed to conflate Jewish people and money, which is a little too close for comfort to the popular and false rightwing conspiracy theory that Jews control the global banks. Omar apologized for the tweet.
"There is an idea out there that I am not, that I do not have, objective decision making because of who I am, where I come from and my perspective — but I would check that we say there is nothing objective about policy," Omar said. "We all inject our perspectives, our points of view, our lived experiences, and the voices of our constituents. That's what democracy is about."