Being an independent woman is rough, especially if you want to practice non-lethal defense but feel uncomfortable doing so without a sufficient amount of bling. Or at least that's the reasoning behind "Damsel in Defense," a for-profit company — which seems awfully like a multi-level marketing scheme — that employs catch phrases like "Because you carry your knight in shining armor in your purse!" to convince women that they need zebra-print purses filled with "Hot Lips" stun guns and "Holla At Me" personal alarms to stay safe.
"Security items can be intimidating for women to carry so we developed a product line to be safe AND sassy so that women feel like these products are meant and made for them," Damsel in Distress explains. Ooh, did you know that October is Domestic Violence Awareness Month? What a great opportunity...to score cutsey products! Order now and you'll get a "purple hardcore" keychain pepper spray, two "step off" door alarms, and 1 snazzy domestic violence awareness wristband. We're totally going to kick this domestic violence thing in the ass!
G/O Media may get a commission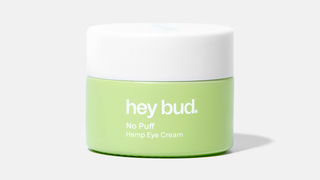 15% off
Hey Bud - No Puff Hemp Eye Cream
Women can "Get your party started & earn free product for bringing the fun!" by hosting parties during which they'll feel pressured to sell some of the below items to their friends:
"Hot Lips" stun gun:

Just like your favorite little black dress, this little black baddie goes with any outfit for any occassion! This stun gun is great for those looking for a disable pin option with a compact size stun gun that will fit in a clutch.
The "Hot Lips" 950,000 volt stun gun is disguised as a lipstick so it is extremely portable. Powered by a built-in rechargeable battery. Under the cap are 2 buttons: one for the flashlight and one for the stun gun.

and
Hardcore Pepper Spray

1/2 Ounce 18% Keychain Pepper Spray In Hard Case

"Hardcore" Pepper Spray. Sugar and spice and everything nice. Ya, not so much anymore! That little girl is all grown up now and carries her own special spice. I may look soft, but you can't see my hardcore and I won't hesitate to spray some of it's fi-ya in your eye.
You know what rapists (and your husband) will never touch? Lady products!
Aquanet Keepsafe Diversion Safe

Don't act like you don't already have a can on your bathroom counter! Now you can secure your beehive as well as your valuables. This diversion safe features a screw on bottom and is weighted to feel full. These unique safes allow you to hide valuables inside everyday items unnoticed. This would be one of the last places your husband would look for your hidden cash stash! I mean… this is one of the last places a thief would think to look for your hidden items.
Sure, Damsel in Defense's mission — equipping, empower, educate — is well-intentioned, and there's nothing wrong with wanting to make money. But pink pepper spray and other products that are marketed in a way that clearly implies women can only ever feel comfortable protecting themselves if their self-defense is accompanied by ditzy copy won't cut down on gender violence.