Dakota Fanning says she "really wasn't old enough" for the clothes she wore in her Spring-Summer 2007 Marc Jacobs campaign, pictured. "I was 12. I was always into fashion because my mom has always been interested in fashion. She majored in fashion merchandising in college, and it's always been something we have in common. When I did that first campaign for Marc Jacobs, I really wasn't old enough to wear the clothes. He made all the clothes from the runway in my size. I still have them." This is an interesting comment in light of the fact that fashion's use of very young models (and celebrity faces) has been in the news lately; Fanning's current Marc Jacobs perfume campaign has actually been banned in the U.K. for being too sexually suggestive (in the ad, the flower-shaped bottle is lodged between now-17-year-old Fanning's legs). And it's also interesting because even if Jacobs cut the clothes to fit her, the theme of Fanning's '07 campaign was still that she looked too small for the clothes, kind of like a kid playing dress-up. [W]
---
The December issue of Vogue features a wet-haired Charlize Theron emerging from the ocean. Why, don't you love going for a nice, refreshing dip off of Coney in December? We feel cold just looking at her. Inside, model Nyasha Matonhodze makes her American Vogue debut. [TFS]
---
G/O Media may get a commission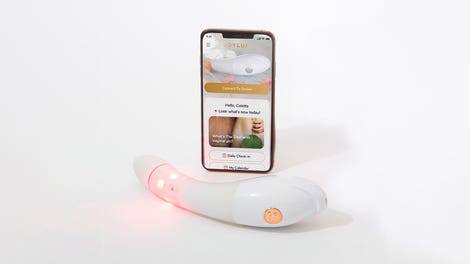 $50 Off
Joylux vFit Gold Device
Julia Restoin Roitfeld and her longtime boyfriend, male model Robert Konjic, are going to have a baby. [@DerekBlasberg]
---
Anderson Cooper agrees; Adriana Lima's pre-Victoria's Secret all-liquid diet is ridiculous and not to be admired. [CNN]
---
Hunger Games nail polish. Because everything can be turned into a nail polish, these days. [BellaSugar]
---
A book of the late Chicago street photographer Vivian Maier's work is coming out on November 22. Read more about Maier — an amateur photographer who took more than 100,000 pictures in her lifetime, always on her day off from working as a nanny — and the rediscovery of her work here. [Selectism]
---
Tamara Mellon is leaving Jimmy Choo, the footwear company that made her (but not the Malaysian-born shoemaker whose name became the brand) extraordinarily rich. The move comes five months after the luxury conglomerate Labelux acquired the company. Also departing is the current C.E.O., Joshua Schulman. [Telegraph]

Andrew Rosen says that with production costs in China rising, along with China's own domestic apparel consumption, the time is right to bring apparel manufacturing back to New York City on a larger scale. "I feel very strongly that we could invigorate manufacturing in New York. One of the ways is to create a facility that is consistent with the facilities that one would use in other parts of the world, where patternmaking, marking, grading, sample making, cutting and sewing would all be under one roof. In today's Garment Center, it is spread out from street to street. I am working very aggressively on this. I feel that there's an opportunity to bring that kind of quality and integrity of facility to New York." That would reverse a trend that's been apparent in the Garment District since about 1972. [WWD]

Fashion documentarian extraordinaire Loïc Prigent filmed Carine Roitfeld as she went around Paris selecting looks for a W magazine couture shoot. Roitfeld visits Azzedine Alaïa, Bouchra Jarrar, and Jean Paul Gaultier, teases Karl Lagerfeld that his Chanel models are too fat when a sample dress hangs loosely on her, and stands around looking faintly embarrassed when she encounters the opposite situation at Versace, when Donatella and her atelier supervisor together cannot get a zipper to go up. [W]

L'Oréal might change its slogan, "Because I'm worth it." [WSJ]

Cheryl Burke is going to be the "ambassador" for a new Macy's house brand of activewear called Ideology. [WWD]

Manolo Blahnik says he's "mad" about John Galliano getting fired. You know, for that whole being-racist thing. "Franca Sozzani once said something about John Galliano that I thought was perfect," says the shoe designer. "She said that 'Dior's solution and salvation would be to bring back that man,' — and I agree. Of course he would never do that after being so badly treated. What he said was horrific, but said under the influence of drugs and alcohol — that is no reason to destroy talent." Blahnik says he last saw Galliano at Kate Moss's wedding, where he'd gone straight from rehab. According to Blahnik, he wasn't drinking. [Vogue UK]

Evelyn Lauder, the cosmetics executive, died this weekend at age 75. The cause was ovarian cancer. [WWD]

On the list of Bad Things To Do On Skype is: believing yourself to be talking to a photographer who is offering you a mother-daughter modeling contract (which is not really a thing that exists), take off all your clothes, and then get your 10-year-old daughter to pose nude for the webcam, too. The mother involved is now charged with child endangerment; the not-very-creative child pornographer will face federal charges. [NYDN]

Louis Vuitton Moët Hennessy, the global luxury conglomerate, has sponsored a lecture hall at the new campus of the legendary fashion school at Central St. Martins. It is also funding scholarships at the school. [WWD]

Mark Cross, a high-end leather goods brand that had the quirk of being American-owned, went out of business in 1997. But a group of investors has taken it over and relaunched it. [WWD]

Tod's SpA operating profits rose by 23.5%, to $230.1 million, in the first nine months of this year, compared with the same period last year. [WWD]

J.C. Penney, meanwhile, lost $143 million in the last quarter. [WWD]

L'Wren Scott is the subject of this glowing, if not particularly memorable, profile. [Telegraph]

Saranac Lake, New York, is a small town that so badly does not want a Wal-Mart that it fund-raised to open its own community-owned department store downtown. [NYTimes]

And now, a moment with Robin Givhan, who doesn't consider herself "a fashion person." What should journalists be paying attention to in fashion, Robin — the collections or the business?

"I do think that the people who control the companies are the ones who can give you a better story. And increasingly, designers don't necessarily control the purse strings. But honestly, the people who really know what's going on are the folks in the backroom, the fabric suppliers, the unsung heroes."