The top international modeling agency Women has copped to an oopsie: its most promising new face of the season, a girl by the name of Valerija Sestic who has already walked for 16 of the biggest designers at New York fashion week, is underage. In a season when all modeling agencies made a pledge not to put girls under 16 forward for runway work, Women lied. Sestic is 15. And yet here she is, pictured walking in runway shows for Prabal Gurung, DKNY, and Marc by Marc Jacobs. This news will be an interesting test of the industry's resolve for change, and of the limits of its capacity for self-regulation.
Ana Gasteyer Satirizes the Girl Boss in 'American Auto'
A few things first: as long as there has been a modeling industry, it has been the case that most models begin their careers in their early teens. Carmen Dell'Orefice was "discovered" at age 13; in 1947, at 15, she made the cover of Vogue. Brooke Shields was 14 in 1980 when she was the face of Calvin Klein denim. Kate Moss, Patti Hansen, Niki Taylor, Kimora Lee Simmons, Bridget Hall, Gisele Bündchen, Karolina Kurkova, Linda Evangelista, and Christy Turlington: these are just a few of the well-known models who started working at age 13, 14, or 15. More recently, Tanya Dziahileva, Chanel Iman, Karlie Kloss, Lindsey Wixson, Monika Jagaciak, Daphne Groeneveld, and Hailey Clauson have all found fame within the industry after starting young. (Of course, there are many more models who begin working in their early teens who never become well-known.)
Valerija Sestic as a child, modeling in a catalog alongside her mother, Mirela.
There are some problems that arise when you have a labor force that is overwhelmingly young, foreign, and female, especially one that is in the employ of an industry dominated by wealthy, established interests. These girls work for clients that report quarterly earnings in the hundreds of millions; there are board members at these companies who have served longer than these girls have been alive. New models know that they are just one face out of the hundreds represented by their agencies. Is it any wonder that the workforce is therefore vulnerable, at least potentially, to exploitation? And this is an industry where some scouts talk openly of "grooming" their new faces.
G/O Media may get a commission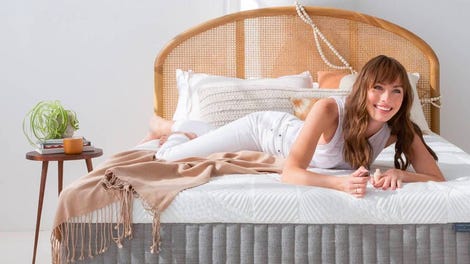 Sleep Sale
Sleep Sale - Brentwood Home
Sestic, right, modeling traditional Croatian handicrafts at an event in March, 2011.
I have long felt that the modeling industry's reliance on exceedingly young girls — children, frankly — breeds a certain lassitude. Put simply, it's system set up around the simple truth that girls — especially girls who don't know any differently, because they've never had another job — will put up with treatment that women won't. Model age isn't just an issue because a shoot for a magazine that wants to do topless or a runway changing area full of backstage photographers or any of the many, many places where someone working in fashion might encounter illegal drugs or a photo studio alone with Terry Richardson (or any of the men like him) is an inappropriate place for a young girl to be — although those are inappropriate places for a child to work. Model age is also an issue because the way that the modeling industry profits, to a certain extent, off of the relative youth and inexperience of its workforce is a systemic problem, and one that can only be addressed by having models who are adults. As Ashley Mears wrote recently in the New York Times, "Decades of critiquing representations of bodies in fashion have not changed what we see on the catwalk; reforming the conditions backstage just might. Empowering models as workers could potentially help them stand up against other aspects of the industry, like unhealthy expectations about dieting."
Sestic on the Ports 1961 runway in September, 2011.
So. Valerija Sestic. She's from the Swiss town of Thun. Her parents are Croatian. She apparently speaks five languages. She was born, her mother Mirela says, on October 21, 1995. She modeled as a child. Her mother also models; Mirela Sestic told a Croatian-language news source in March that she was "Currently negotiating with several agencies" on Valerija's behalf, "and soon we start with the first engagement." Mirela said she has put her career "on ice" and planned to travel with her daughter. As Google translates her response when asked about her daughter's relative youth, Mirela says, "If you do not try, later might be too late. I am willing to sacrifice much to achieve, and her wishes. It's like in professional sports, if the parents at some point, in some years, do not stand behind their children and give them maximum support, it can be difficult to develop a top athlete. I would not like to later blame myself." This industry makes parents and girls believe that if they don't start at 14, they'll never get anywhere. But it's entirely within the power of agencies and clients to change that reality, should they want to.
Sestic posed on a motorcycle with her legs spread for an agency test shoot. A similar shot of a then-underaged Hailey Clauson is the subject of an ongoing lawsuit.
Here's Sestic modeling some traditional Croatian crafts at an event in Germany, also back in March. And here's Sestic in one of her test shoots for Women. Clauson, whom Sestic strongly resembles (I initially mistook her for Clauson on the DKNY runway), recently sued a photographer who allegedly sold a similar shot of her to be printed on Urban Outfitters t-shirts without authorization. That would be a strange coincidence, except I'm pretty sure that these days they issue crotch-shot-on-a-motorbike photos to all newbie models at signing.
The Council of Fashion Designers of America, a trade association that represents the interests of U.S. designers, has long recommended that its members not hire girls under 16 for runway work. This season, it asked its members to card models at castings, and extracted a pledge from all the top New York agencies not to put anyone under 16 forward for shows or highlight any underage girls in their show packages.
Now that we are at the end of New York fashion week, it is plain that the honor system has had some failures. 14-year-old Ondria Hardin, who is currently a face of Prada, was in Ford's show package, and was booked by Marc Jacobs for his runway show. And after Women lied about her age, Sestic walked in sixteen shows, including some of the biggest of fashion week: BCBG by Max Azria, Rag & Bone, Doo.Ri, Prabal Gurung, DKNY, Y-3, Carolina Herrera, Marc by Marc Jacobs, Tory Burch, Hervé Leger by Max Azria, Rodarte, Theyskens Theory, Oscar de la Renta, 3.1 Phillip Lim, Ports 1961, and Philosophy di Alberta Ferretti. (Despite her age, Ports 1961 styled Sestic in a dress with a translucent top. That kind of styling is not uncommon: three seasons ago, when Lindsey Wixson was 15, she walked for Lacoste in a sheer top that exposed her breasts. Wixson had recently given an interview in which she talked about how awkward it was to ask for a strapless bra on a W shoot where the magazine asked her to wear some sheer garments, although the magazine did oblige her request.) Sestic skipped London — where a firm ban on models under 16 is in effect — and went straight to Milan, where so far she's walked for D&G, Anteprima, Blumarine, and Moschino.
And at least one of those clients is pissed. A spokesperson for Tory Burch said Sestic wouldn't have been booked had the company known her true age. "We are conscious not to use models under 16."
"It is true. She is 15," says Dejan Markovic, the president of Women Management. "This is never going to happen again from our company. I take full responsibility." Forgive me if I remain unconvinced of Dejan Markovic's sincerity on this score; the new face he lied about to give a start just became a breakout star.
Clearly, the honor system isn't keeping children off the runways, and even if it were effective to just ask agencies to pinkie-swear their girls are at least 16 — fashion week is just two weeks out of the year. There's a whole lot of modeling that goes on the rest of the time. What's needed is for the modeling industry to stop regarding 12-year-old girls as a natural resource. Ondria Hardin, who was 13 when she shot her Prada campaign with Steven Meisel, had already worked extensively in Asia, where clients and agencies are even more prepared to look the other way on age than they are in the West.
What would be so wrong with agencies taking a pledge not to sign any model for the adult market until she turns 16? And what if clients were to test that by ID'ing the models they hire — not just for runway jobs, but for all gigs? What if 16 were a firm starting age for all modeling work? What if the media started taking notice of, and reporting on, models' ages? If instead of models starting at 13-14, and being allowed onto the runway at 16, models simply started their careers at 16? It sounds like a small change, but the longer these girls have to devote to their educations, to grow their support networks of family and friends, and to develop in maturity and life skills before embarking on a career that can pose distinct challenges to all of the above and more, the better.