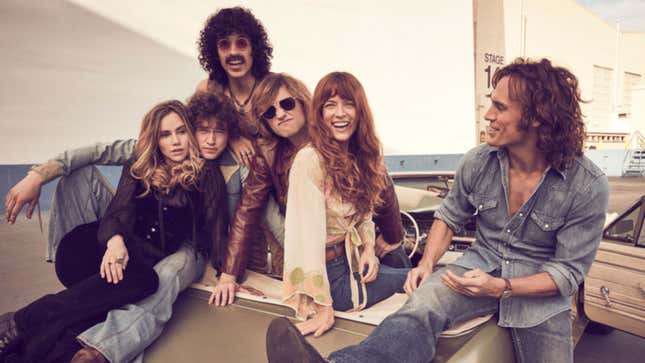 The first three episodes of Daisy Jones & The Six are not good. In one of the earliest scenes, Daisy Jones, born Margaret (and played by Riley Keough), sits on the bed in her childhood home—a deeply unhappy home with a mom who considers her an "inconvenience" and "competition," and a dad who's hardly mentioned except to say that he has lots of money. But then, then, Daisy discovers she can write. So she journals and writes songs and "finds a piece of me that I didn't know was missing," and these first three episodes feel like exactly that: a stereotypical rags-to-rock-god fantasy ripped from the diary of a lonely 15-year-old. And it's not even Penny Lane's diary.

But. If you can stomach it through the way-too-drawn-out backstories (people's parents fuck them up, they find music, they love music, they decide to make music, we get it) and the cheesy platitudes ("Trust isn't easy, in fact, it's one of the hardest things you will ever have to do"), you'll be rewarded with something not-so-cheesy and not completely terrible.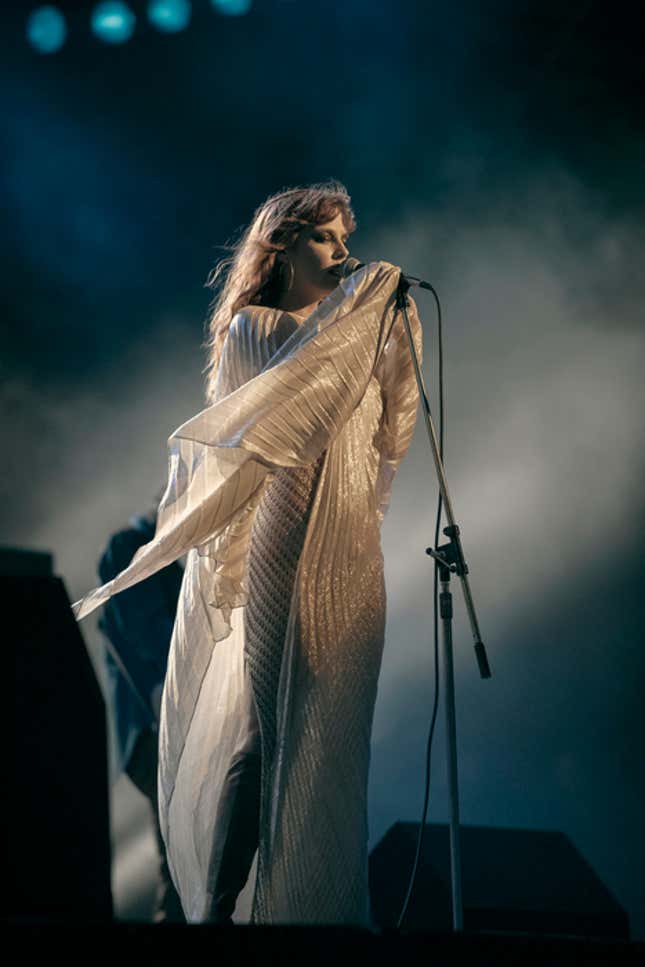 Daisy Jones & The Six (streaming on Amazon Prime now) is about the meteoric rise and astronomic fall of a fictional 1970s rock band. It is based on Taylor Jenkins Reid's bestselling 2019 novel of the same name—which gave the project both a ton of potential and seemingly way too big of a universe to populate. And it's really hard to pinpoint how exactly the material, often categorized as Fleetwood Mac fan fiction, failed to deliver what should have been the next Almost Famous.
G/O Media may get a commission
25% Off
Coleman SaluSpa Inflatable Hot Tub Spa
Was it the fact that, besides the clothes and the retro-looking homes and cars, we barely knew we were in the 1970s? Was it that the show's portrayal of Daisy's best friend, Simone Jackson (played by Nabiyah Be), still didn't feel like it did the character justice, despite her technically getting an expanded storyline? Was it Billy Dunne (played by Sam Claflin), whose complicated and tortured inner world didn't really translate to the screen, and who, instead, came off as kind of annoying?
I was also never convinced of the chemistry between Billy and Daisy, or even Billy and his wife, Camila (played by Camila Morrone). In the book, the tension that builds between Billy and Daisy is hot and juicy. In the series, they're almost immediately annoyed with one another, then before you know it, they're so angry because they're madly in love but they can't be and now things are complicated!
Book adaptations are impossible to get right, but I would have gladly given up the first three episodes so that Daisy and Billy's relationship had more time to build and breathe. Ten minutes after first meeting each other inside the recording studio, Billy storms out and screams at their producer, Teddy Price (Tom Wright): "I'm either gonna kill her or you or myself! Where do you think I should start?!" All because Daisy dares to offer a drop of constructive criticism while asking him what his song's about. In the novel, you can feel Billy constantly grappling and battling with his ego. In the series, he just seems like a dick.
That said. Daisy more than makes up for all of Billy's on-screen shortcomings. The script (yet again) doesn't quite live up to the lore of the book's namesake, but Riley Keough is pretty incredible—as a huge fan of the novel, I could not have imagined a better Daisy Jones. Not only can Keough sing (really, truly, "holy shit she can sing" sing) but her tone, mannerisms, and overall cool-but-confident-but-always-teetering-on-the-edge demeanor make grinning and bearing it through the worst parts of the show worth it.
When the series works, it...works well enough! Price is always a warm and welcomed addition to any scene. The relationship between Karen Sirko (Suki Waterhouse) and Graham Dunne (Will Harrison) ends up being the series' hottest, most devastating storyline. Warren Rhodes (Sebastian Chacon), the band's drummer, is essentially a stoner jester who's a goddamn delight (and usually merciful comedic relief). The music is fantastic—both the fully realized Aurora album and the series' soundtrack; I've had Faces' 1977 album, Oh La La, on repeat. I thoroughly enjoyed all the band's performances, too. They're not Rami Malek recreating Queen's Live Aid performance in Bohemian Rhapsody, but they're big and bright and at least one of them gave me chills.
In the last episode of the series, Price says of his legacy as a star-making producer: "The world won't remember me, but they'll remember the music. And I'm OK with that." I, too, am OK with only remembering the music from this series. Also in that last episode, Rhodes, while speaking about the band's sudden demise, says, "I was just having such a good time, man. I didn't wanna' see it."
Both lines can be taken as helpful advice should you decide to watch Daisy Jones & The Six: Focus on the music, and you'll have a good enough time. If you can, ignore how the story of the greatest band to never exist has been made into something as forgettable as the weak chorus to a just-OK song.