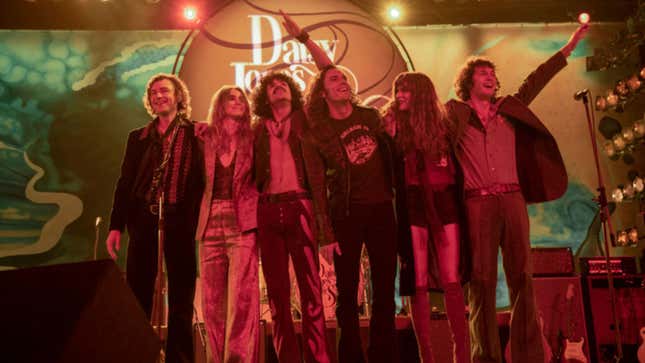 Reading Taylor Jenkins Reid's bestselling novel Daisy Jones & The Six was a serious trip. I immediately became attached to the characters that made up this infamous 1970s rock band and I obsessed over the legend of Aurora, the only album they ever recorded. This was a huge issue, obviously, since it was all fucking fiction.
Pete Davidson Leaves Job at the Girlfriend Factory
But that has changed. "We finally have 'Aurora,'" Jenkins Reid said in a statement on Wednesday, accompanied by the latest trailer for Daisy Jones & The Six, premiering March 3 on Prime Video. "A stunning, nostalgic, timeless album that captures the drama, pathos, and yearning of the band's zenith and nadir all in one. A snapshot of time, intoxicating and dangerous. That delicious moment that you know can't last… Daisy Jones and The Six are real. And they are better than my wildest dreams."
Zenith! Nadir! Wildest dreams! This is huge news for fans of the book and for me, personally, since I'll no longer be yearning for the fabled melodies of a fake album that I literally could not listen to, because it didn't exist. On Tuesday, Aurora's full track list (which differs from the novel's track list, except for three songs) was also released, as was the first single, "Regret Me."
Aurora was produced by Blake Mills, a guitarist, songwriter, and Grammy-winning producer. "Creating the library of music for 'Daisy Jones and the Six' was an experience I'll never forget," Mills said in a statement. "I am grateful that, among other things, it afforded me an opportunity to collaborate with so many of my peers, and also some of my heroes."
Mills has toured with Band of Horses and Julian Casablancas; collaborated with The Chicks, Lana Del Rey, and The Avett Brothers; and has producer credits on songs and albums from John Legend, Fiona Apple, and the Alabama Shakes. Aurora also includes songwriting credits from Phoebe Bridgers, Marcus Mumford, and Jackson Browne and features instrumentalists from Rilo Kiley, David Bowie, Elton John, and The Who, among others.

The novel, which is formatted as an oral history, follows the rise, lore, and crash of Daisy Jones & The Six: a Fleetwood Mac-esque band that gets swept up in Rolling Jones-adjacent mania. (Reid included both bands on a Spotify playlist that followed the novel's initial release, as well as songs from The Kinks, Bruce Springsteen, Tom Petty and the Heartbreakers, and Patti Smith—in case you've yet to catch onto the whole vibe.)
The series stars Riley Keough, Sam Claflin, and Suki Waterhouse—minor details that I'm choosing to ignore in order to let my brain fully live inside the world where all of this really is real.