New York Magazine has published a glowing profile of Cynthia Nixon, gubernatorial candidate for the state of New York. It paints a picture of a woman who is dead serious about this campaign, even though the main reason she decided to get into the race in the first place was, of course, Donald Trump.

The current state of the presidency made the political intensely personal, Nixon told Jessica Pressler, but she had been mulling the idea of a run for some time. Trump's election was the push she needed to see if she could actually make a difference. "I think what we learned in 2016 is we can't take anything for granted," she said to Pressler. "And if we want our priorities front and center, we have to make them happen."
Nixon's self-described "watershed moment" with politics came in 2001, when she and ex-husband Danny Mozes were figuring out where to send their daughter, Sam, for school. As a proud product of New York City's public schools and shocked by the way her "peers" were not even considering them because of their condition and drastic underfunding, Nixon aligned herself with the Alliance for Quality Education, an organization that mobilizes for public school reform across the state of New York. She used her celebrity to draw attention to the issue as well as the organization by positioning herself explicitly as a concerned parent, thereby establishing her political savvy.
It's easy to lump Nixon's gubernatorial run in with the spate of other celebrities running for office, but what Pressler makes clear is that Nixon's political history speaks to good intentions. Consider her first interview as a candidate, which was on The Wendy Williams Show, during which Nixon called black women the "backbone of the Democratic party." In the mouths of some politicians, this statement would be an empty talking point, but for what it's worth, it looks like she means what she says.

The day before at her apartment, when I'd asked her about the people who had encouraged her to run, she'd mentioned that strangers often come up to her on the street. "African-American women in particular," she said. "I remember I was having this exchange with an African-American woman at the supermarket, and she was saying that she was a fan of mine and whatever. And there was no segue, but it was like we were spies in a spy movie talking to each other, and she said, 'I want you to know that I vote, and not just in presidential elections.' "
Why does she think that happens with specifically African-American women? "I think because they don't buy the bullshit about a normal political path," Nixon said smoothly. "I think they understand that women get things done." She went on in this vein for quite a long time. It started to seem a bit like … overdoing it. Pandering, maybe? But according to many analysts, she was just being smart. "People who are running for office need to cultivate black women," says Bertha Lewis, president of the left-wing Black Institute and a longtime friend of Nixon's. "We're the single most consistent voting bloc. We're not the ones who voted for Donald Trump. Wasn't us."
G/O Media may get a commission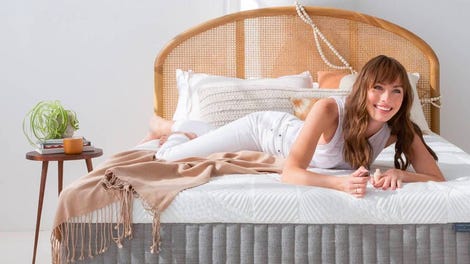 Sleep Sale
Sleep Sale - Brentwood Home
Zephyr Teachout, who ran against Andrew Cuomo in 2014, met with Nixon before she announced her candidacy and came away with a sense that she might know what she's doing. She's clearly so personable and so curious and she knows a lot. And I was impressed that this wasn't a woman who was afraid," Teachout told New York. "She might win this thing."
Read the full piece at New York here.