It's so upsetting what's happening with my former favorite former couple Rob and Blac Chyna, but in the meantime, I'm glad to see Chyna is out and about and able to live her life without that negative energy around her—even if no one can decide whether her hair is rainbow, unicorn, or mermaid!
G/O Media may get a commission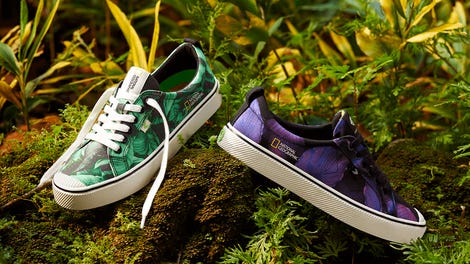 New New New
Cariuma + National Geographic
A beauty! Look at those locks flow.
I would be remiss if I didn't point out how much exciting hair news we have from men this week—most notably, male performers, who are often riskier with their hair choices than the men we plebes have to rub shoulders with at our local java shop.
First up: Eminem! The real Slim Shady has stood up, and he's got a beard.
"We don't want to sound dramatic, but we'd totally understand if you 'Lose Yourself' over Eminem's new facial hair," E! News writes. I am!!!! (Losing myself, that is ;))
Next, John Mayer. Perhaps their shared commitment to new hair looks means they should spend this summer musically collaborating? The early aughts are still celebrated as a magical time in American culture for a reason...
Now, let's focus on GQ's headline for their article about John's hair, in which they say "John Mayer's New Hair Is More Proof That Frosted Tips Are Back." Frankly guys, this made me do a double-take! In what world! But then I realized...

...They might be right!! "Kristen Stewart seems to be taking style cues from a hedgehog as her roots grow out in her buzzcut," Page Six writes, next to a photo of Kristen Stewart aside a photo of a (very cute!) hedgehog. The pairing looks adorable together, so it's hardly a rude comparison, and I'm loving seeing how Kristen is choosing to grow out this 'do—the low-maintenance way. Very summery!
Also on the short side (though clearly not even in the same universe as Kristen's), Mila Kunis, who we're mostly used to rocking long, flowing, beautiful brunette locks, has done something bold.
Mila was first snapped with this new hair while shopping at Target. (Sidenote: I love the overalls look; so summer 2017. Very casual, very sexy.)
Not everyone is going short for summer though! Charlottes of the world unite, because Kristin Davis has found a look that works for her and she's sticking with it.
I know we love to celebrate and discuss change here, but there's something to be said for keeping with whatever works for you and adadpting it to the times. And as Volaire's new brand ambassador, Kristin is doing just that.
Now the debate over #sponcon is NOT one I want to get into here—celebrities have to keep their pantries full of quinoa too, guys!—but I do want to note that Kristin hashtagged this particular 'gram #ad. That being said, I fully believe that she is really using this and am happy that she found a product that works for her. We should all be so lucky.
In dye news, Karlie Kloss did the damn thing and moved from her generally sunny blonde color to full on PLATINUM (and it's not a wig this time)!

I love her caption here—so cute (and maybe a reference to her BFF Taylor's music career/past hair choices?! You be the judge!).
I'm gonna end with something a little controversial, but fun and summery nonetheless—fashion model and the girlfriend of fellow Hair Care! featuree Kristen Stewart (see above) Stella Maxwell took her crimped hair from the runway to the street.
"Following the Fendi Couture Fall 2017 show in Paris on Wednesday, July 5, Maxwell rocked her flaxen locks crimped at the top and straight from the mid-lengths onward, with a deep side part that gave serious rock 'n' roll vibes," Us Weekly writes.
I know crimping is generally fully in the DON'T category of hair looks, largely because of how hard it is on the follicles and also because it can make things look very dry and fried, but the messiness of this, I think, makes it work. (Doesn't hurt that Stella is a drop-dead GORGEOUS model.) What say you guys? Is this giving you PTSD to past looks? Or has time healed all wounds—except the ones from your curling iron, of course!