Hi Hair Cariacs! (Okay, I know that name isn't exactly clicking yet, so share in the comments what you want yourselves to be called.)
I'll be very honest with you, I had not anticipated what a bevy of looks Cannes was going to bring to us. While the film festival is always full of glitz and glam that I eat up like my Fage Lowfat Yogurt, it's also usually a more staid affair. Not so this year!! But we'll get there; first we have some other looks to analyze, and, as usual, some might be divisive. Remember: Keep your cool, because we're all here because we love hair! (And we're also all here because we're so glad that Demi Lovato are-they-dreads-or-are-they-twists scandal is over.)
But firstly, if you're looking for a fun read, Hollywood Life has dug into the brow-length bangs trend. I don't think I have the patience for the tendrils near my eyes (nor the face for it; my heart shape girls, where you at?????!), but props to them for the inspo. I really suggest checking it out.
Now onto the celebs and their lewks!
G/O Media may get a commission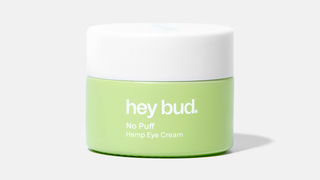 15% off
Hey Bud - No Puff Hemp Eye Cream
As someone who has eaten at Nobu in Malibu for lunch once (it was divine), I find the association of Miley's grown-out roots with this sweet little oasis trying. Here's People with their take on her:
According to Yahoo, in an interview on The Cooper Lawrence Show, Miley was asked about her new hairstyle which features her natural brown roots on top and grown-out bleach blonde locks on bottom, and the singer explained that there's no high concept behind the look, saying simply, "I like blonde and brown — now I don't have to choose." And it seems this new beauty look is just part and parcel of the "Malibu" singer's head-to-toe surfer girl style makeover.
Now my grandmother always said that if you don't have anything nice to say, it's better to say nothing at all (wasn't she wise?), but I know how important my analysis is to you guys so I'll go for it with this lackluster dye job as best I can.
I respect Miley for doing her own thing at all times and not apologizing for it! And she has been finding ways to rock this messy look, doing braids, a high ponytail, and even pigtails. But I think it's significant that she's also been wearing a lot of hats. I know, I know, a chapeau is VERY in right now, but I also have a sneaking suspicion that she doesn't always love the Cruella thing and likes to have a bit of a break from two-tone.
Anyway, moving on! Halsey, who I'm not too familiar with but who I won't be able to forget going forward because of this incredibly bold, brave look. Via what's probably my most-visited website, Refinery29:
"Shaving my head was important to me because I needed to be able to prove that I could still love myself if I did it," Halsey has said. Girl, and we also love you for it! Don't we all feel like Machine Gun Kelly in this pic? (Almost) Bald is so beautiful!
Okay, let's go to Cannes babes! First off, the amazing gals at People Style did an incredible breakdown of all the ways Lily Collins styled her hair during her events there. You really should read there whole piece—honestly, this is the best investigative journalism I've seen since my parents forced me to watch that movie Spotlight on Netflix when I was visiting them the last time—but I'll drop a few of the styles in here as well so we can discuss.
She started with an almost Audrey Hepburn-esque pony.
Then she took it down, going very straight and blunt cut.
Bangs and an updo (again, Audrey).
And don't forget the curls! I love this look the most I think, though truly, it's like picking between my adorable puppies.
Okay, let's wrap up with Kristin Stewart's Cannes look, which is the most chic take on a buzz cut I've seen in ages. I'm loving the risk-taking nature of Hollywood starlets these days, who are showing us the real meaning of feminism with their controversial cuts.
"The 27-year-old actress adhered to the festival's dress code, which requires women to wear dresses and heels, but she says she's not afraid to break it if she wants," Just Jared explains. Take a look at her ensemble and see what they mean:
I am sure that platinum, especially with such a short crop, must be a ton of maintenance. But it's all worth it babe! You look fantastic.
Now one last thing: are you feeling this sherbet hair as much as I am????
Just the kick I needed before this long holiday weekend! That's it for this week, but please share your thoughts in the comments, and as always, feel free to tip me at the email below, using the subject line "Hair Care!" (exclamation point optional, but let's be accurate if we can!).