For some reason, Courtney Love was at the Sundance Film Festival this year. She was not promoting a movie, and it's doubtful that she was shopping for one. Still, she performed live in front of a relatively small bar crowd and spoke to the press, which is great because Courtney Love quotes are always the best. Naturally, she doesn't disappoint, this time going on a tangent about Gavin Rossdale and his wife Gwen Stefani.
The interview was for a lengthy, ill-suited profile for ABCNews.com that was ostensibly about the author's "crazy night" with Courtney Love who somehow manages to rock on through her "cloud of crazy." The beginning of the piece teases that:
[Courtney is] a sun around which a solar system of crazy revolves, and by the end of the night, Love would be pantsless, threatening a restraining order against a screaming woman who called her the cruelest person on earth.
It's kind of crazy how often "crazy" was used to describe the time spent with a relatively reasonable and balanced Love. She was pantsless because she was changing out of the outfit she wore on stage after the show. She got in a verbal fight with a friend who was pissing her off and the whole incident seemed rather tame. I mean, to label a night with Courtney Love as "crazy" you have to be able to top a stranger sucking her tits outside of a Wendy's. And that didn't happen here.
But that's not to say that documenting Love's witticisms wasn't a worthwhile endeavor. People should be doing it more often, actually. This time, while discussing her own clothing line, Never the Bride, the conversation wound around another rocker-turned-designer: Gwen Stefani.
"Funny thing, you know, I would've never really bet on Gwen," she said. "Not back in the day." Love attributed Stefani's success — her "f**king empire" of a clothing line, L.A.M.B. — to her husband Gavin Rossdale, whom Love said she dated before he got together with Stefani.

"His band never did that well but he is very, very smart," she said. "He runs the Gwen show, that's him. He runs the clothing line, he f**king built that up, he has nothing else to do."

She smiled, shuffling through her purse for a lighter, remembering her relationship with Rossdale. "He was so good looking, but I kind of envisioned that me and Gavin Rossdale would end up on the French Riviera, like, taking tennis lessons and f**king our respective polo teachers."
G/O Media may get a commission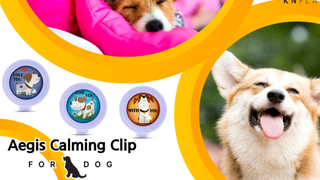 20% off
Aegis Calming Clip for Dogs
She's the best.
While I'm sure that any time spent with Love is dizzying and intoxicating and leaves an indelible mark that a young reporter like Sheila Marikar would confuse with a Lindsay Lohan-sized exposé, the truth of it was that Love was sober and put on a good show (and wasn't even that late). But as Marikar pointed out, people show up for Love "hoping for a spectacle."
In a Cloud of Crazy, Courtney Love Rocks On [ABC News]