This is a story for anyone who's given up on love. It's a story of pain, desperation, and longing. It's a story about the true meaning of commitment and dedication. It's also a story about a Florida couple who resisted arrest just so they could bang it out one last time in their mobile hame.
ABC News reports that police searching for a man named Ryan Patrick Bautista on Wednesday night (for several outstanding warrants) followed his trail to a Jacksonville-area mobile home. When authorities got there, however, they found that Bautista was not by himself. He was with his girlfriend, Leanne Hunn, and the pair had some serious demands.
Police say they tried to make contact with the people inside for about 45 minutes. At one point, Hunn told police over the phone that she would give up, but that she wanted to have sex with Bautista "one last time."
First of all, it's a testament to the love Bautista and Hunn shared that Hunn was willing to go to jail over whatever cock magic Bautista can conjure up. If that were me, I'd just send the dude out and tell him I'd visit him on Saturday (as long as I was not too busy) (You know how Saturdays can get, right?). Second, just the fact that the two were willing to have it off one last time while the police were outside with guns trained is pretty impressive. Most people can't perform if they're being watched, much less by the actual police and SWAT team.
According to First Coast News, police suspect that there was more than just sex going on in the trailer. They took two other unidentified women into custody before Bautista and Hunn finally came out:

According to the incident report, one of the women told police she went to the home to celebrate a birthday. The report says she told police they were watching TV when police arrived and Bautista grabbed her by the arm and dragged her to the back bedroom. Bautista and Hunn told her she would not be allowed to go outside because they were scared he would be arrested for a warrant, police said.

Police say the woman then started to scream but Bautista covered her mouth with his hand and held her down. Seconds later, he let her off the ground but would not let her leave until she began to cry, the report said.
G/O Media may get a commission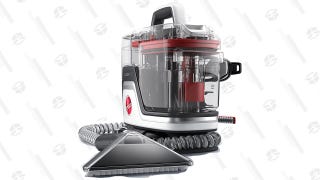 Save $10
Hoover CleanSlate Plus Carpet & Upholstery Cleaner
ABC doesn't point out whether Bautista and Hunn were able to consummate their love one more time before they were both arrested—aside from Bautista's warrants, the couple were charged with false imprisonment and resisting arrest—but it appears the two had plenty of time to do...something before the SWAT team got there and smashed through the door.

According to reports, no one was injured. Neighbors, however, complained that they'd been kept up all night by the bullhorns used by authorities to communicate with Bautista and Hunn.
---
Contact the author at mark.shrayber@jezebel.com.
Image via Jacksonville Sheriff's Office