There's something very poetic about a couple so in love that they can't function without one another. And when it's a couple that's spent 67 years together in good times and in bad, it's more romantic to think about them passing within hours of each other rather than morbid. Get your hankies ready, though — this one's a tearjerker.
ABC reports that Floyd and Violet Hartwig, who died earlier this month, were a real life Notebook couple. The two met in elementary school and married in 1947 after Floyd Hartwig returned home from the Navy. Their daughter, Donna Scharton remembers them as madly in love and devoted to each other until the end. "They weren't fancy. They were just decent people that were always committed to each other, no matter the situation," she told ABC.
Violet Hartwig suffered dementia towards the end of her life and while her husband also lived with a host of illnesses, Scharton says that his world revolved around making sure that his wife was loved and taken care of. When Floyd Hartwig was told that he had two weeks to live due to kidney failure, the Hartwigs' children put them in hospice together. And the two of them were close to each other until the end.
Scharton said that although his health was deteriorating, her father's main priority was the love of his life.

"He would tell the doctor, 'I'm okay I just want her fixed'," she added. "That was his concern; not how bad his pain was, but that he wanted my mom fixed."
"We could tell my dad was in a lot more pain," Scharton cried. "We said 'it's getting close,' so we pushed the hospital beds together as far as we could. We put their hands together, and my dad died holding my mom's hand. Mom was not coherent, but we told her that dad had passed away and that he was waiting for her. She died five hours later."
Scharton says that she's sharing the story of her parents to make sure that their legacy lives on and to let others learn from the way that her parents lived their lives.
"What I want people to get out of this story is my dad's commitment to serving his county and loving his family. "What we felt was keeping them alive was the will to live, and that they didn't want to let go of each other."
G/O Media may get a commission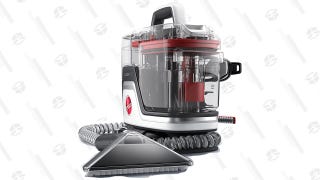 Save $10
Hoover CleanSlate Plus Carpet & Upholstery Cleaner
Kind of makes you want to hug just about everyone you love, doesn't it?
Image via Shutterstock